Shocked Mozeliak, Matheny travel to visit Taveras' family
Cards' GM discusses finding out tragic news, seeing outpouring of support in Dominican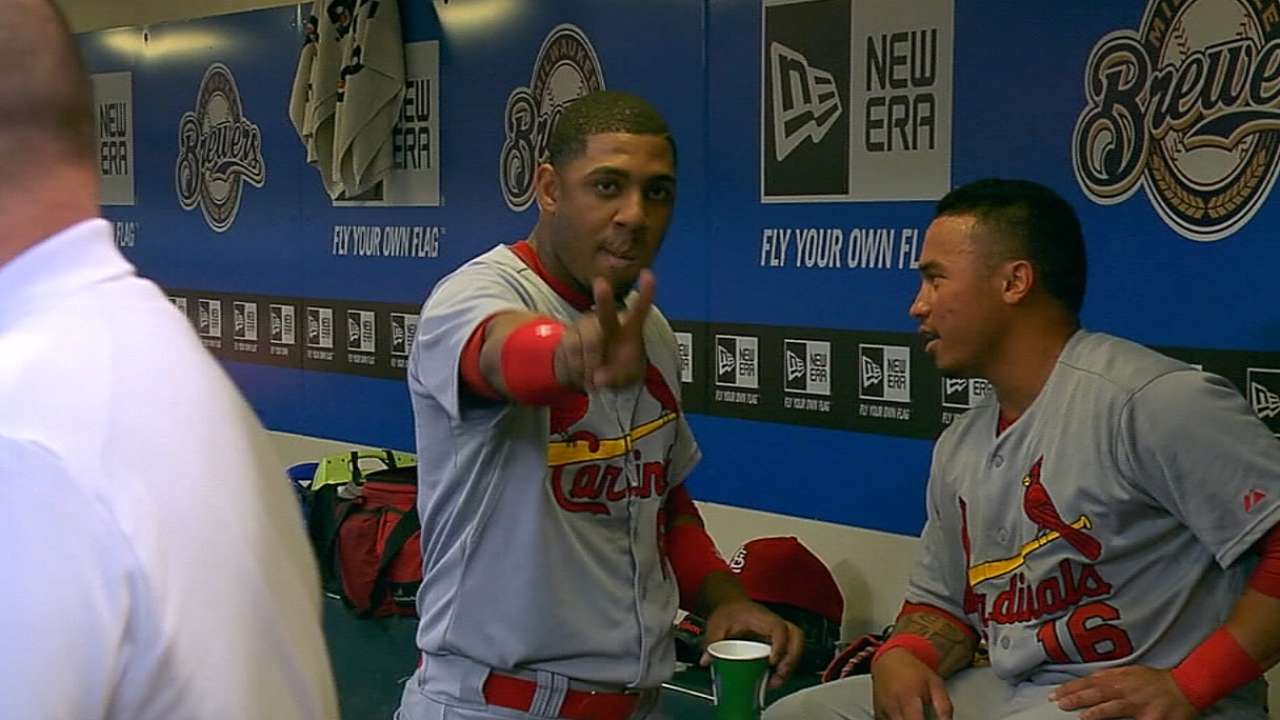 A week before Oscar Taveras was to arrive in Jupiter, Fla., to begin a conditioning program that would prepare him to compete for a starting job with the Cardinals next spring, general manager John Mozeliak and manager Mike Matheny boarded a flight to the Dominican Republic, where they were to meet with a family grieving the loss of a son, a brother, a budding baseball star lost too young.
The unexpected trip to the Caribbean came a day after Taveras and his 18-year-old girlfriend, Edilia Arvelo, were killed when Taveras' 2014 Chevrolet Camaro ran off a road near his home and struck a tree. According to the report issued by Brigade General Francisco Romero Lopez of the Northern Regional National Police, Taveras died of multiple injuries while receiving care at the Sosua Cabarete Medical Center.
"My very first thought is, 'Is this true? Is this possible?'" Mozeliak said. "Seeing Oscar a week and a half ago and so full of life, then to have it end so tragically in a car accident was, needless to say, shocking and saddening.
"He was someone who became an identity in our organization to some degree when you think about how much has been written about him, how much has been talked about him. And he never really got an opportunity to show it at a Major League level."
One of the GM's first calls on Sunday evening was to inform Matheny, who, Mozeliak said, reacted with silence.
"He was just shocked," Mozeliak said.
Matheny has not spoken publicly since the accident, but he did issue a statement on Monday morning.
Mozeliak took questions from reporters for about 20 minutes on Monday, after which he, Matheny and Rodriguez were scheduled to meet with the Taveras family. A public visitation was scheduled for Monday night, and according to sources in the Dominican Republic, approximately 2,000 people had already shown up at the funeral home in the first 30 minutes of the viewing. Close friend and teammate Carlos Martinez was among those expected to be present for a private service and burial on Tuesday.
"I'll tell you what I saw right when I got off the airplane -- people were aware [of the tragedy]," Mozeliak said. "Oscar was a big name in this region. You can tell they feel the loss."
Taveras' father, traveling to the Dominican Republic from his home in Montreal, was on the same Miami-departing flight as Mozeliak and Matheny.
"Clearly, he was shaken by these events and very sad at this time," Mozeliak said. "They are certainly grieving right now. We'll give them as much room and respect as possible, but also try to help them through this time as best we can."
With less than 24 hours having gone by since the accident, Mozeliak said the organization is still working through plans to find a way to honor and remember Taveras locally in St. Louis. Those details will be announced at a later date.
Sadly, this is the third time in 13 years that the Cardinals have dealt with the loss of an active player. Darryl Kile died of a heart attack during the 2002 season. Josh Hancock was killed in an automobile wreck five years later. Both of those tragedies, however, happened during the season. With this one occurring while players and staff are back home for the offseason, the logistics of helping grieving teammates becomes more challenging.
"You're always thinking about what players need to do [over the winter], but you almost feel like everything is safe. They're going back home into that environment," Mozeliak said. "It was pretty shocking to hear this, and how we pull this team together in what we do, a lot of this will come down to answering text messages, picking up the phone and calling, and just being able to reach out.
"I can tell you I heard from a lot of players. I think Mike has heard from almost every one of them. Everybody is saddened by this loss. I do know one of the things that Mike does a great job in the clubhouse is bringing guys together and impressing the value of what a team and family means. That's invaluable."
Yadier Molina and Adam Wainwright are the only two players remaining from that '07 team that pressed on after losing Hancock. Matheny was Kile's batterymate when the pitcher died. Mozeliak has been with the organization through all three tragedies.
"Last night, I had a hard time sleeping," Mozeliak said. "I just kept thinking about the question that many of you probably had -- Why? Why now? -- That's something that we'll never know the answer to. But what I hope comes out of this is that these young players that have the pedigree of being considered great realize that they're not bulletproof.
"They have to understand that they have to be careful and that their day-to-day decisions, they need to be smart about them. Yesterday was an accident. And accidents happen. But Oscar was still someone who did have a zest for life, and he wasn't afraid to take a chance or a risk from time to time. I do hope some of his peers and guys he was close with understand that life is fragile."
Mozeliak, speaking on a Monday afternoon conference call, said he learned of the accident from Moises Rodriguez, the Cardinals' international scouting director, around 6:30 p.m. CT on Sunday.
Jenifer Langosch is a reporter for MLB.com. Read her blog, By Gosh, It's Langosch, and follow her on Twitter @LangoschMLB. This story was not subject to the approval of Major League Baseball or its clubs.