Navy grad Harris finally pursuing MLB dream
After serving his country, Cardinals farmhand playing in AFL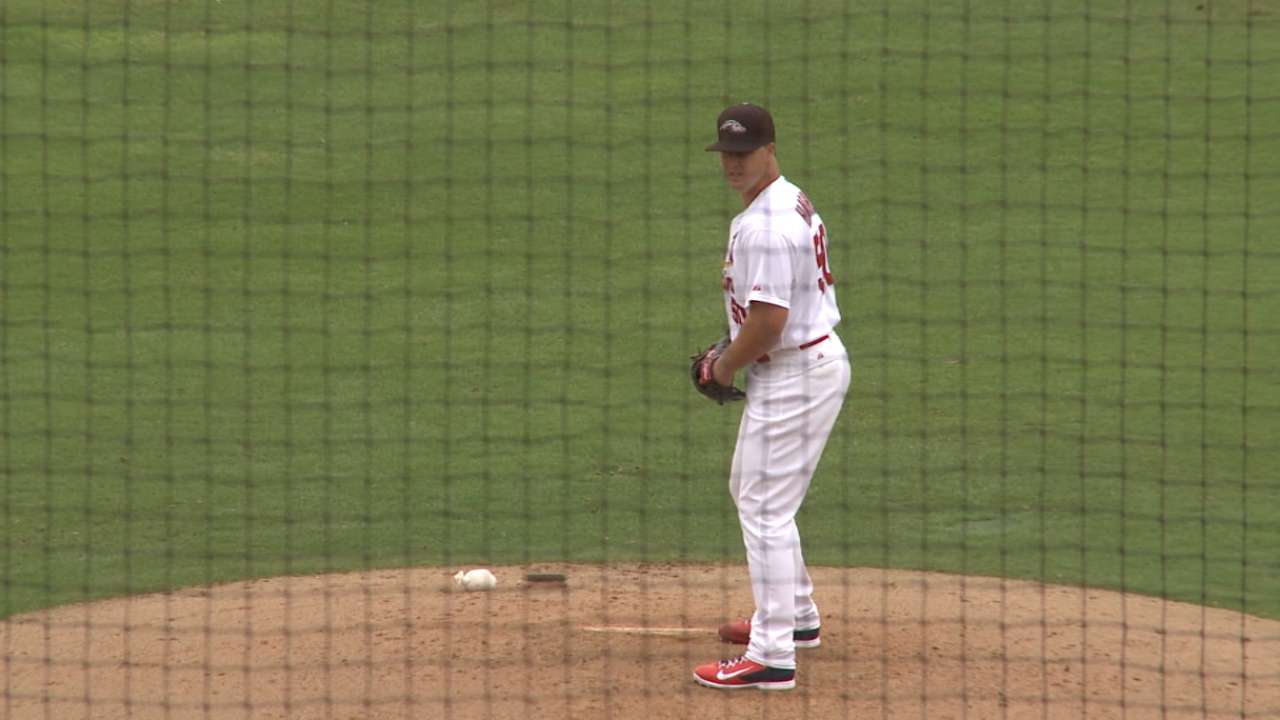 SCOTTSDALE, Ariz. -- For five years, Mitch Harris sailed around the world and watched his dreams of playing professional baseball grow even more remote than the exotic locales he visited.
Harris, a pitcher and a graduate of the United States Naval Academy, traveled to South America, the Middle East and Russia as a weapons officer, serving his country in wartime and keeping a not-so-secret ambition in his back pocket. Some day, he thought, he'd love to give baseball his best shot.
At some points, that hope seemed little more than a dream. Harris rarely got to leave the ship and play catch, but he came through his active-duty commitment in time to pursue his passion. Now, he's back on the mound, weeks away from his 29th birthday and a level or two from the Major Leagues.
Harris, one of eight Cardinals in the prospect-rich Arizona Fall League, is a curiosity and a role model to his younger teammates. The right-hander is five or six years older than most of his peers and chasing the same goal, but he knows he has a smaller window to make it due to his travels around the world.
"It would be a dream come true," Harris said. "Growing up, you have a dream of playing pro baseball. And when you get the opportunity to go to the Naval Academy, you can't pass that up. Once I got there, I realized what it all meant to have that brotherhood and to be able to serve your country. That moved to the forefront, but in the back of my mind, I still had the dream of playing pro ball."
Harris, who serves as a lieutenant in the Reserves, is now best known as No. 50 for the Peoria Javelinas as opposed to by rank and serial number. Harris is the oldest player on his AFL team by nearly three years, but he succeeded in reaching Triple-A in the Cardinals' organization last season.
As if his odds weren't already high enough due to his five year absence, he also doesn't have history on his side. Only one graduate of the United States Naval Academy -- Nemo Gaines -- has ever played in the Major Leagues, and he did it for just four games in 1921 before resuming his military career.
Harris, a native of Ocala, Fla., stands 6-foot-4 and weighs 215 pounds, and he's logged a 2.78 ERA in 62 professional appearances. But the officer doesn't want to be known as a novelty; He wants a chance to make it to the Major Leagues only if he manages to earn it between the lines.
"That's the first thing I told the Cardinals: 'Give me the chance to prove I deserve to be here,'" Harris said. "I don't want to be put in position because of my story. If something's just going to be given to me, I don't want it. I want to be able to say I earned every step of the way. We were all on the same page with the Cardinals, and I respect that. There were definitely some times where they said, 'Look, you've got to figure it out or this is the end of the road.' And it was good. I needed to hear that."
Harris, a self-professed late bloomer, knows he can thank the Navy for being in this position. He was lightly recruited out of high school, and he wound up at Navy due to chance. A recruiter for the Navy football team happened to see him throw a bullpen session one day and made a few phone calls.
The next thing he knew, Harris was headed to the Naval Academy in Annapolis, Md., and he spent his first season there as a corner infielder and utility man. He only moved to the mound as a sophomore, after incoming coach Paul Kostacopoulos began to take stock of the players on his roster.
"We had to do some different things," Kostacopoulos said when reached by phone. "I remember watching him in fall practice and saying, 'Hey, you've got to get over here and pitch.' I barely knew anyone's name at that point, but his first pitch was 87 or 88 [mph] and his second was 89. The third one was 91 and we said, 'Know what? We think we've got a pitcher here.' That's how immediate his talent was. We knew after one short bullpen that we had something pretty special."
But it took an arduous journey to even get to that point. Harris said he lost 20 pounds as a freshman due to the rigors of life as a Navy plebe. Freshmen routinely had to wake up at 5 a.m. to run multiple miles, with constant workouts and physical activities in addition to their rigorous studies.
Every Navy player is expected to carry at least 18 credit hours per semester, and that's only if they pass the school's top-drawer admissions standards. The Naval Academy had more than 20,000 applicants last year and only 1,200 students were accepted to enroll as freshmen.
Harris was drafted as a junior and then again following his senior year, but by that point he had already signed his commitment to the Navy. That dictated that he had to spend at least five years of active service following his graduation in exchange for his education at a top-level service academy.
Harris, who had two grandfathers who served in World War II, began faithfully serving his commitment and putting his baseball goals on hold. He served on one ship -- the USS Ponce -- that transported Marines to battle in the Middle East. His next assignment, aboard a frigate named the USS Carr, took him to South America on drug operations and on a diplomatic assignment to Russia.
All the while, his fellow crew members teased him about potentially giving up his shot at glory.
"Everybody knew my story. The guys on the ship were great and they loved it," Harris said. "There were times when we'd get out and throw the football. If we got a chance to throw a baseball, we would, but it wasn't very often. But again, my thing was that I wanted to make sure that those guys knew when I was there that my first priority was to be the best officer I could be. There were definitely times when you wondered, 'What if,' but looking back now, I feel that we did it well and we handled it right."
Harris said he kept his dream alive by keeping in shape and thinking about the future. The Navy allowed him to play on a few military All-Star teams during his service, but he didn't get to pursue baseball in earnest until 2013, more than four years after he'd been drafted by the Cardinals.
By that point, he'd been to more countries -- upwards of 30 -- than he'd seen states in his own homeland. Harris made his pro debut in the New York-Penn League in '13, and he spent most of last season pitching at Double-A Springfield. He made one appearance for Triple-A Memphis before heading out to the Arizona Fall League for an extended chance at facing upper-level hitters.
"The first day, we all did our introductions," Harris said. "I started off by telling them that I was definitely the oldest one here. Our skipper, Vance Wilson, he wanted me to tell the guys my story, where I came from. It's good to let those guys understand that there's more out there than baseball. I just reminded them that we get to do this for free. There are other men and women out there that are up at 2 or 3 in the morning protecting us. I wanted to remind them that we're privileged to do this."
There was nobody in the clubhouse more prepared to deliver that message, and nobody who could say it without it feeling forced or unnatural. Harris had given his country five of the best years of his life, sacrificing his athletic prime and the opportunity to make a lucrative salary in the Major Leagues.
And now, he has a chance to make history. Kostacopoulos, his college coach at the Naval Academy, may not have a lot of Major Leaguers on his resume, but he has coached five or six players that went on to become Navy Seals, and he knows how hard Harris has worked to get to this point.
"He did the full five years of service and he truly is an officer and a baseball player," Kostacopoulos said. "He's fulfilled every promise he's made. He promised his parents he'd graduate from the Naval Academy. He did that. He promised his country he would serve his time, and he did that. And he made a promise to himself that he was going to hang in there as long as he could to be a baseball player."
Harris said he still keeps in touch with many of his fellow servicemen, and he doesn't want to be thought of as a standard-bearer for Navy baseball. There are many other talented players, he said, who opted not to play professionally in favor of continuing their military service after their commitment.
Harris, no longer forced to delay his dream, is employing a single-minded focus toward reaching his goal. He can be the second player ever from Navy -- and the first in 90 years -- to make the Major Leagues, and he's not going to divide his focus by thinking about what comes next.
"Not yet," Harris said of planning a future beyond baseball and the Navy. "One of my coaches, Oliver Marmol, had a saying: 'If you've got a Plan B in this sport, you're not going to make it long.' ... My No. 1 goal now is to make it to the big leagues, and if that doesn't happen, I'll look at Plan B. Until then, that's Plan A and it will be the only plan until it happens or they say, 'Today's your last day.'"
Spencer Fordin is a reporter for MLB.com This story was not subject to the approval of Major League Baseball or its clubs.