MLB.com Columnist
Mike Bauman
Cardinals' resolve front and center in tough setback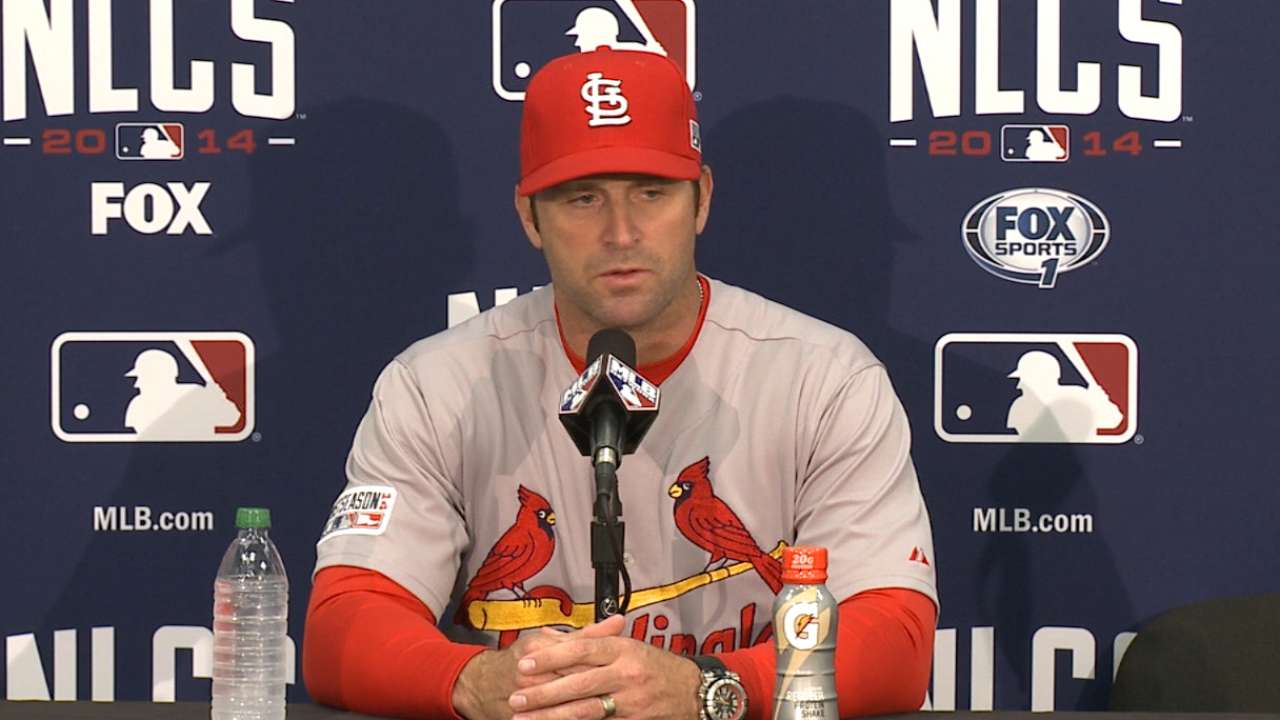 SAN FRANCISCO -- This had all the earmarks of a truly heartening Cardinals comeback victory -- until the bottom of the 10th inning. It ended badly, no question about it, with St. Louis reliever Randy Choate throwing away Gregor Blanco's sacrifice bunt, the winning Giants run scoring from second.
The result was a bitter 5-4 loss for the Cardinals on Tuesday at AT&T Park, one that put them behind, 2-1, in this National League Championship Series. They had come back from an early 4-0 deficit to tie the game by the seventh. If you looked at the Cardinals' play in innings two through nine, you saw a magnificent effort. But an error at the end and one hittable inning at the beginning spelled the difference.
That's what hurt for the veteran Choate.
"I relish being out there, especially against lefties," Choate said. "I feel like I can hang with the best in the game. That was basically just a bad play by me. It's disappointing because these guys battled so hard after being down, 4-0. To battle back and be tied in that situation, and feel like I let these guys down, that's really what stings the most."
John Lackey started for the Cardinals, got the first two outs and then gave up four runs before the first inning ended. Travis Ishikawa's bases-loaded double represented the big blow. But after that, Lackey was extremely tough, retiring 16 of the next 18 batters.
"It's unfortunate that I gave up four runs," Lackey said. "I needed to make a better pitch with two outs for that not to happen. All in all, what I was trying to set things up sort of worked, but maybe a little too late.
"You have to give the guys credit, for sure, for coming from behind after we fell behind early, especially against a great pitcher like Tim Hudson."
While Lackey made a stand, the Cardinals lineup persistently pecked away at the San Francisco lead. Kolten Wong, headed toward impact-player status, tripled in two runs in the fourth on a ball that would have left AT&T Park had the wind not been blowing in gusts that were both heavy and unpredictable.
Jhonny Peralta singled in Jon Jay in the sixth. Then Randal Grichuk tied the game with a solo home run in the seventh.
It was impressive work, both Lackey's gutsy performance and the persistence of the St. Louis lineup. But it didn't come as any sort of surprise to those who pay close attention to the Cardinals.
"We've just come to expect it, and that's a good place to be when we get down," Cardinals manager Mike Matheny said. "John Lackey did a nice job of finding it. Had two quick outs in the first and then ran into a little bit of trouble, and the next thing you know, he's real efficient and did a great job of putting it together.
"Then, yeah, we just kind of made some things happen. Kolten gets another big hit for us, and guys just figure out how to give us a chance. Randal Grichuk gives us a big hit to tie the game. Just comes down to doing the little things right."
All of this made for a terrific postseason contest. The Giants don't give anything away, but the determined Cardinals climbed out of a sizable hole and then kept on coming.
"I mean, they battled hard to get back in it, tied the game," Giants manager Bruce Bochy said. "That's who these two clubs are. We've had two great ballgames, exciting games."
And then, for the Cardinals, after all this good and persistent effort, the whole thing unraveled. But the comeback effort still stood as the Cardinals' way of doing things. And in the visiting clubhouse at AT&T Park, there was only support and sympathy voiced for Choate.
"That guy has done everything for us this year, coming in and shutting down lefties," Wong said. "One little mistake is not going to change our perspective on how good he is."
"We feel bad for a guy like this, especially this time of year," Lackey said. "But he'll come back. He's a pro."
The Cardinals may be behind, but as they demonstrated Tuesday, they won't be going away, either.
Mike Bauman is a national columnist for MLB.com. This story was not subject to the approval of Major League Baseball or its clubs.