Cardinals drop Game 3 on errant throw in 10th
After Grichuk's tying homer in 7th, Choate's error leads to 2-1 deficit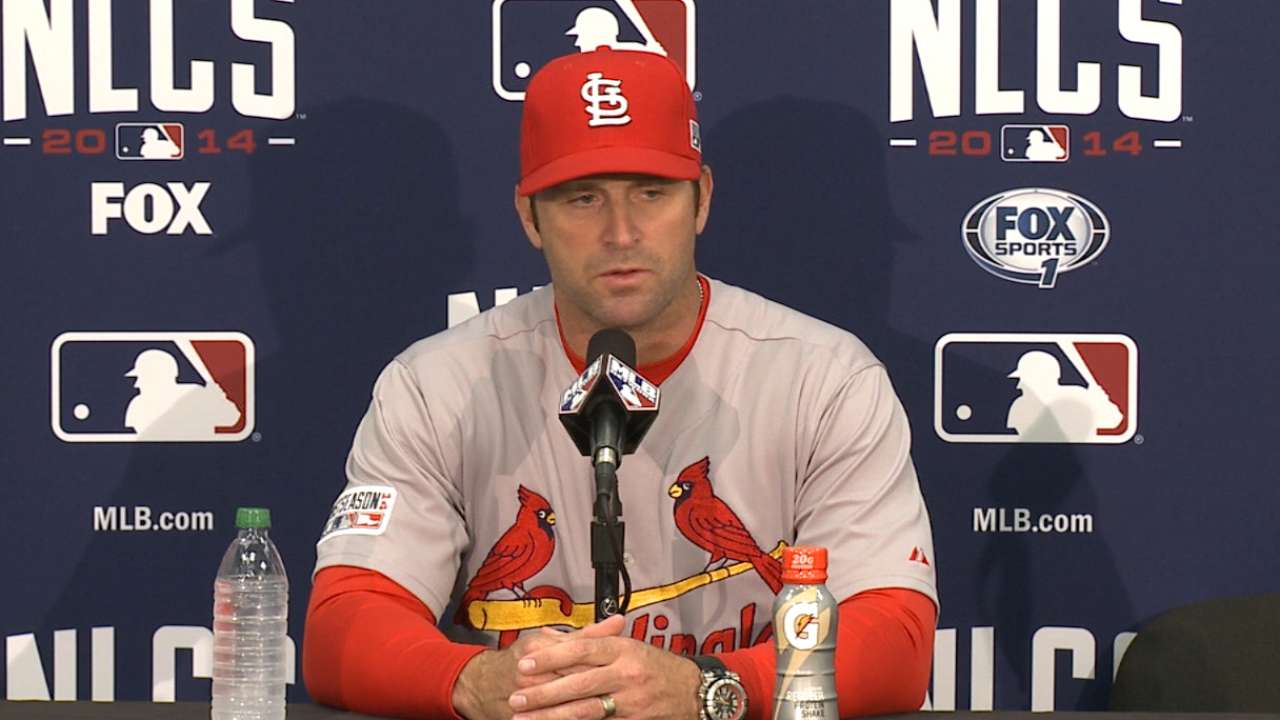 SAN FRANCISCO -- After chipping their way back into Game 3 of the National League Championship Series by erasing a four-run deficit and holding the Giants hitless from the fourth through the ninth, the Cardinals watched their road to a second straight World Series get a bit more difficult as San Francisco became the sixth postseason team to walk off with an error on Tuesday.
Randy Choate's sailing throw capped a 10th inning in which the Giants manufactured the winning run on a walk, unsuccessful sacrifice and a bunt that ended up in the Cardinals' bullpen. It all left the Cards stung by a 5-4 loss at AT&T Park and staring into a 2-1 series hole with two more games still on tap in San Francisco.
"Being out on the mound in a game like that, with a crowd like that on the road, those are the kind of challenges that I look forward to," said Choate, whose throwing error allowed Brandon Crawford to trot home from second. "I want to be out there for that. That's what makes that all the more disappointing is that the ball would get away from me like that."
The Cardinals can now only hope that the NLCS doesn't get away, too. Game 3 has often been the pivot point in an LCS that featured a split of the first two games. In such previous cases, the winner of Game 3 went on to win the pennant 71 percent of the time. The Cardinals are hopeful of being the next exception.
"One thing I can tell you is we have a lot of respect for that team on the visiting side," Giants reliever Jeremy Affeldt said. "We've been in a lot of battles with them. We went up 4-0 and they could have shut it down. And they came back. They're not going to be OK with being down 2-1. We fully expect some battles."
WHAT WENT WRONG
A combination of four Cardinals pitchers had kept the Giants off base by the time veteran lefty Choate entered in the bottom of the 10th, an inning in which three of the first four scheduled batters were left-handers. Things started to go awry when the first, Crawford, worked an eight-pitch walk.
After twice fouling off pitches as he tried to bunt, nine-hole hitter Juan Perez, subbed in as part of a seventh-inning double-switch, eventually did better, sneaking a single through the left side. Gregor Blanco had better execution with the sacrifice, not only laying it down, but then watching Choate throw past second baseman Kolten Wong, who was covering first base.
"It was easy," Choate said of the play. "It was right there, and I blew it. The ball just sailed on me. I threw it to where I thought Wong was going to be right over the base, and it just kind of took off to the left of me and sailed down the line."
In 380 innings spanning 14 seasons, Choate has an error total of five. Number six turned out to be the most costly, as it not only ended the game, but it marked the first run scored by the Giants since the opening inning, when they pounced on Cardinals starter John Lackey for four.
After retiring the first two batters on four pitches, Lackey allowed hits to the next three, two of whom had fallen behind, 0-2. An intentional walk filled the bases, which Travis Ishikawa then cleared when a swirling wind in right field affected Randal Grichuk's read on the ball. It hit off the wall for a double.
"I got the two quick outs and was just one pitch away from having a pretty good game," Lackey said. "I tried to establish the fastball early on for sure and gave up a few runs."
The Cardinals clawed back, scoring twice on Wong's two-out triple in the fourth and then again on a two-out single that Jhonny Peralta skipped past third baseman Pablo Sandoval in the sixth. Giants manager Bruce Bochy's gamble to try and get another inning out of starter Tim Hudson then backfired when Grichuk evened the game with a blast off the right-field foul pole in the seventh.
St. Louis mustered only two hits -- both two-out singles -- against the Giants' bullpen after tying the game.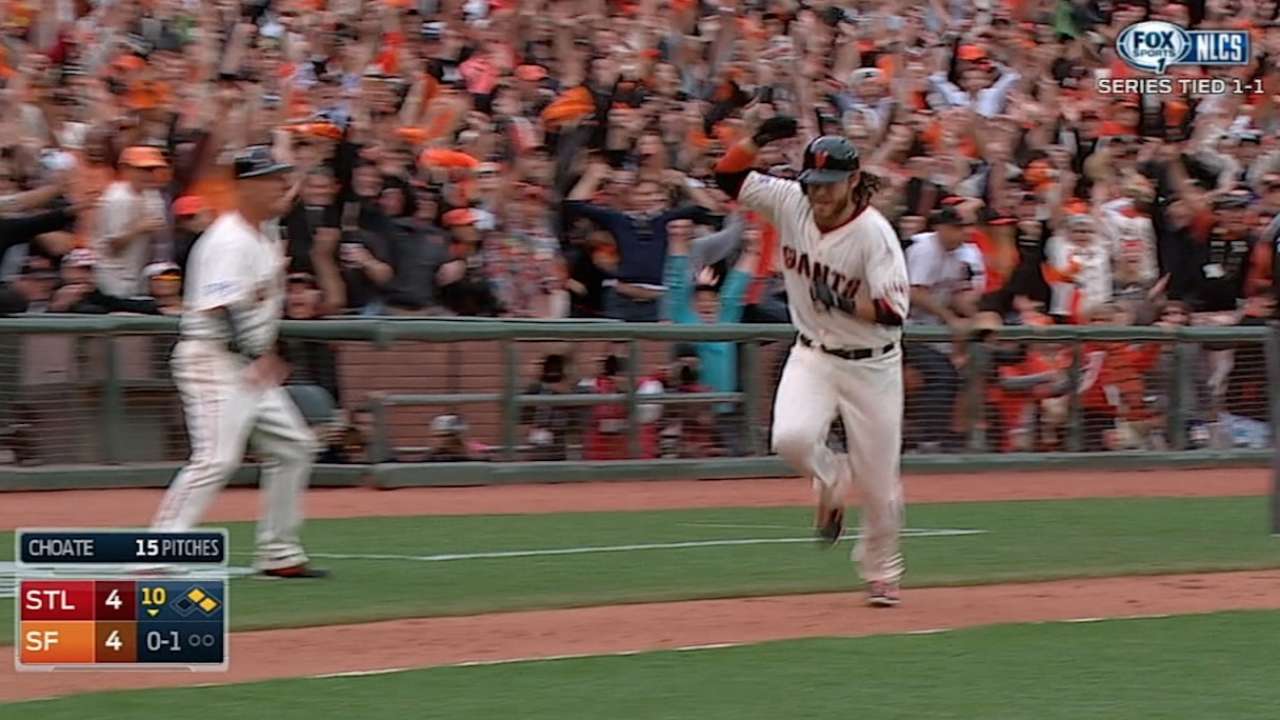 THE MOMENTS THAT MATTERED
Ishikawa drives home three: Looking to escape the first inning down by just one run, Lackey delivered a first-pitch fastball that Ishikawa, Bochy's seventh-hole-hitter du jour, sent into the gusting right-field wind. Off the bat, Grichuk, playing his first game at AT&T Park, thought it was gone. Instead, the wind pulled it in and toward center.
The ball ended up hitting the right-field wall several feet away from where Grichuk was standing, giving the Giants their first three-run double in postseason history.
"That wall has got a lot going on, with the brick and the fence and the padding," Grichuk said. "Balls can shoot off any direction, so you have to just go out there and play it the best you can. [I knew I was in trouble] really when I got back to the wall. Then I decided to scoot back and play it off the wall, and it kept drifting and drifting."
Grichuk said he was unsure exactly where on the wall the ball hit, though a close look at the replay appears to show it glance near the top of the arch before hitting wiring below. That would have made it uncatchable, even if Grichuk had been under it.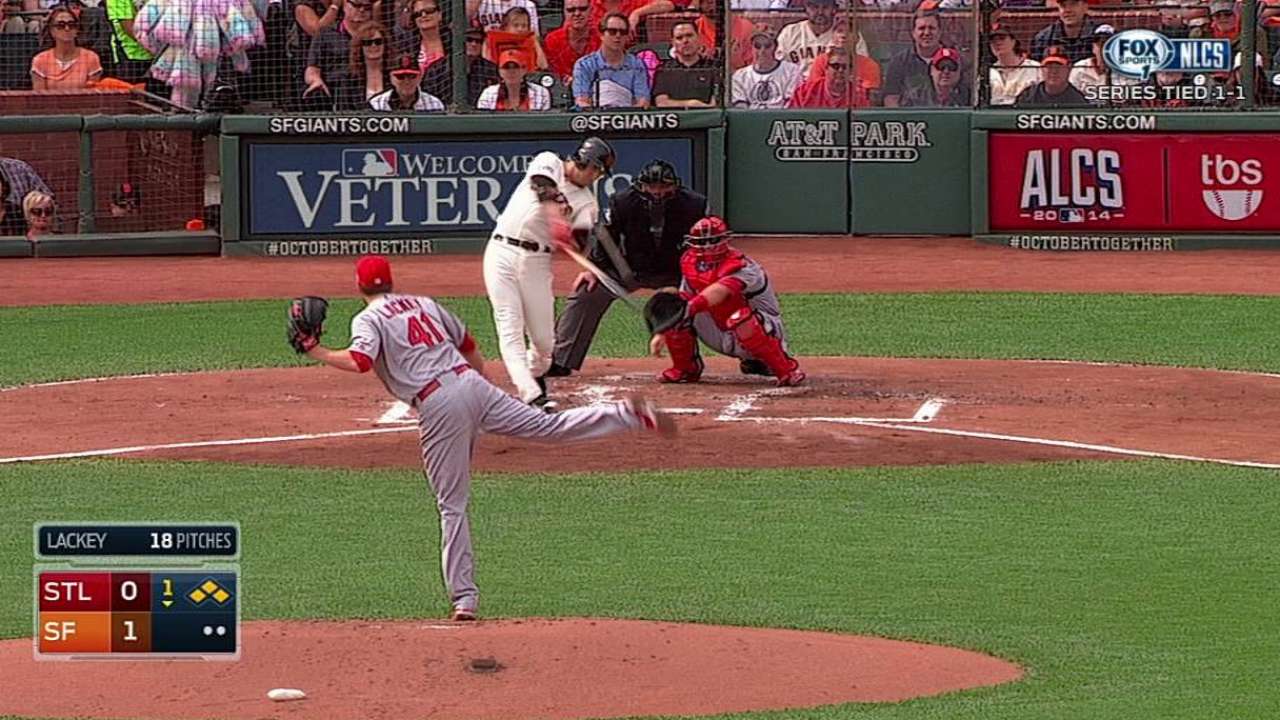 The Hammerin' Hawaiian: After hitting the game-winning home run on Sunday, Wong moved up a place in the Cardinals' lineup and contributed a pair of extra-base hits. His fourth-inning triple -- which was also affected by the windy conditions -- drove home the Cardinals' first two runs off Hudson.
"I'm seeing the ball real well right now," Wong said. "I'm staying back, making it more of a priority to just stay back and let my hands do the work instead of just trying to generate power from using my body."
Tuesday marked the fourth time in franchise postseason history that a rookie has had multiple extra-base hits in a game. It last happened in 1982.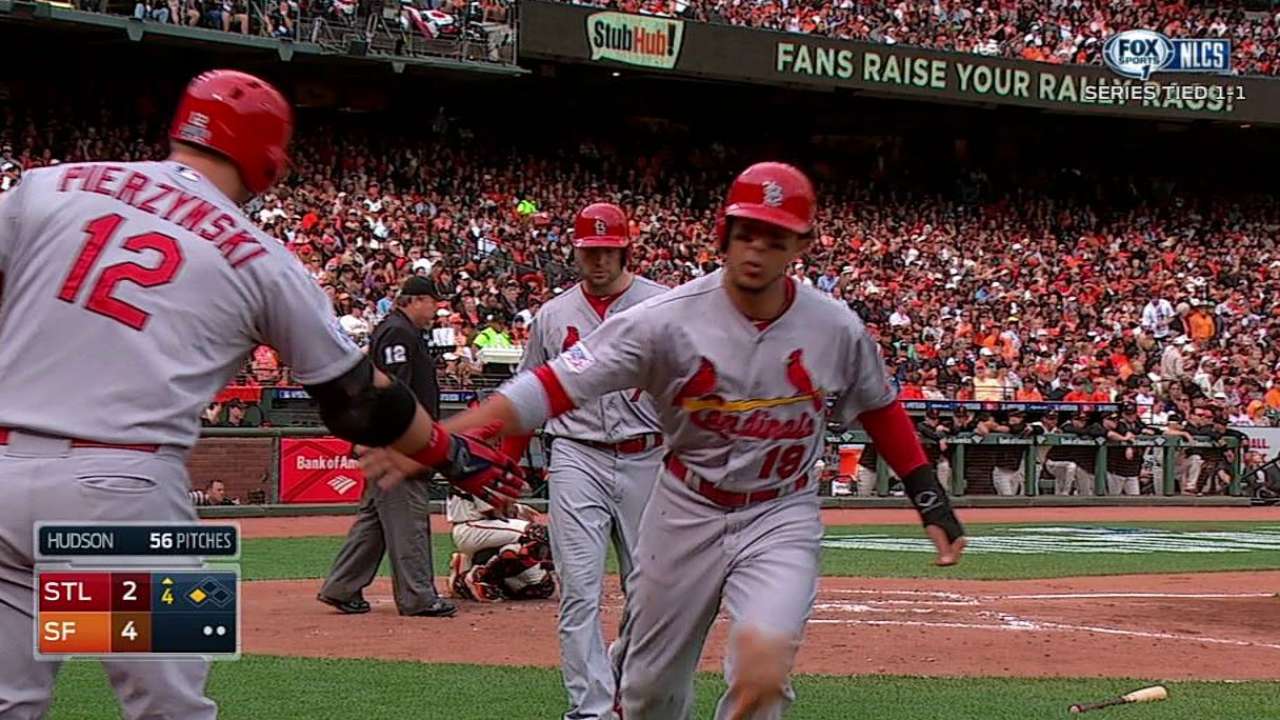 Grichuk goes deep: Having already homered off Clayton Kershaw this postseason, Grichuk blasted a game-tying solo homer to knock Hudson out of Game 3. It should be no surprise, either, that the homer came in the seventh. Eight of the team's 12 postseason homers have come in the seventh inning or later, and all but one of those eight have tied the game or given the Cardinals the lead.
"It was probably the worst cutter I'd thrown all day," said Hudson, who hadn't given up a postseason home run since '03, when he was pitching for the other Bay Area team. "[It] just backed up on me and went right into his swing. You've got to give him credit. You know, [I] made a mistake and he capitalized on it."
Grichuk, 23, is now the youngest player in franchise history with multiple home runs in a single postseason.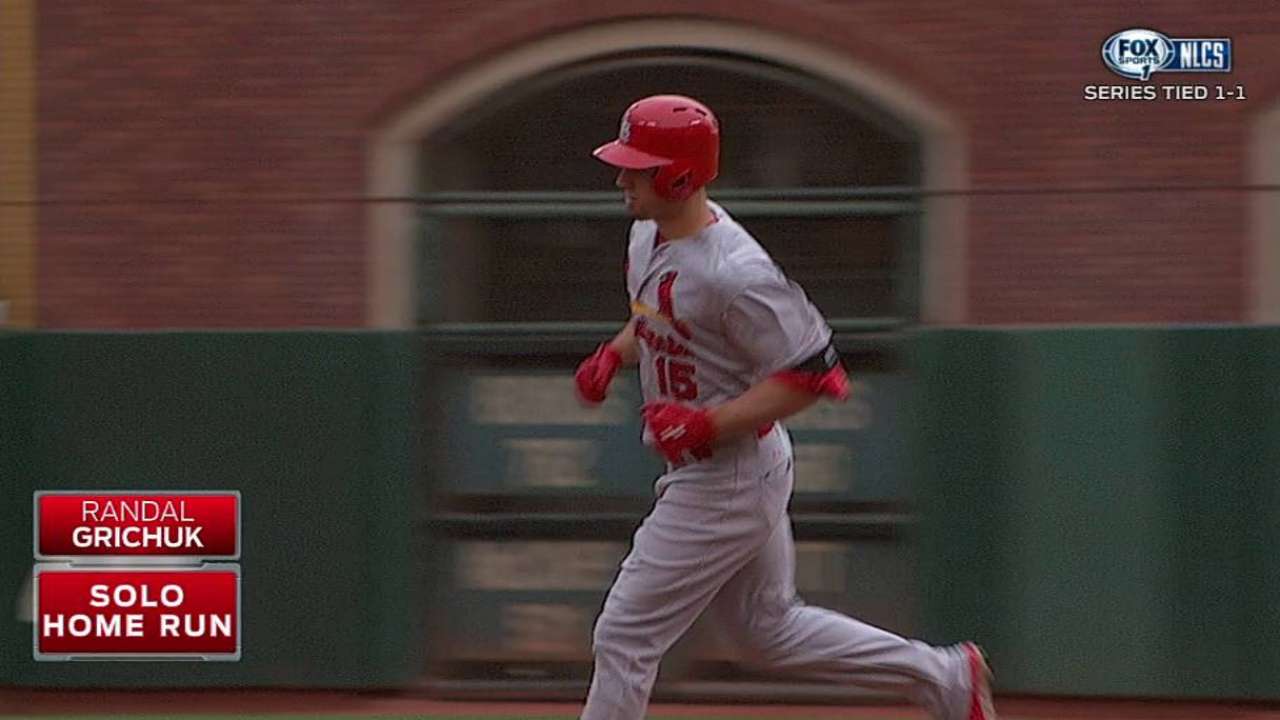 SILVER LININGS
Jon Jay: Jay continued his strong postseason with a three-hit performance in Game 3, and added a terrific running catch. His leadoff singles in both the fourth and sixth started run-scoring innings for St. Louis. He has reached safely in 14 straight postseason games, the fourth-longest such streak in Cardinals history. During that stretch, Jay has hit .362.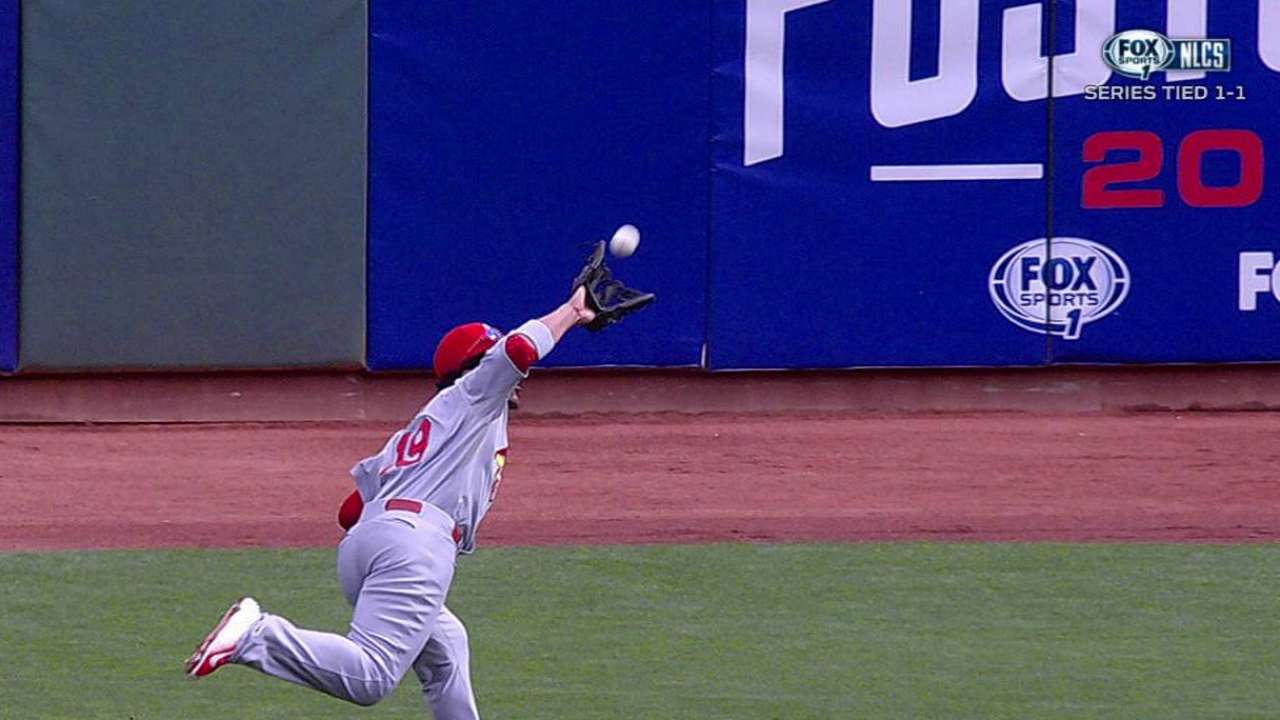 Lackey: Though he put the team in a four-run hole, Lackey did settle and was dominant after that en route to finishing six innings. Following Ishikawa's double, Lackey allowed just two of the other 18 batters he faced to reach. The Cardinals pulled him for a pinch-hitter with a pitch count of 79. By that point, they had completely erased the deficit.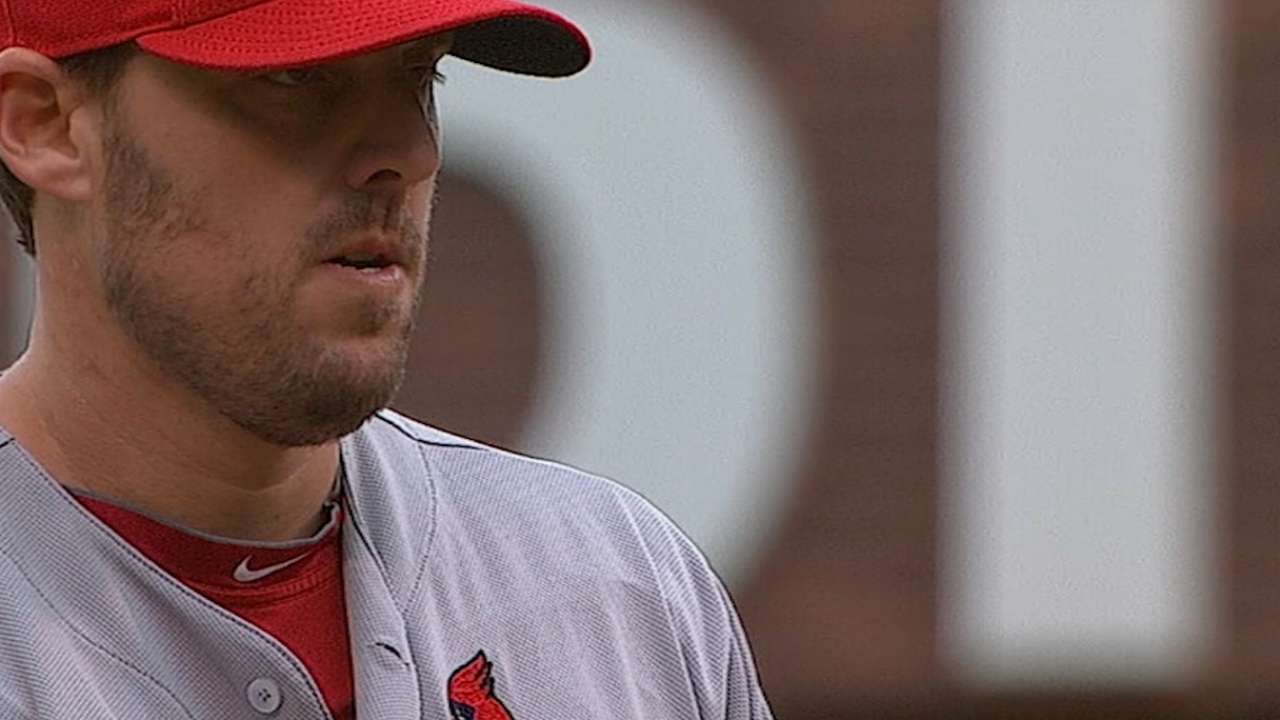 The bullpen: Before Choate's mishap, the Cardinals' bullpen was perfect. Marco Gonzales, Pat Neshek and Seth Maness each retired all three batters faced, with the three needing a combined 33 pitches to get the nine outs.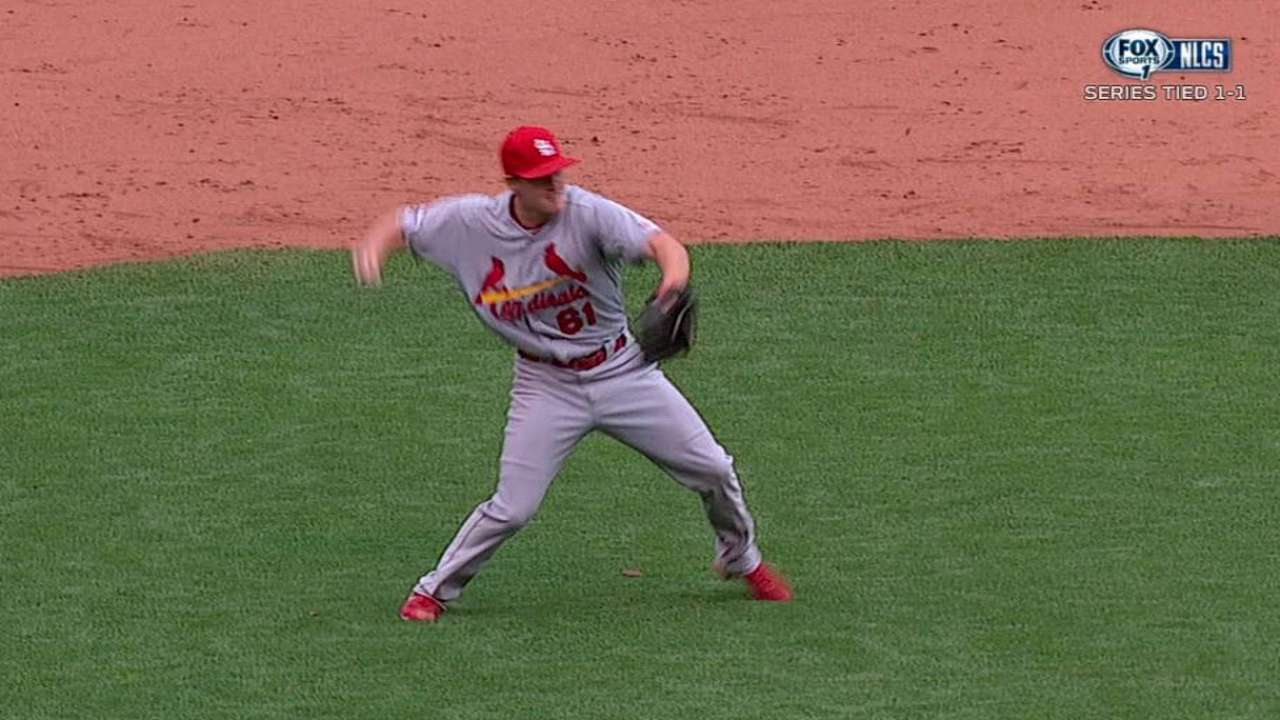 SOUND SMART WITH YOUR FRIENDS
• Lackey has hit 110 batters in his career, but Tuesday marked the first time that he had ever been hit by a pitch. He joins Nelson Briles (1968) as the only Cardinals pitchers to be hit in the playoffs and becomes the first pitcher from any club to take a pitch off his body in the postseason since Steve Carlton (1977). Hudson, in his 16-year career, had never previously hit a pitcher.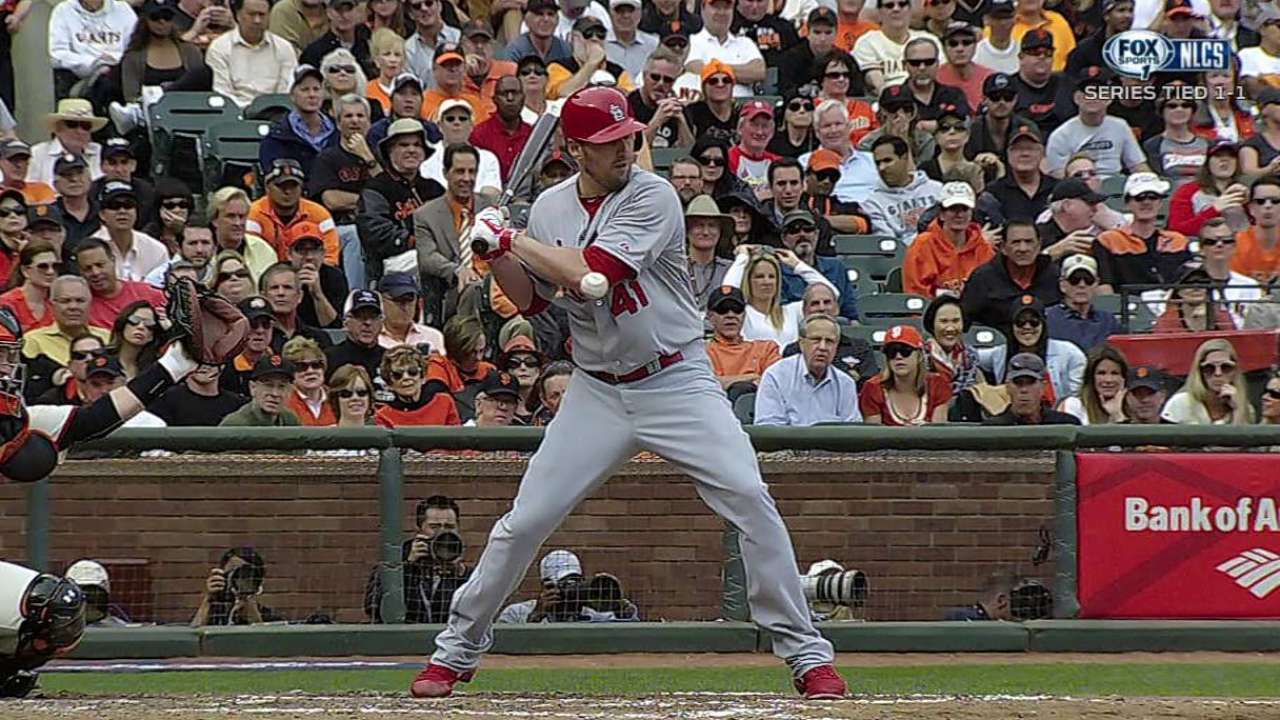 • Game 3 marked the 12th time in 21 postseason games this month that the outcome has been determined by one run. The Cardinals have been involved in five of those games after playing 55 one-run games (the most by the club since 1998) during the regular season.
• The Cardinals' five home runs by rookies this postseason sets a franchise record, bettering the previous high of three (all hit by Willie McGee) in 1982. The only Major League club to have more postseason home runs from rookies was the 2008 Rays, who had six.
NEXT GAME
Game 4 between the Cardinals and Giants will be Wednesday at AT&T Park (7 p.m. CT on FOX Sports 1). Shelby Miller, who made his postseason debut in San Francisco two years ago, will make his first career NLCS start. The Giants will start Ryan Vogelsong, who defeated St. Louis twice in the 2012 NLCS.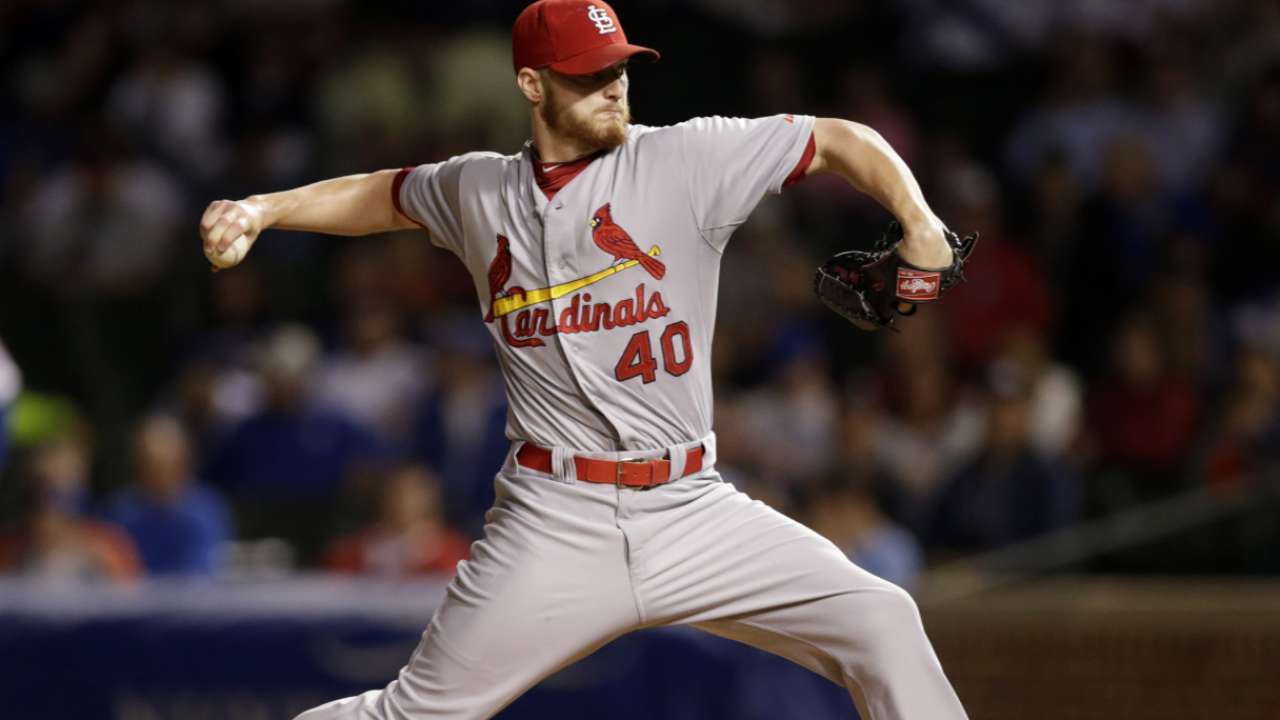 Jenifer Langosch is a reporter for MLB.com. Read her blog, By Gosh, It's Langosch, and follow her on Twitter @LangoschMLB. This story was not subject to the approval of Major League Baseball or its clubs.