Confident Grichuk will continue to see time vs. lefties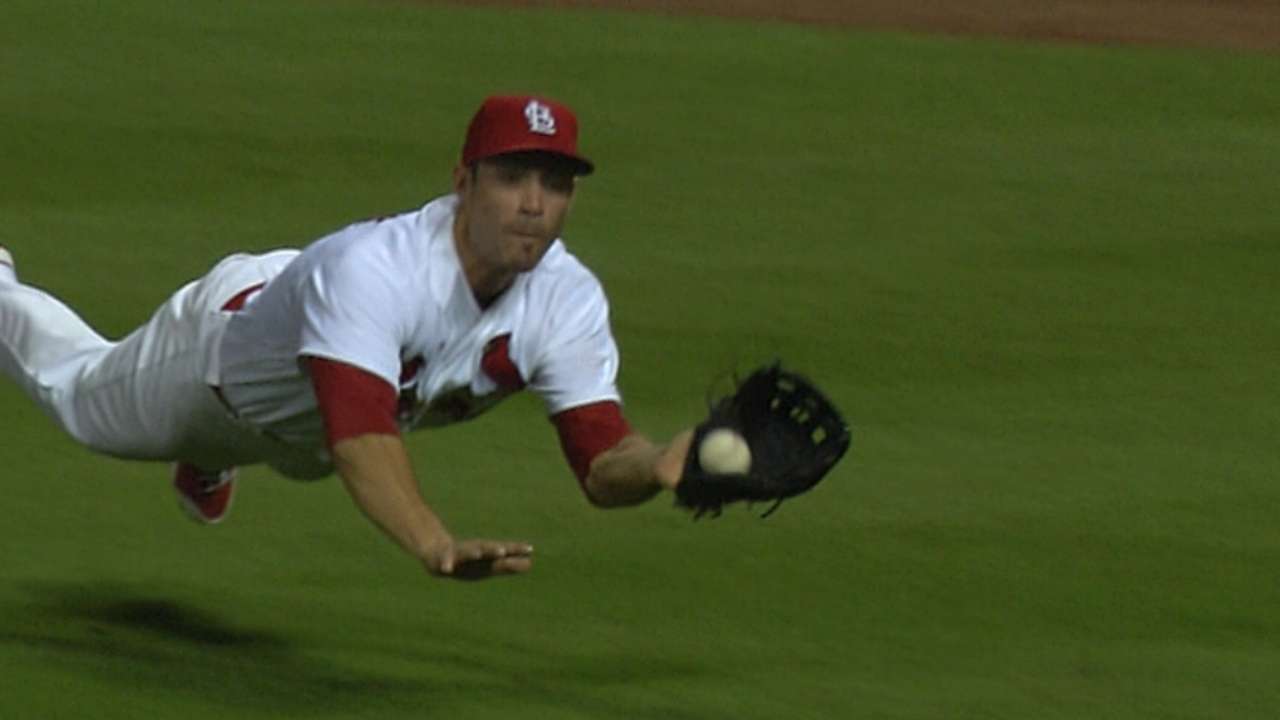 ST. LOUIS -- Randal Grichuk insists the difference isn't anything more complex than simply having the belief that he belongs. But his results in this, his third stint with the big league team, have so far been much more in line with his expectations.
Since being recalled by the Cardinals last week, Grichuk has started 8-for-20 with hits in all three of his pinch-hit at-bats, and at least one hit in three of his four starts. He's been especially productive against left-handers (5-for-14), which is little surprise after he hit lefties at a .325 clip in the Minors this season.
"Coming up here and struggling the first couple times definitely brings your confidence down," Grichuk said. "This time around, I tried to come up here with a little more confidence, swing the bat a little more aggressively. It's paid off so far."
Called up first in April and then again in June, Grichuk combined to go 6-for-44 with 15 strikeouts during that short stay. He has reduced that strikeout rate to once every four at-bats since returning.
"I see him walking up there looking like he belongs, instead of before like he had something to prove, which is completely natural," manager Mike Matheny said. "We've seen the same swing. We've seen the same approach all season -- even through Spring [Training] when we gave him a chance. It's just a little different when you have that confidence in there with what he's doing right now."
Since returning, Grichuk has started four of the five games in which the Cardinals have been opposed by a lefty. With Oscar Taveras still struggling in his search for consistency, those starts against left-handed pitching should continue for Grichuk.
"He's going to get great consideration every time there's a lefty out there," Matheny said. "We're not going to slate anybody in any particular situation. But right now, he's proven that he can be very valuable to us. The play he made defensively [on Tuesday], the throws he's been able to make, he could be a difference-maker out there. We continually want to encourage him that the swing against lefties translates against righties, too. Just to build that confidence also. He's doing exactly what he needs to do to give himself a chance to play and gives us an opportunity to help us win."
Worth noting
• Infielder Mark Ellis is available off the Cardinals' bench again after a near three-week absence due to a left oblique strain. Ellis took several uninhibited swings in the batting cage on Wednesday morning, after which Matheny said that Ellis "looked very good."
• The Cardinals' rookie-level affiliate in Johnson City (Tenn.) advanced to the Appalachian League finals with a 5-4 win over the Elizabethton Twins on Tuesday. Johnson City will begin a best-of-three championship series against the Danville Braves on Wednesday.
Short-season State College and Triple-A Memphis will begin their semifinal playoff series on Wednesday, as well.
• According to the Elias Sports Bureau, Adam Wainwright became the first Cardinals pitcher since Bob Gibson (1965) to allow three home runs and drive in three runs in a game when he did so against the Pirates on Tuesday.
• Peter Bourjos, who went 2-for-4 with two runs scored in Tuesday's win, started in center field on Wednesday. Jon Jay shifted to right as Oscar Taveras was given his second consecutive day off.
• The Brewers have set their rotation for the Cardinals' upcoming visit and will start the following pitchers, in order: Wily Peralta (15-9, 3.82 ERA), Mike Fiers (4-2, 1.93 ERA), Kyle Lohse (12-8, 3.68 ERA) and Jimmy Nelson (2-6, 4.14 ERA).
Jenifer Langosch is a reporter for MLB.com. Read her blog, By Gosh, It's Langosch, and follow her on Twitter @LangoschMLB. This story was not subject to the approval of Major League Baseball or its clubs.