Matheny: Cards want to 'push the envelope' on bases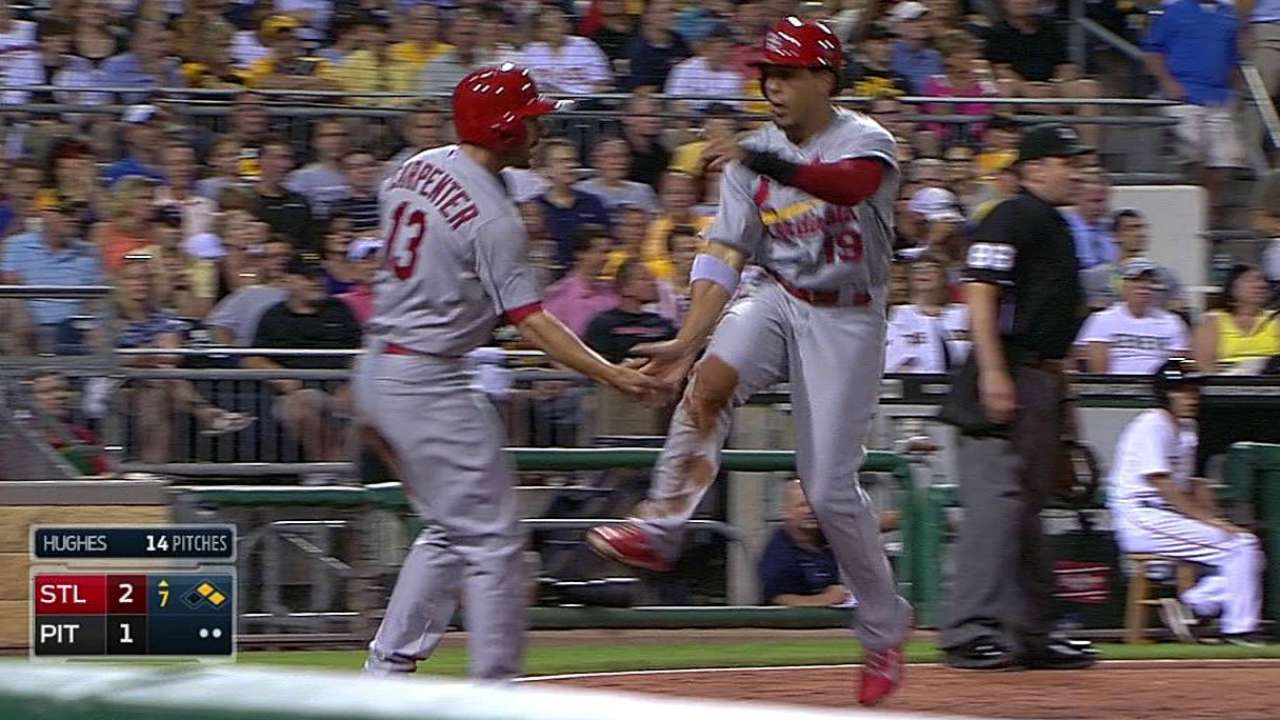 PITTSBURGH -- As they do before the start of each new series, the Cardinals' coaching staff gathered all of the club's hitters in a room on Monday afternoon to prepare for what was on tap, but also to dissect what was still fresh. To that latter point, St. Louis used this most recent meeting to revisit the topic of aggressive baserunning after a sloppy series in Philadelphia.
The reminder has provided payoff, as both of the Cards' seventh-inning rallies against the Pirates have been aided by an aggressiveness on the bases. In Monday's one-run win, it was Matt Carpenter's move from first to third that led to a bobble by outfielder Andrew McCutchen and the opportunity for Jon Jay to take the extra base. Both then scored on Matt Holliday's go-ahead single.
On Tuesday, Jhonny Peralta's ability to scamper from first to third positioned him to score the tying run. Oscar Taveras, though he would be stranded on base at the end of the inning, also showcased some aggressive running.
"Push the envelope," Cardinals manager Mike Matheny said. "It's not running into outs, but in certain spots ... be aggressive. It all comes out of that first step. It's thinking the game. I think that's the mental training that is our job as a staff to keep challenging these guys about.
"I thought we did a real nice job last year in improving, and I think we've done a nice job this year as well. I think that's why we make such a big deal of it when it doesn't happen. If you're taking a great secondary lead and don't want to be a station-to-station baserunner, that's a mentality that we've tried to change."
Matheny added that he thought Peralta had taken it personally on Sunday when he did not advance to third on a flyout in the second inning. At the time, the Cards trailed the Phillies by only a run. St. Louis did not end up scoring in that inning.
"That aggressiveness that we didn't see in Philly, we're watching these guys do now," Matheny said. "We're going to keep doing that, keep the throttle down and be aggressive on the basepaths."
Jenifer Langosch is a reporter for MLB.com. Read her blog, By Gosh, It's Langosch, and follow her on Twitter @LangoschMLB. This story was not subject to the approval of Major League Baseball or its clubs.