Lackey gives Neshek Ruth-signed ball for No. 41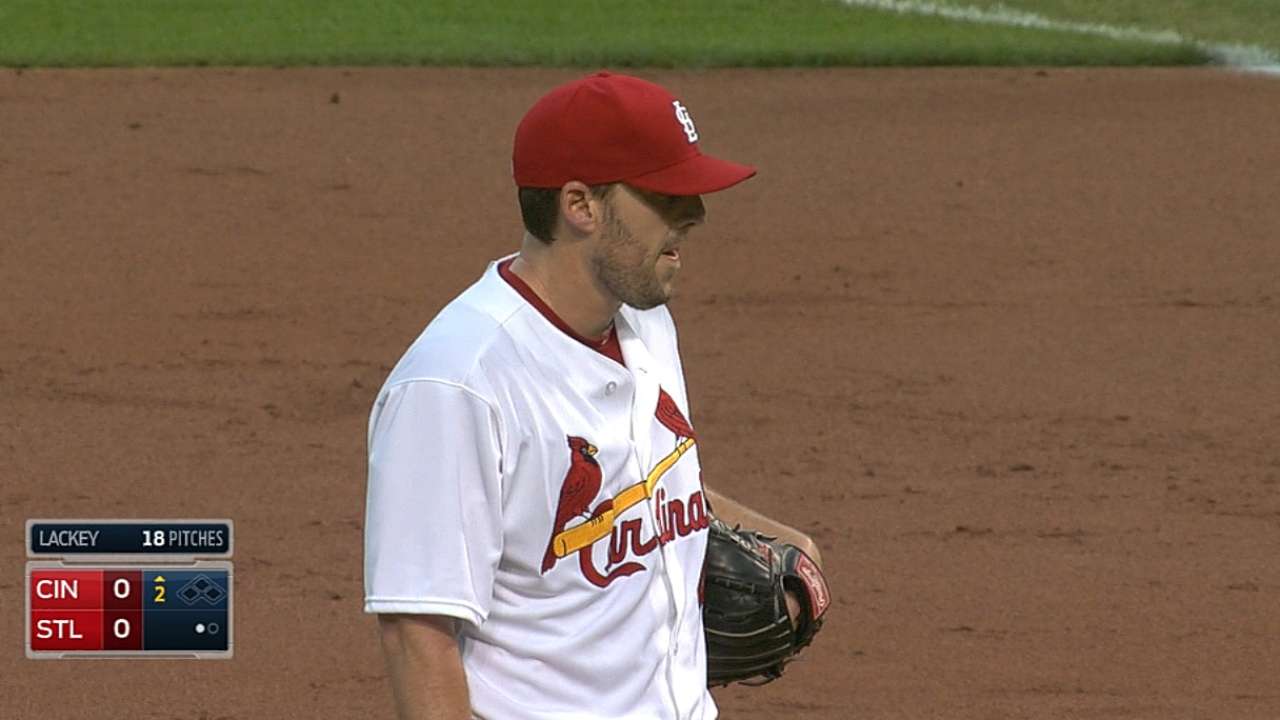 ST. LOUIS -- Number swapping has long fostered a bartering system inside Major League clubhouses, where the veteran who arrives seeking to snag his longtime jersey number offers some reward to the player who is asked to give it up.
Mike Matheny briefly turned over his No. 22 to Will Clark in 2000, earning himself a compound bow in the transaction. Several players procure a designer watch or other item of wear from the deal. And then there is Pat Neshek, who went home with a Babe Ruth autographed baseball.
Neshek, an avid baseball card and memorabilia collector, grudgingly passed his No. 41 to John Lackey when the veteran right-hander was acquired from Boston in a Trade Deadline deal. He had no longtime attachment to the number, but it did hold significance as being the number he donned for his first All-Star Game. His mother was so upset with him that she hung up the phone when he informed her of the jersey trade.
Lackey had worn No. 41 in 11 of his 12 Major League seasons, the lone exception being in 2010, when Victor Martinez wore it in his last year with the Red Sox.
Lackey planned to present Neshek with a watch as a gesture of gratitude. However, when Neshek heard of those plans, he mentioned to his new teammate that he would prefer something that could go into his extensive memorabilia collection. He first considered a baseball card, then settled on a Babe Ruth ball that he had been eyeing for some time.
He received the ball in the mail this week, showing it off to awestruck teammates in the clubhouse.
"It's pretty awesome," Neshek said. "It's something I've always wanted. It's the best autograph I have in my collection. Man, what a gift."
Before finalizing the purchase, Neshek had a friend authenticate the baseball, which features a signature with Babe in quotation marks. That, Neshek explained, is an indication that it was signed when Ruth was still playing, likely around 1926.
Neshek told Lackey he would help cover part of the cost, an offer that Lackey declined. While Lackey was prepared to spend about $10,000 on a Breitling watch for Neshek, this gift went for more than two times that amount.
"I think he was really happy with it, and I appreciate him giving up the number with him having such a great year," Lackey said. "I wanted to do something cool for him."
Other teammates have since joked with Lackey that they, too, would gladly exchange their number with him.
For Neshek, the autograph instantly became the best in his collection, topping the Napoleon Bonaparte-signed battle plans that Neshek had previously procured. It also has helped him grow content with his new number, 37.
"You know what? I've gotten a lot of strikeouts since with No. 37, and things have been going pretty well," Neshek said. "It was a great trade."
The Cardinals facilitated another number swap on Wednesday, as A.J. Pierzynski took No. 12 from Greg Garcia, who was recalled by the club on Tuesday. Garcia is now wearing No. 35, the number Pierzynski was assigned when he signed with the club in July.
It is not known what, if anything, extra Garcia will receive in return.
Jenifer Langosch is a reporter for MLB.com. Read her blog, By Gosh, It's Langosch, and follow her on Twitter @LangoschMLB. This story was not subject to the approval of Major League Baseball or its clubs.