Taveras adjusting to expanded role for Cards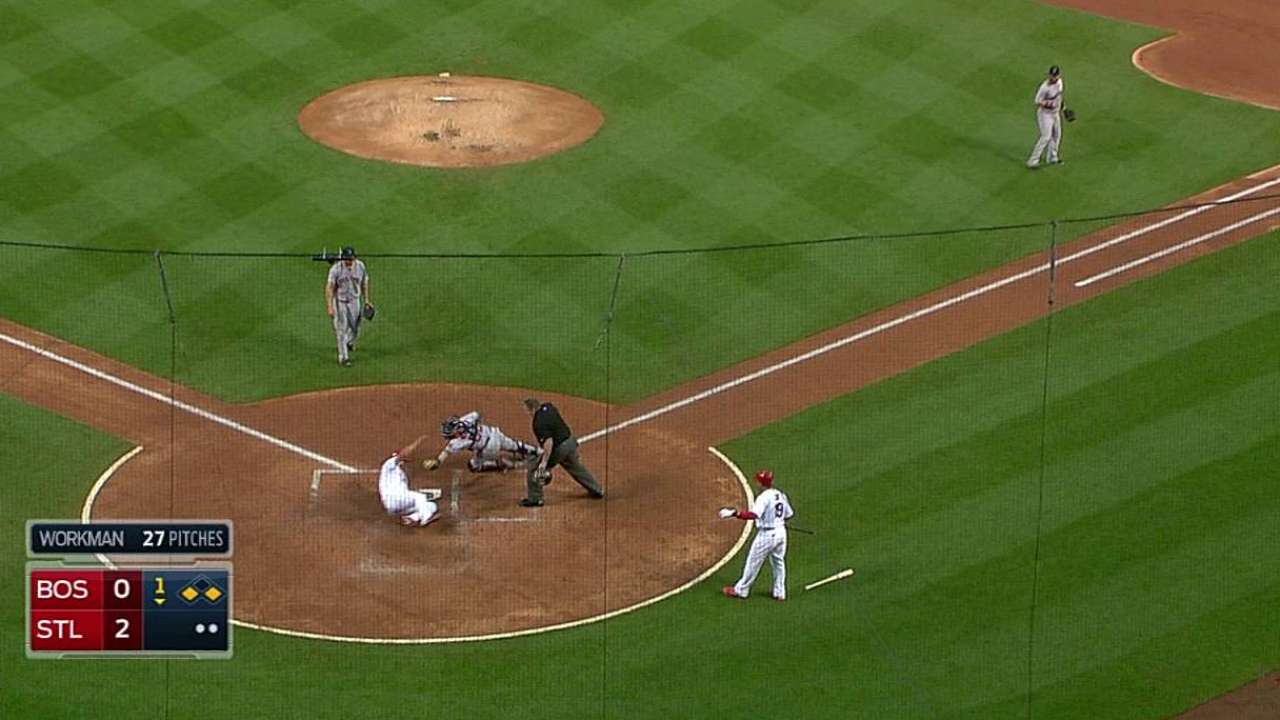 MIAMI -- Getting Cardinals outfielder Oscar Taveras at-bats hasn't been an issue since the Trade Deadline.
With the move that sent Allen Craig to the Red Sox, the organization indicated the direction it was headed with its promising young outfielder and his playing time moving forward.
The 22-year-old has started all 10 games in August and 11 of the last 12 overall. When the Cardinals recalled him for the second time, he went through a stretch in mid-July that included five pinch-hit appearances over eight games.
"Of course, the more at-bats I have, the better I get," Taveras said. "I'm proud to be in the lineup every night and know that I can help the team. I just do what I can to be consistent at the plate. I feel more confident with the team and that's a nice feeling to have."
Still, it comes with the growing pains -- and patience needed -- of starting a rookie during a pennant chase.
St. Louis entered Monday with the first National League Wild Card spot, but had just a half-game lead over the Pirates and were two back of the Brewers in the NL Central.
Taveras has discovered adjusting to the Major Leagues -- from the pace of the game to veteran pitchers -- is a daily routine. He looks to the experienced players on the club for advice, particularly working on the mental aspect of the game.
"I've learned a lot," Taveras said. "There's a lot of veteran presence and the game is quicker. I'm doing the most I can, giving 100 percent. What I have to do, I do it well."
Entering Monday's opener in Miami against the Marlins, Taveras was batting .214 with five doubles, two homers and 12 RBIs in 42 games. On the current trip, he is 1-for-10.
For the first time since Taveras' callup May 31, manager Mike Matheny inserted him into the No. 8 spot of the order. Matheny put Jon Jay, who collected three hits and three RBIs this past weekend against the Orioles, ahead of him in the lineup to get more at-bats.
"We saw him go outside of [the strike zone] a little bit in Baltimore," Matheny said of Taveras. "Chasing a lot of pitches above the zone which isn't typically something he does a lot of. Just try to get him going, but more importantly get our offense going. …
"I think at times [we see a long swing] and then we'll see him in another at-bat where it looks a little shorter to the ball. Just going to be that process a young hitter has to go through."
Christina De Nicola is a contributor to MLB.com. This story was not subject to the approval of Major League Baseball or its clubs.