Deal for Lackey gives Taveras increased role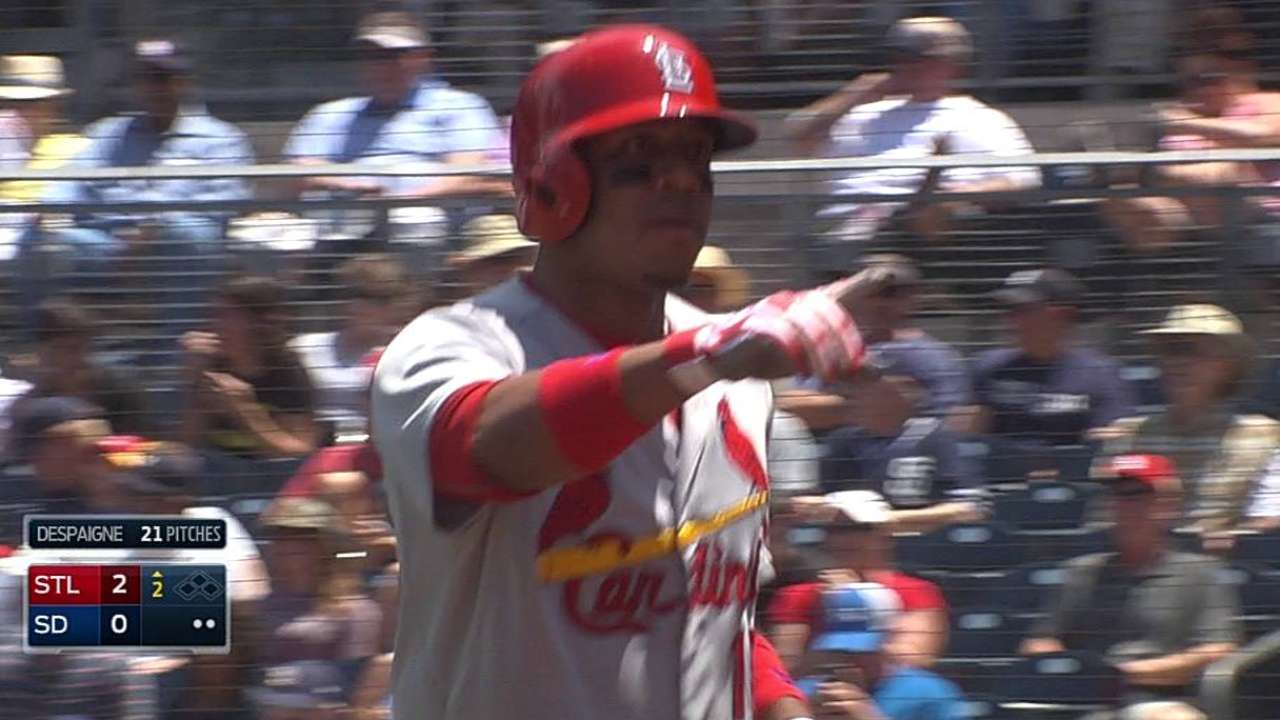 SAN DIEGO -- Though general manager John Mozeliak was insistent that Thursday's trade was not made to solve the logjam in right field, it nevertheless paves the way for top prospect Oscar Taveras to get the regular playing time that he has lacked since his second callup.
After weeks of splitting the right-field duties with Allen Craig, Taveras looks to get a healthy dose of at-bats as he tries to prove himself ready for the everyday assignment. He made a statement in his first one post-Trade Deadline, knocking the second homer of his career to jumpstart a 6-2 win over the Padres.
"I felt I have been swinging well," Taveras said, with bullpen catcher Roberto Espinoza translating. "Now with this news, I'll probably get more playing time. I hope to start feeling more comfortable playing more, but I'm always working and always focused."
Taveras has accrued 63 at-bats since being recalled on the final day of June. That was nine more than Craig had in July, though Taveras only had slightly more success. Thursday's homer was the first since his Major League debut in May, and it also gave him his first multi-RBI game.
Coming into Thursday, the 22-year-old was batting .220/.246/.254 with two extra-base hits and four RBIs in this second stint with the Major League team. His inability to carry over his Triple-A success led to the month-long timeshare in right field.
"As you can imagine, if you're [manager] Mike Matheny, that's a difficult spot to be in," Mozeliak said. "You have Allen Craig, who has been a proven performer who is struggling this year. We add Oscar to the roster, and certainly I'll have to take responsibility for that. I didn't feel like he had much left to prove at Triple-A. You're trying to play both players. You're trying to get both guys going. Neither had performed at a very high rate at that time, and it just became a very difficult balance for everybody involved.
"But that was not what pushed this deal. It was more what we felt we had in the pipeline. We felt like this kind of positioning might be the same a year from now or even two years from now. This was a good solution all the way around."
Mozeliak was referencing the stockpile of young outfielders the Cardinals have in the upper levels of their Minor League system.
Matheny would not entertain speculation about Taveras' playing time in the coming days, saying on Thursday that he would be starting "at least for today." Unless the Cardinals opt to add one of those other young outfielders to the roster on Friday, however, this would seem to be Taveras' opportunity to shine.
"He's got to play the game. He's got to play it right," Matheny said. "That is going to be part of his responsibility. There are things he's going to have to work on to try and get better. He's going to have a good opportunity to do it."
Jenifer Langosch is a reporter for MLB.com. Read her blog, By Gosh, It's Langosch, and follow her on Twitter @LangoschMLB. This story was not subject to the approval of Major League Baseball or its clubs.