Taveras, Polanco on different paths early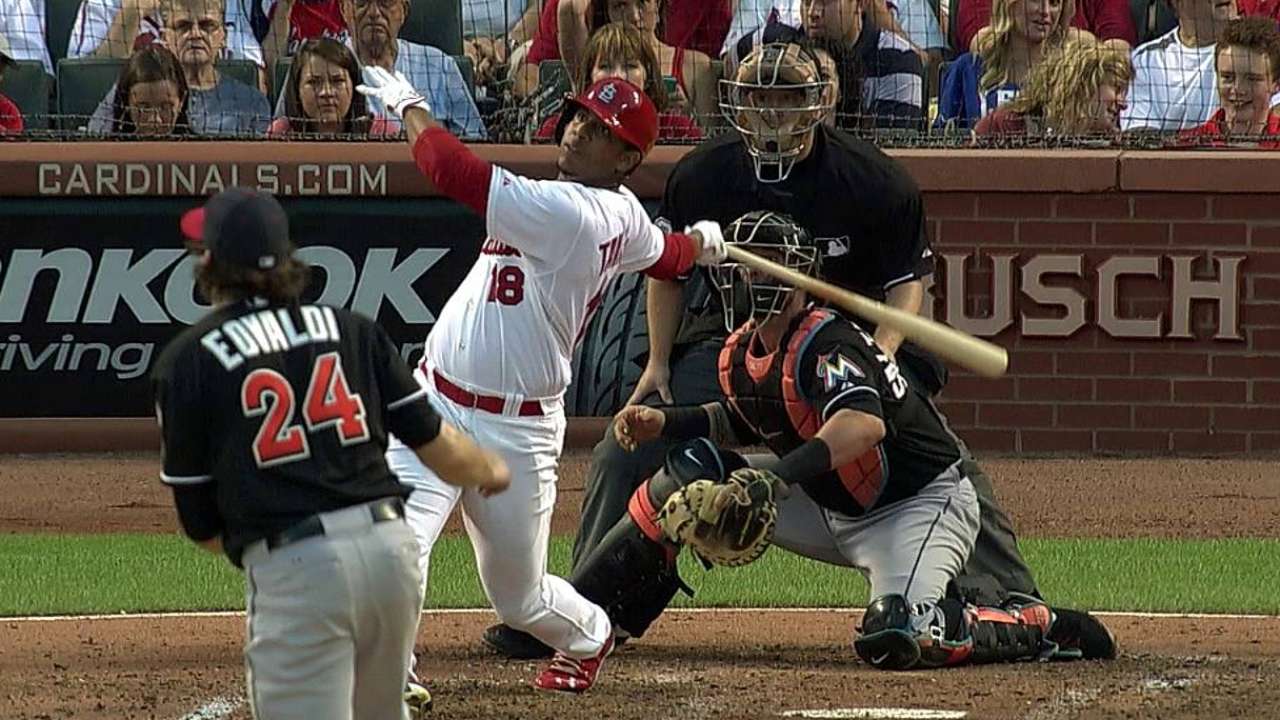 ST. LOUIS -- The Major League arrivals of Cardinals outfielder Oscar Taveras and Pirates outfielder Gregory Polanco this season rivaled each other, with eyes glued to every at-bat.
Yet they have taken different routes since their much-anticipated first days in a big league lineup. Taveras, MLB.com's No. 2 prospect, has searched to find the success that garnered him praise, whereas Polanco, ranked No. 12, is quickly becoming one of the league's top rookies.
"Our hope, whenever we bring up a young player, is that they translate all the excitement and the things they've been able to do at the other levels and put it in play here," manager Mike Matheny said. "Polanco is an exciting player. I don't think we've really had Oscar hit that stride yet, but he's done it for too long at every level for us not to believe that's something that we're going to see."
Taveras homered in his first day in the Majors but hit .189 in 11 games during his first stint before being sent back to Triple-A. Polanco, meanwhile, started his career with an 11-game hitting streak and has hit .299 with three homers and 13 RBIs in his first 27 games in the Majors.
The two top prospects, who were out of the starting lineup on Monday before pinch-hitting late in the game, faced off for the first time on Tuesday. The two 22-year-olds, who competed against each other during the winter in the Dominican Republic -- with Taveras edging Polanco for Rookie of the Year -- didn't disappoint.
Polanco went 3-for-5, and Taveras went 2-for-4 to raise his average to .200. Taveras, seven games into his second Major League stint, is beginning to feel more relaxed.
"I feel at home, I feel comfortable at the plate," Taveras said through Cardinals bullpen catcher Roberto Espinoza after St. Louis' 5-4 win. "I'm taking good pitches. I've tried to just see my pitches and look for one I want."
Tuesday's matchup was the first of many to come between the two rookies, but Round 1 offered a strong first glimpse.
"Polanco is a talent we had heard a lot about, and I know people in baseball had been excited to watch a few of these guys on the field at the same time," Matheny said. "I don't think they disappointed."
Jenifer Langosch is a reporter for MLB.com. Read her blog, By Gosh, It's Langosch, and follow her on Twitter @LangoschMLB. Alex Halsted is an associate reporter for MLB.com. This story was not subject to the approval of Major League Baseball or its clubs.