Garcia to have season-ending surgery for nerve issue
On DL with injured shoulder, left-hander reveals he has thoracic outlet syndrome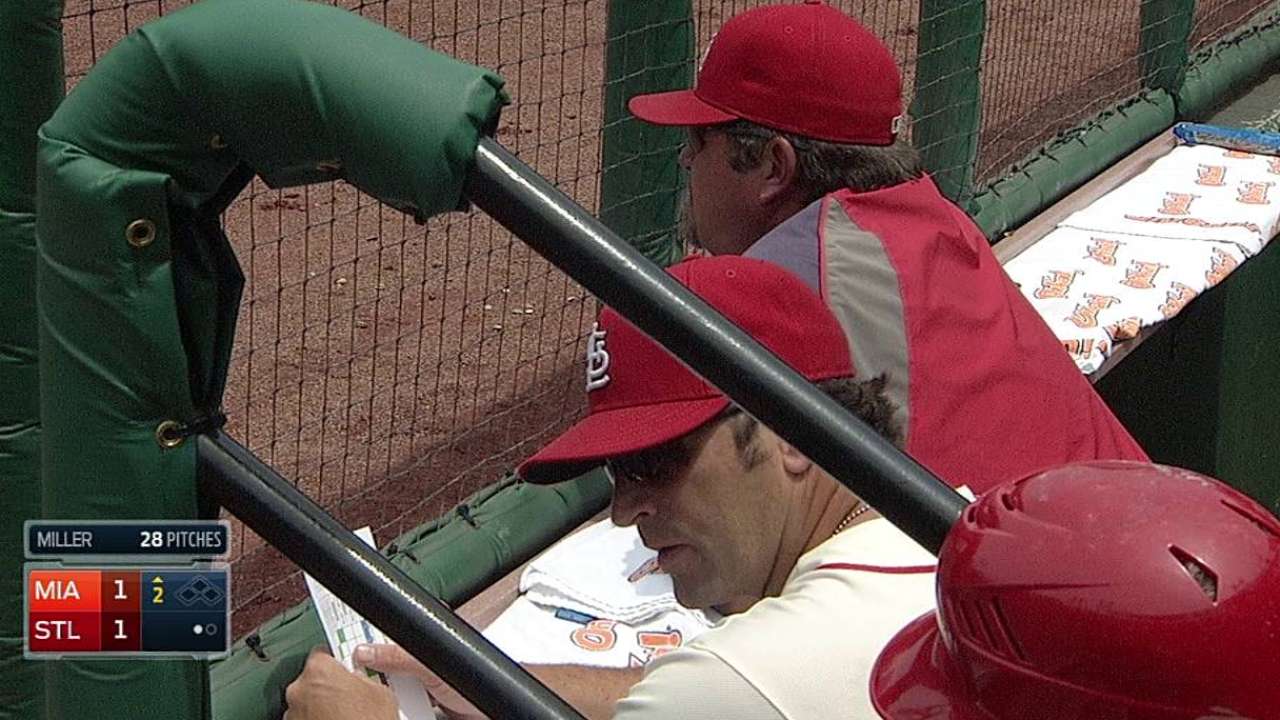 ST. LOUIS -- The consensus has been that Jaime Garcia's trip to the disabled list stemmed from issues with his surgically repaired left shoulder, but the dejected left-hander admitted Saturday he is dealing with nerve issues and was strongly considering surgery.
That was news to Cardinals general manager John Mozeliak, who after learning of Garcia's comments, held an impromptu session with reporters shortly before first pitch to announce that the lefty would meet with Dr. Robert Thompson in St. Louis on Monday as a precursor to season-ending surgery.
"I sound frustrated, look frustrated. I'm frustrated," Mozeliak said. "You try to be patient with people, and I think this organization does an amazing job protecting players. Certainly we would have loved to have heard from him."
Garcia, who underwent surgery in May 2013 to repair a labrum tear in his left shoulder and missed the rest of the season, was placed on the disabled list June 23 with what was thought to be shoulder issues. He revealed Saturday his injury instead is a nerve issue called thoracic outlet syndrome, similar to the one that ended former Cardinals starter Chris Carpenter's career.
Garcia had a setback from shoulder surgery this spring, which cost him the first seven weeks of the season. While rehabbing in Double-A in May, he was hit by a pitch in his elbow while batting, causing tingling in the same nerve he had replaced with Tommy John surgery in 2008.
"I thought it was just from getting hit, which was the reason why I was going out there," Garcia said. "Basically what was happening was I was just not in control. I could not feel my hand and I would just lose the feeling. I started having symptoms on the other nerve, which is the nerve that controls the other three fingers of the hand. Then I started getting tingling in my neck and shooting in my hand every single throw that I was making. That's what got me a little more concerned about it."
Garcia labored through five innings, allowing four runs on seven hits, on June 20, and he couldn't finish his normal between-starts bullpen session two days later, prompting the Cardinals to place him on the disabled list.
Mozeliak, who said he had not spoken with Garcia, believed the lefty had talked with team trainers Saturday, but reporters apparently learned of his strong surgery consideration before management. That consideration changed shortly thereafter as Mozeliak said Garcia would indeed undergo the procedure.
"To go from DL to this, it's been rather quick," Mozeliak said. "In terms of where we were yesterday to where we are today, it does seem rather dramatic and quick. Obviously he internalized this and decided to make a decision. If this is something he feels is his only option, then obviously he has to do it. It still doesn't excuse the fact that he could have notified us a little bit more."
While Garcia initially thought the issues were from getting hit or from his shoulder surgery, Dr. George Paletta, who performed the surgery on his shoulder, couldn't explain the symptoms, and it was determined it wasn't connected.
Garcia met with two of the nation's top doctors, one of which was Dr. Greg Pearl in Dallas. Pearl performed Carpenter's surgery in 2012. Carpenter pitched in six games after surgery in 2012, and he missed the 2013 season before retiring.
"The last thing you ever want to do is [surgery]," Garcia said. "If there's no other option, of course. At least I know in talking to other players that it has worked, it's worked for a lot of guys. It's tough to sit here and say I want to do surgery."
Garcia, when talking with reporters, did not commit to surgery, but a frustrated Mozeliak made it clear that is now the intended route, even though the team felt there might be other options to pursue first.
"From a medical staff, we felt like there were some other options he could consider before taking this step," Mozeliak said. "Obviously, again, he chose to go down this path."
The surgery will effectively end Garcia's season after seven starts. It will be the fourth time Garcia has had surgery during his career.
"Clearly, he's been a hard guy to count on and a hard guy to keep on the field," Mozeliak said. "It just always seems like there's something physically with him. Now he'll have another opportunity to rehab and see if he can't get back next year."
The Cardinals have inserted rookie Marco Gonzales into the rotation in Garcia's absence, and Mozeliak expects Joe Kelly to fill the void after the All-Star break when he returns from the DL.
Alex Halsted is an associate reporter for MLB.com. This story was not subject to the approval of Major League Baseball or its clubs.