Martinez brings 'contagious' energy to rotation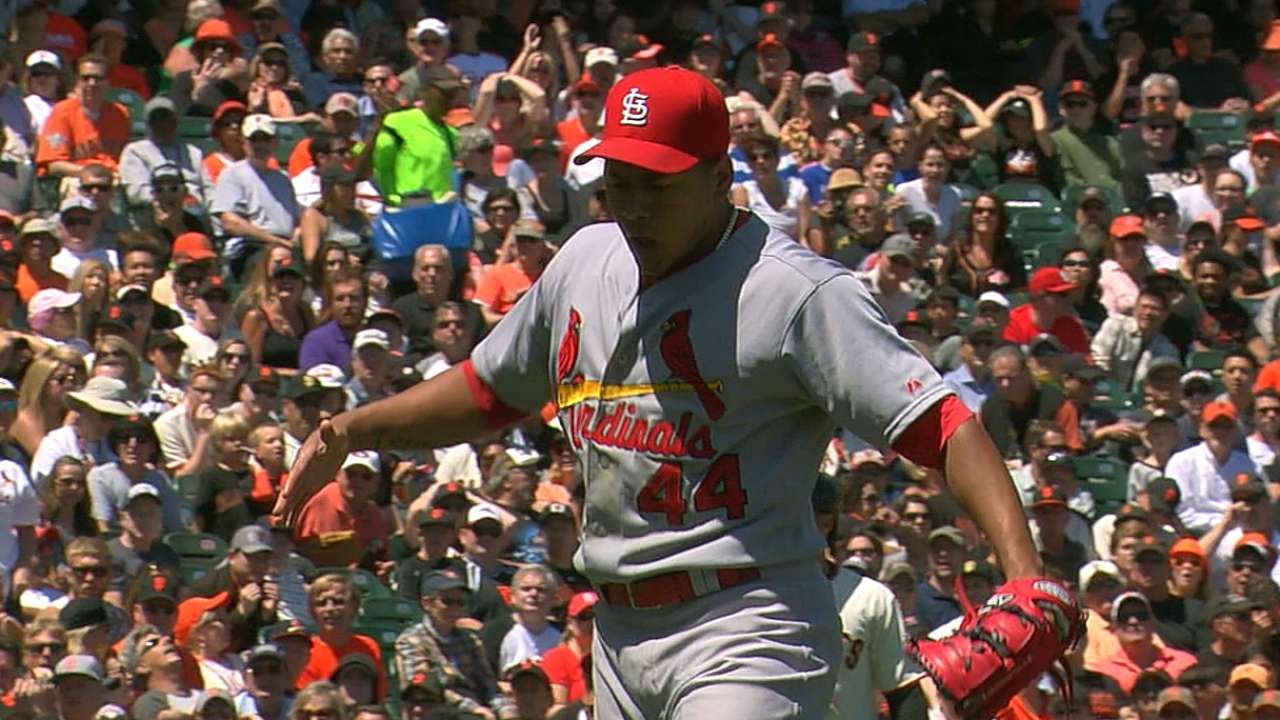 SAN FRANCISCO -- It's hard to miss the energy and charisma that Carlos Martinez brings to the mound, along with an upper-90s fastball and complementing curveball. It was all on show again Thursday as Martinez pitched the Cardinals to a 7-2 win, the fourth for St. Louis in as many starts for Martinez.
And apparently you have to listen to the 22-year-old, too, to get the full appreciation of his gregarious personality.
"He comes back in and he's saying all kinds of stuff, sounds like a rooster sometimes," manager Mike Matheny began to explain after the team's series win. "I haven't figured that one out yet. Whatever he's doing, guys are laughing, and they're smiling. That energy that you're talking about when you bring young guys up is contagious. And then he made a couple things happen, too.
"If you're just out here making all kinds of noise and not producing, that's a whole different animal. But he's doing a nice job making things happen on the mound and, today, at the plate."
Martinez's athleticism was on display, first as he singled home two runs in the fourth inning and then as he laid out to stop a Gregor Blanco bunt from getting past him in the fifth. The latter play briefly knocked the wind out of him, but Martinez bounced back up and later closed the inning with a bases-loaded strikeout of Buster Posey.
Afterward, with bullpen catcher Roberto Espinoza translating, Martinez described his five-inning start as "the best one I've had." His manager concurred.
"This was his best, no question," Matheny said. "I thought he had a consistent, fluid delivery. It looked like his arm was timed up with his body. It looked to me more like pitching today, rather than raring back and seeing how nasty he could be."
The Cardinals have never questioned the potential, long labeling Martinez as one of the most exciting young arms in the system. He has begged for a chance to start since arriving as a reliever last season, and he now finds himself with that chance as the Cardinals have three starting pitchers on the disabled list.
Martinez threw a season-high five innings (one walk, six strikeouts) on a season-most 88 pitches Thursday. One of his tasks now is to improve that efficiency so he can go deeper. The upside is certainly high, and with the Cardinals' decision to open the year with Martinez in the bullpen, the club sets itself up to use him as a starter as long as needed.
Thus far, that's proven to be a winning combination.
"I've never seen a lack of confidence from this kid no matter what the situation," Matheny said. "Maybe one time when he came up last year, it looked like he was a little shell shocked, and that's when [catcher] Yadi [Molina] knocked some sense into him on the mound. After that, I haven't seen a guy where I didn't look out there and not think, 'This guy has complete confidence and is going to get the job done.' That's one of his greatest strengths."
Jenifer Langosch is a reporter for MLB.com. Read her blog, By Gosh, It's Langosch, and follow her on Twitter @LangoschMLB. This story was not subject to the approval of Major League Baseball or its clubs.