Carpenter bumps All-Star stock with fundamental play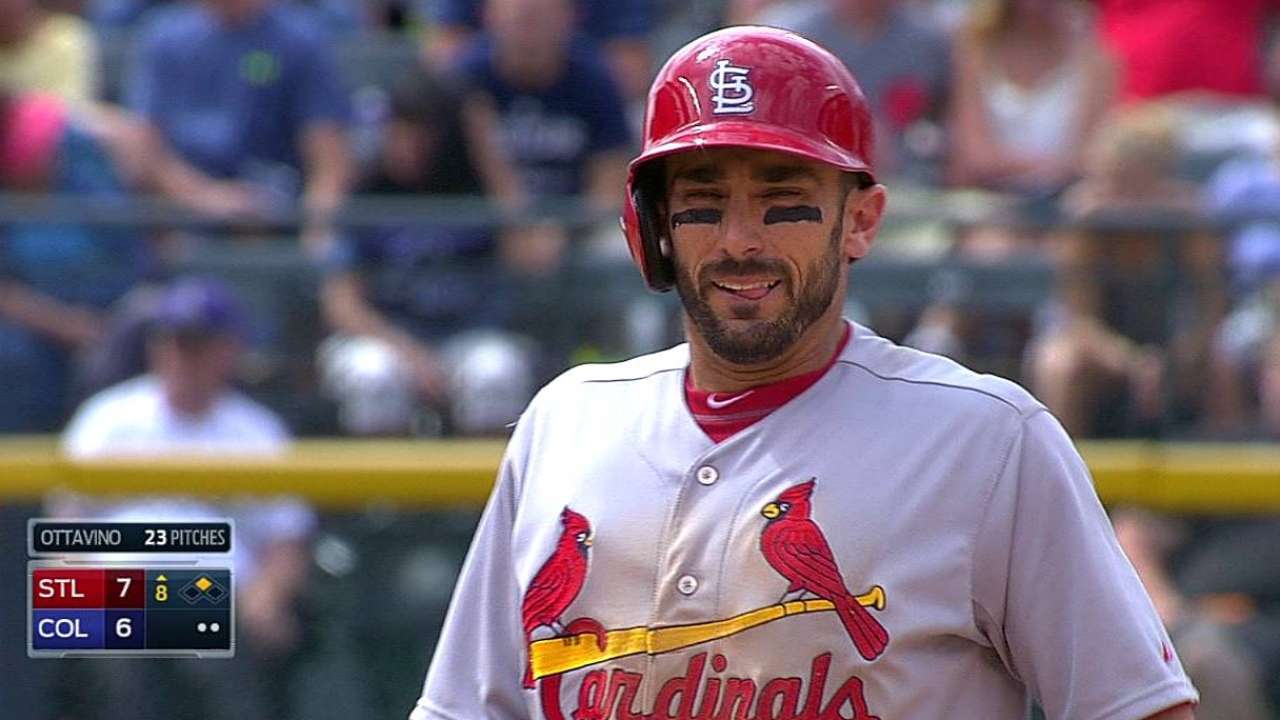 DENVER -- Matt Carpenter might not currently be swinging a flashy bat, but with all the little things he's doing right, he could make a late push in the National League's wide open All-Star voting race at third base.
Carpenter began the Cardinals' most recent series against the Rockies by reaching base three times despite never having a ball leave the infield. After finishing Monday with two walks and a hit-by-pitch, Carpenter logged a sacrifice fly both Tuesday and Wednesday.
Carpenter only had one hit in nine at-bats against the Rockies, but he made it count, driving in the go-ahead run in the Cardinals' 9-6 win with his eighth-inning double.
"It was nice to see him stick with the approach and get the big hit [Wednesday]," said manager Mike Matheny.
Matheny went on to praise Carpenter by adding he's passing the eye test despite his lack of flashy stats lately.
Matheny pointed to Tuesday's 10-5 loss when Rockies right fielder Brandon Barnes robbed Carpenter of a surefire double with a diving catch that he called "probably the best play we've seen this season." Matheny also admired the way Carpenter was able to advance Marco Gonzales from second to third Wednesday with a ball that "almost [took] the second baseman's glove off."
"He's making good contact and he's taking good at-bats," Matheny said.
As of Monday's voting update, Carpenter was in fourth place in the third base race with 1,049,472 votes. The Brewers' Aramis Ramirez leads the way with 1,279,902.
Upon completion of Wednesday's game, Carpenter's 13 walks in the month of June ranked as the fourth most in the National League, and he's only struck out nine times since the calendar flipped. If you're a fan of fundamental table-setting, you could do worse than vote for Carpenter.
Cody Ulm is an associate reporter for MLB.com. This story was not subject to the approval of Major League Baseball or its clubs.