Miller doesn't think back spasms will cost him a start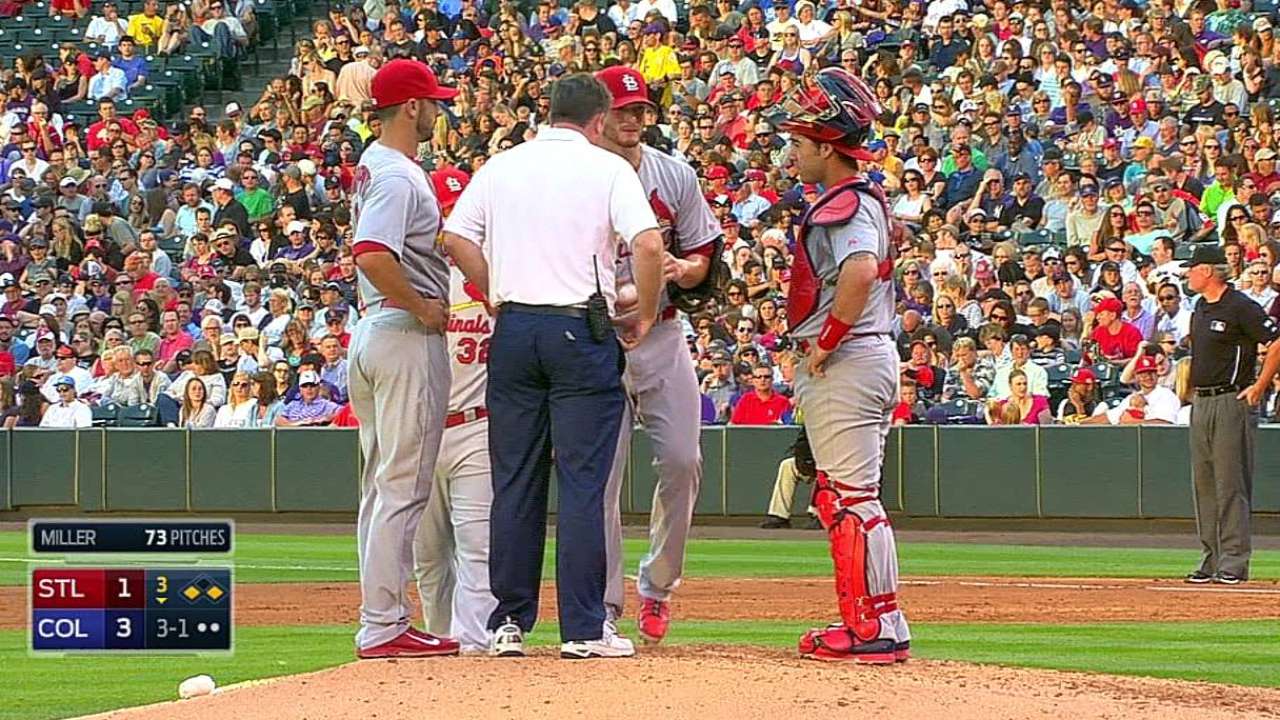 DENVER -- Cardinals right-hander Shelby Miller is expected to make his next start after being removed with two outs in the third inning of Tuesday night's 10-5 loss to the Rockies with what manager Mike Matheny called "mid-back spasms."
"He seemed to be pretty confident that he'd have a good chance of being ready to go for his next start," said Matheny.
Miller was visibly grimacing after feeling "a nagging little sting" in his back while facing Jorge De La Rosa. Miller said the pain would jolt up his back as he extended his arm to pitch.
Having already walked four batters, the Cardinals were alarmed when Miller fell behind 3-1 in the count against the Rockies' pitcher and decided to have a meeting on the mound. Miller had sent two pitches far inside and another well above the strike zone in the at-bat.
Matheny and the training staff observed carefully as Miller threw a few practice pitches. Seeing no apparent improvement, the Cardinals elected to pull Miller.
Matheny noted postgame that Miller began to feel signs of back tightness in his bullpen sessions prior to his start. Miller added that even before his back flared up in the third, he still "never felt quite right the whole time," which explains the three runs he allowed in the first inning and his five walks.
"I just kind of never really got loose," Miller said. "I could still throw the baseball, but that last-at bat I was throwing four-seams that were cutting three or four feet. That's when I felt it the most."
Miller complained of feeling tightness in his hip flexor following his previous start against the Phillies. At first, he shot down speculation that the two could be related before reconsidering.
"I don't know if that might have caused the problem [Tuesday] because they say it runs up to the middle of your back," Miller said. "It was almost kind of I guess the same sting. ... I felt like I could have kept going, but at the end of the day, it's [Matheny's] call and I always respect anything he does."
Miller admitted to still feeling "a little sore" in the clubhouse following the loss. He expects to be sore Wednesday as well but doesn't anticipate it lingering beyond that.
"Just like any other soreness we have in our arms, we'll get it taken care of and ice it and do it everything we need to do to get it back to normal," said Miller.
Left-hander Nick Greenwood came on to replace Miller and proceeded to walk De La Rosa with one pitch before closing out the inning with a Charlie Blackmon flyout. The walk was charged to Miller because he started the at-bat.
Miller finished his evening with six hits and five walks against him, throwing 73 pitches in 2 2/3 innings. The Rockies got to him for three earned runs, all in the first.
Cody Ulm is an associate reporter for MLB.com. This story was not subject to the approval of Major League Baseball or its clubs.