Yadi's value goes far beyond offensive numbers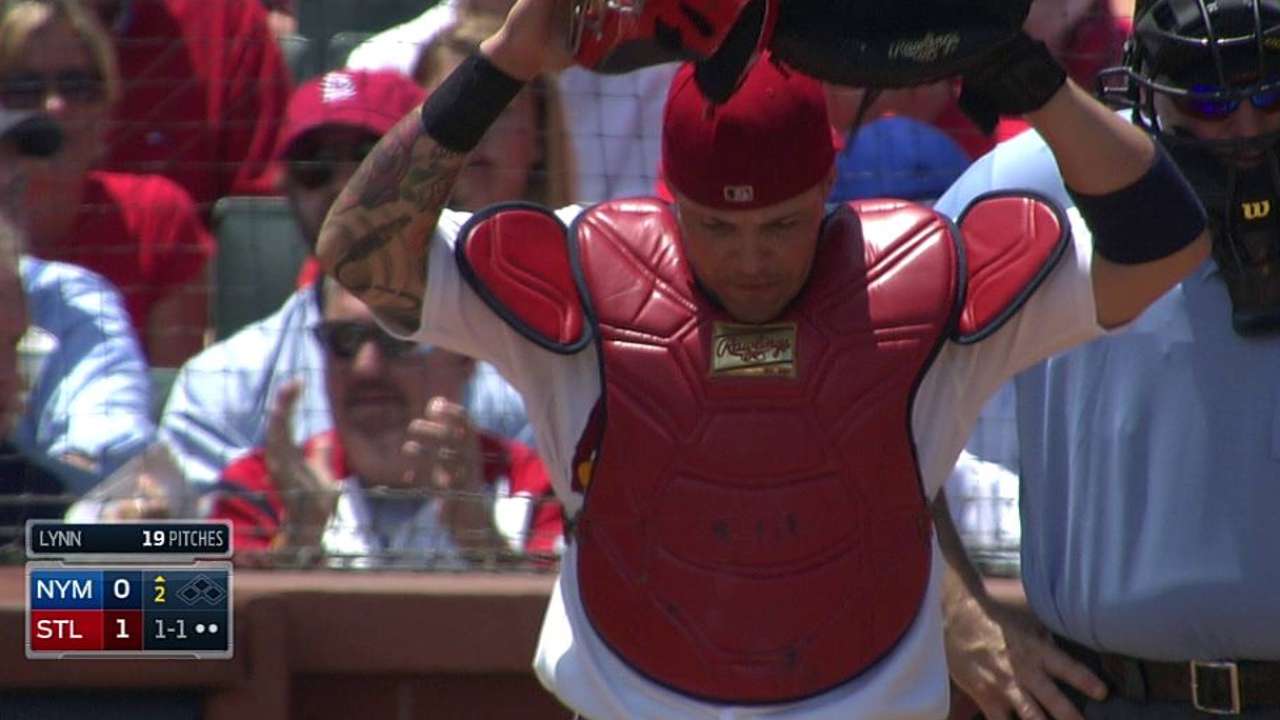 DENVER -- When Cardinals catcher Yadier Molina takes his scheduled day of rest Tuesday, he'll be sitting on a comfortable lead in National League All-Star voting.
Leading Jonathan Lucroy by nearly 700,000 votes as of Monday's latest update, Molina seems like a lock to start his fifth Midsummer Classic despite trailing Lucroy in every offensive category. It's Molina's ability to manage pitchers, especially young ones, that puts the Cardinals' catcher a cut above.
Part of the reason for Molina's day of maintenance is because he's been "fighting to figure everything out offensively," according to Cardinals manager Mike Matheny. The other part is that left-hander Marco Gonzales will be making his Major League debut Wednesday on a short turnaround after a night game and Matheny considers having Molina behind the plate for that game against the Rockies is a must.
"It's great to have a smart catcher like Yadi, who knows how to maximize a young kid's stuff and what he's comfortable doing," said Matheny, who admires Molina because he isn't a control freak who feels obligated to tell an unseasoned pitcher, "If you follow me, I'll make it all right."
Instead, Molina adapts to that particular pitcher's preferences in order to make them feel comfortable, much like he did early on with Michael Wacha and Shelby Miller.
"Yadi has done it a number of times with our young pitchers," said Matheny. "He [tells] them, 'You pitch your game, I'll catch on, I'll help you and I won't let you do anything stupid.'"
Gonzales will already feel right at home in Coors Field, as a native of Fort Collins, Colo., but if Molina is able to keep him relaxed and focused on the mound, it will only reaffirm his status as the best all-around catcher in the NL.
"That's a huge security blanket for a young pitcher -- to know I can go be myself ... but they're watching in case I get off track a little bit," said Matheny.
Fans can cast their votes for starters at MLB.com -- online or on a mobile device -- using the 2014 All-Star Game MLB.com Ballot Sponsored by Experian until Thursday, July 3, at 10:59 p.m. CT. The 2014 All-Star Game will be played at Target Field on Tuesday, July 15 on FOX.
Cody Ulm is an associate reporter for MLB.com. This story was not subject to the approval of Major League Baseball or its clubs.