Chosen for spot start, Martinez takes news in stride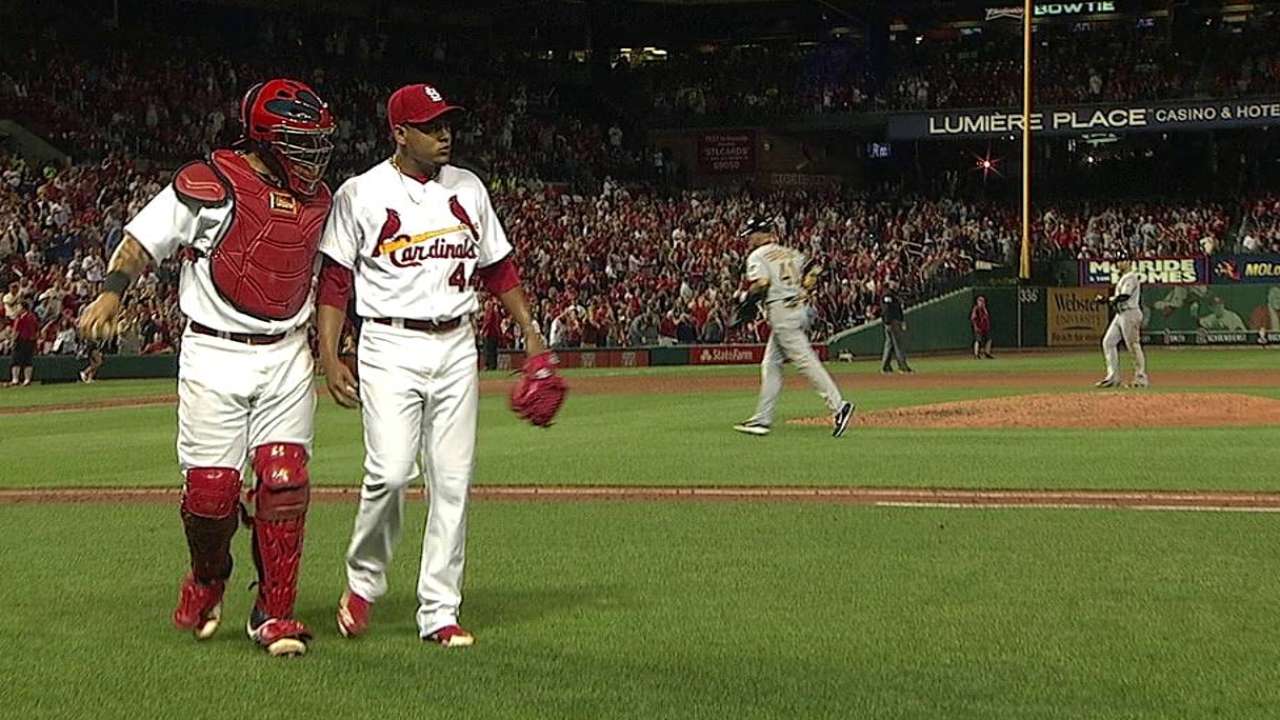 ST. LOUIS -- Cardinals manager Mike Matheny was expecting more than the answer Carlos Martinez presented.
The 22-year-old right-hander moved through the Cardinals' system as a starting pitcher, but in parts of two seasons in the Majors, his role has been an arm out of the bullpen with a fastball that can touch triple digits.
Out of necessity, with starter Adam Wainwright scratched from his Monday start due to tendinitis, Martinez's opportunity has come. Matheny called his young pitcher into his office and delivered the news that he'd be taking the hill vs. the Mets.
"That's fine," Martinez told his manager in Spanish.
"I made him redo that," Matheny said with a laugh. "I told him he gets a do-over."
"I'm going to tell you all over again and you get to give me a different answer," Matheny told Martinez.
Martinez smiled, hugged his manager and gave the answer he was first expecting.
"I'm not the best at it, but I expect these guys to be better than me at showing emotion," Matheny said. "Just like all of these guys, they want to put up a bravado front. He said he was very excited. He's a hugger, a lot like Waino. So I don't hold back on that."
Martinez made 16 starts between Double-A and Triple-A in 2013, posting a 2.49 ERA. He made one start in the Majors, going 4 2/3 innings while allowing four runs in a loss last August. His other 50 appearances have been out of the bullpen.
This season, Martinez has had ups and downs, dominating the opposition in some stretches and struggling to record outs in others. The Cardinals have chalked it up to inconsistency from inexperience.
"I don't think that stuff really gets into his head," Matheny said. "He's so -- it's not an arrogance -- it's just a genuine confidence that, 'OK, you guys gave me a chance. You're going to see this.' That's part of, I believe, the beauty of Carlos' makeup."
Martinez has posted a 4.67 ERA in 34 2/3 innings this season. The Cardinals looked at other options in the Minors to fill Monday's void, but Martinez's ability to be stretched out helped the decision. He threw 47 pitches over 2 2/3 innings on June 1 when the team needed help.
"We told him to keep working, and he was going to get a chance," Matheny said. "He still has a big role for us in the bullpen, but this is an opportunity that is also a necessity. We need somebody to step up and be able to take this start for Adam. We believe Carlos can do a good job of that."
Martinez is expected to get between 50 and 60 pitches to work with Monday. The Cardinals added Nick Greenwood to the roster Sunday to bolster the bullpen. Greenwood has posted a 2.61 ERA in 41 1/3 innings this season at Triple-A Memphis.
Alex Halsted is an associate reporter for MLB.com. This story was not subject to the approval of Major League Baseball or its clubs.