Wainwright to miss Monday start with tendinitis
Cards' ace says elbow is fine, will likely make following start Saturday vs. Phillies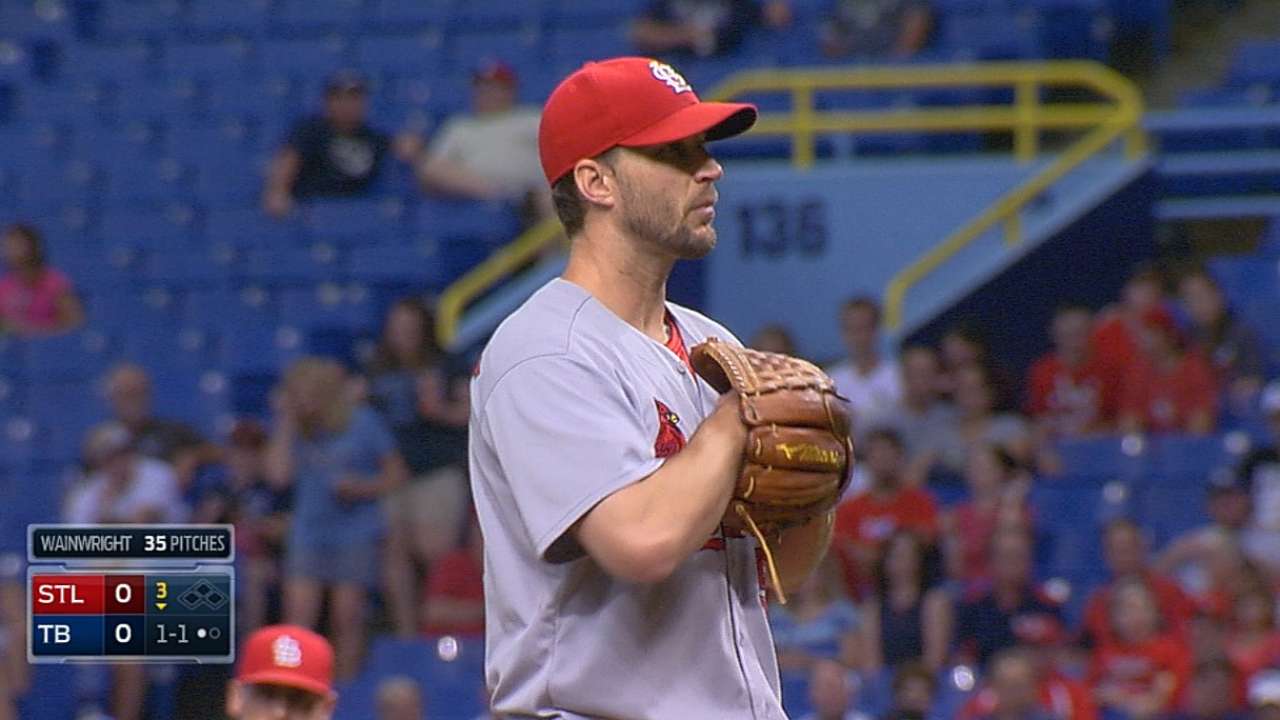 ST. LOUIS -- The guessing game is over. Battling tendinitis, Cardinals right-hander Adam Wainwright has been scratched from his next scheduled start Monday.
"I think this is more precautionary than anything else," Cards general manager John Mozeliak said. "It was something we just didn't want to push if we didn't have to, and he agreed with that. We are anticipating him making that next start [next Saturday]."
That decision to skip Wainwright's start Monday came Saturday after he played catch at Busch Stadium. Wainwright had disclosed after his Tuesday start against the Rays in St. Petersburg that he has been battling tendinitis, and he returned to St. Louis on Wednesday to have an MRI exam on his right elbow. Tests revealed no major issues except for tendinitis, and Wainwright had an anti-inflammatory shot to help it subside.
Despite feeling some improvement following the shot, the Cardinals prefer to be safe, and scratched Wainwright from Monday's start. Who will fill the void in the Cardinals' rotation remains uncertain.
With last Thursday's off-day the Cardinals have the option to move Michael Wacha to Monday, but Mozeliak said the team would instead opt to give him an extra day of rest, keeping him in line to start Tuesday's game against the Mets.
Other options include having a combination of relievers get the team through Monday's game, making a roster move to bring up a spot starter or having someone in the bullpen stretch out to make the start.
Reliever Carlos Martinez, who made 16 starts between Double-A and Triple-A last season, could be an option, though Mozeliak didn't name any specific pitchers.
"We could sit here and triangulate who might get this opportunity, but we haven't spoken with anybody yet," Mozeliak said. "The fact is it could change depending on how the next couple of days go, so it's fluid."
Mozeliak said the plan was to talk with a pitcher Sunday, leaving Monday's starter as to be determined. How fresh the bullpen is after the next two games against the Nationals will likely play a large role.
What has been determined is that Wainwright's injury isn't thought to be serious. While his return to St. Louis sent red flags around baseball because the right-hander had Tommy John surgery in 2011, Wainwright insisted his elbow is fine.
"I really want people to know that my elbow, structurally, that you could see my ligament on the tape. ... It's as thick as an oak tree and strong as can be," Wainwright said Friday. "I just want to clear the air there. It has nothing to do with my ligament whatsoever."
If Monday's outing didn't fall in mid-June, there would also be more reason for Wainwright to push through the tendinitis. He has posted a 2.15 ERA this season in 100 1/3 innings.
"I think if this were October, he'd pitch," Mozeliak said. "That just doesn't make sense to this week."
Instead, Wainwright is expected to return to the hill Saturday against the Phillies.
Alex Halsted is an associate reporter for MLB.com. This story was not subject to the approval of Major League Baseball or its clubs.