Wainwright puts Tommy John fears to rest
Cards ace says ligament is 'thick as an oak tree ... strong as can be'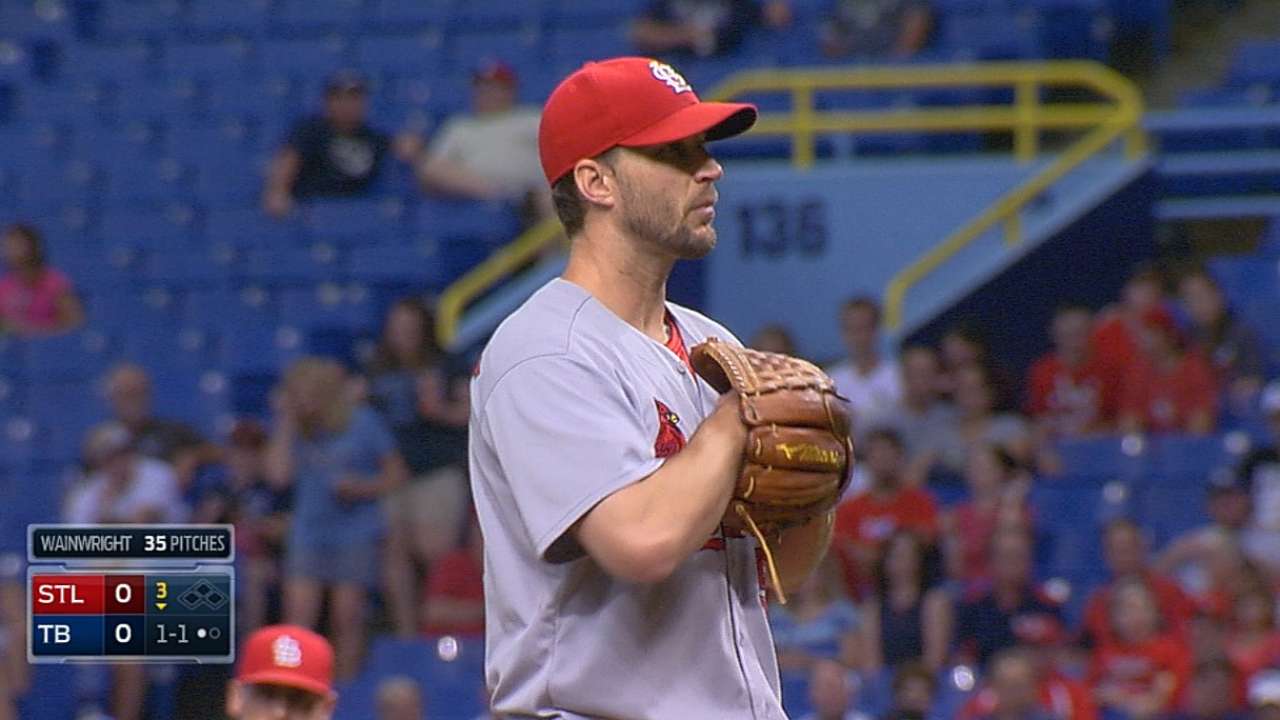 ST. LOUIS -- Adam Wainwright sat in the dugout at Busch Stadium on Friday afternoon and spent several minutes stressing one thing.
"I'm OK," Wainwright said. "I really am."
Wainwright, who disclosed after his Tuesday start against the Rays in St. Petersburg that he had been battling tendinitis, returned to St. Louis on Wednesday to have an MRI exam on his right elbow. Tests showed no major issues, but revealed a small area in the back of his arm with inflammation caused by the tendinitis.
Wainwright's return to St. Louis caused some concern, as the 32-year-old underwent Tommy John surgery in 2011.
"I know that in this business, when the word 'elbow' gets thrown around, people think the worst," Wainwright said. "In actuality, in all honest-to-goodness truth, the only reason we did an MRI at all was to see how to treat it better.
"I could pitch through this, there's no doubt, without seeing doctors and without getting a shot and all of that. Where I was thinking in my brain is that's not the smart play."
The veteran starter, who has already logged 100 1/3 innings this season, began feeling some discomfort in the final innings of his start against Kansas City on June 4, and it carried over to his outing against Tampa Bay.
Wainwright was removed after seven scoreless innings and just 92 pitches, an indication something might be wrong with the Cardinals' workhorse. In addition to the MRI, Wainwright was given an anti-inflammatory shot.
He will play catch Saturday, at which point the team will determine if he can make his scheduled start Monday. With the help of Thursday's off-day, the Cardinals could alter their rotation to provide Wainwright additional rest.
"I think the best way to think about this now is it's a long season," Cardinals general manager John Mozeliak said. "Certainly you don't want to put the season in jeopardy for one start. I think I know where we're leaning, but I'd like to see how he responds tomorrow."
Wainwright led the Majors with 241 2/3 innings pitched last season. In surpassing 100 innings through his first 14 starts this season, the right-hander has posted a 2.15 ERA.
While tests aren't able to determine the cause of Wainwright's tendinitis, he downplayed overuse over the last two seasons playing a key role.
"What I do know is the St. Louis Cardinals are paying me quite a bit of money to go deep into games and pitch a lot of innings," Wainwright said. "That's why I work my tail off in the offseasons and throughout the season to be a horse for this team."
Wainwright said he could have continued to pitch in his last outing and "absolutely" could start Monday, pitching through any pain. If there is any, though, he said he'll instead opt for extra rest until the issue is fully resolved.
His main concern Friday was to make it known his elbow is just fine.
"I really want people to know that my elbow, structurally, that you could see my ligament on the tape. ... It's as thick as an oak tree and strong as can be," Wainwright said. "I just want to clear the air there. It has nothing to do with my ligament whatsoever."
Alex Halsted is an associate reporter for MLB.com. This story was not subject to the approval of Major League Baseball or its clubs.