Seferina taken in Round 5 as Cards' first position player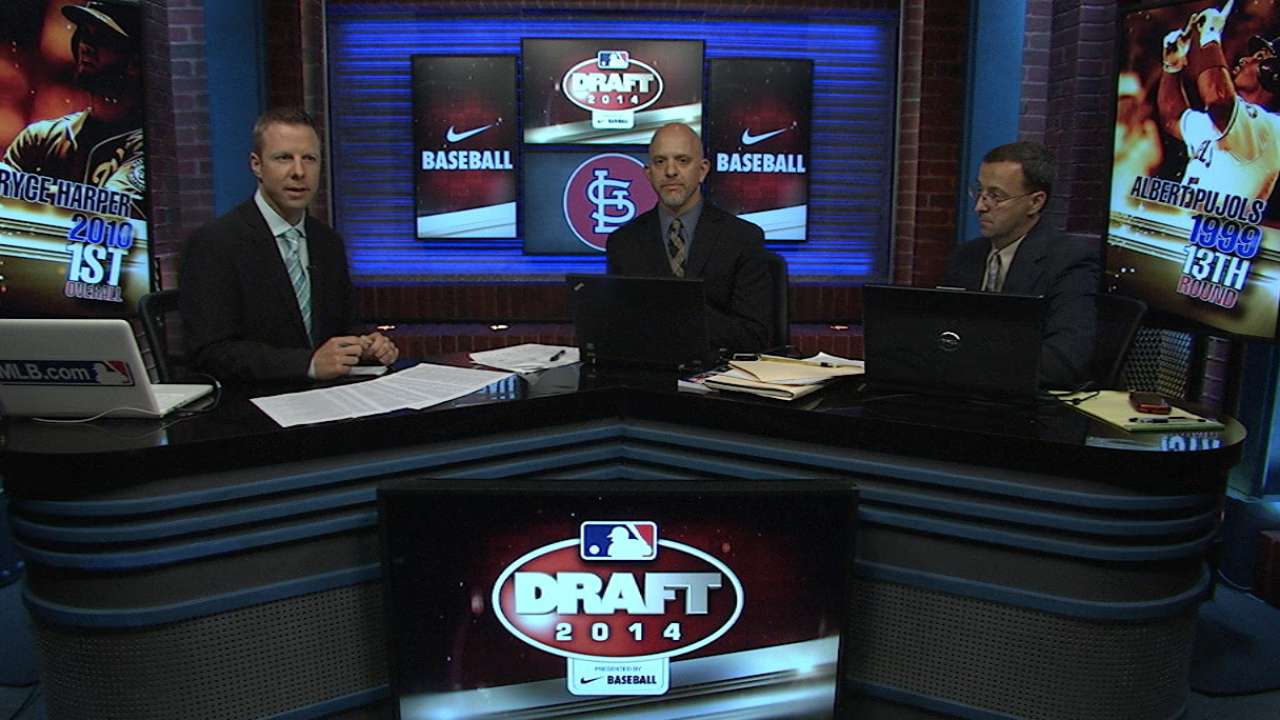 Darren Seferina isn't one for big emotions, but when he heard the news Friday afternoon, he experienced a feeling he had never felt.
Seferina halted St. Louis' streak of selecting pitchers when the second baseman was taken in the fifth round of the First-Year Player Draft on Friday after the Cardinals took pitchers with their first six selections.
"The feeling was great," Seferina said. "I never thought I was ever going to feel like that, because I'm a person that doesn't get too excited about things. When I heard they selected me in the fifth round, it was great. It was an unbelievable moment."
The Draft concludes on Saturday, with exclusive coverage of Rounds 11-40 beginning on MLB.com at 12 p.m. CT.
Seferina received congratulatory messages from those close to him, but it was one from Cardinals outfielder Jon Jay that stood out. Jay and Seferina share the same advisor, and have spent time together at a batting cage in Miami during the offseason.
"He really helped me a lot, because last year, I was a good hitter, but this year, I understand what pitch to look for in what count and what to do, because he taught me a lot," Seferina said. "He taught me to stay behind the ball a lot and hit the ball on the ground, because you have to use your speed."
Seferina, from Miami Dade CC South (Fla.), hit .405 in 54 games while playing second base in his freshman season at Miami Dade. The 5-foot-10 infielder brings speed to the organization, swiping 34 bases and scoring 56 runs this past season. He played second base last season after arriving at Miami Dade as a shortstop.
Seferina bats from the left side of the plate and was a Southern Conference First Team selection in 2014 as a freshman.
"I'm a very exciting player. I bring a lot of speed, I get on base a lot and I score runs," Seferina said. "I make great plays at second base; I just like to be in the action. I hit pretty good gap to gap and I'm an exciting player. I'm happy to be playing for the Cardinals."
The plan is for Seferina to report to the Cardinals' complex in Jupiter, Fla., on Monday and begin his professional career sometime soon after. He'll do so with the advice he has received from Jay.
"He just told me whatever happens to have fun in whatever you do, because I'm good enough, I have the skills, I have the talent to do it," Seferina said. "So whatever situation faces you, you just have fun and do whatever you love to do."
Alex Halsted is an associate reporter for MLB.com. This story was not subject to the approval of Major League Baseball or its clubs.