St. Louis chooses righty Flaherty with second pick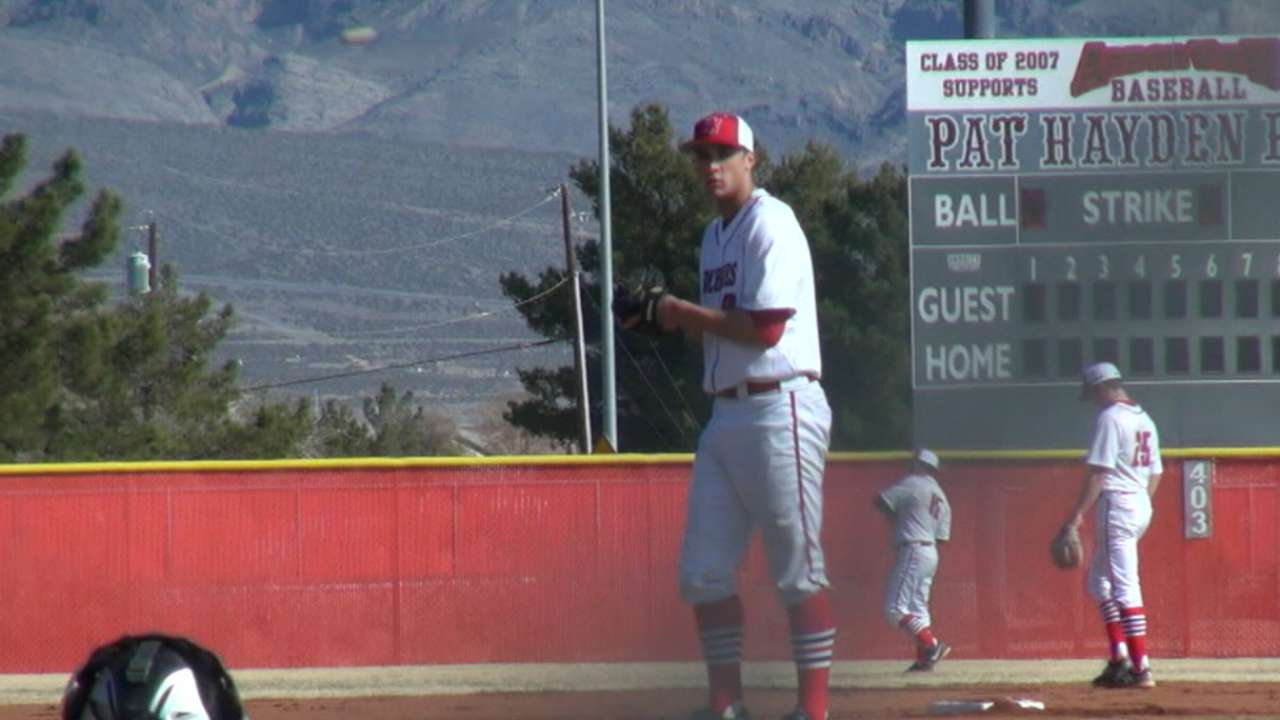 ST. LOUIS -- Jack Flaherty first caught the attention of the Cardinals' California area scout two seasons ago when, as a sophomore at Harvard-Westlake High School (Calif.), he was beginning to show potential as an offensive third baseman.
On Thursday, the Cardinals were elated to have nabbed Flaherty as a pitcher, doing so by making him the club's second first-round selection in the 2014 First-Year Player Draft. Flaherty, a right-hander, was taken 34th overall, an extra Draft selection the Cardinals gained through Carlos Beltran's offseason departure.
It marked the third straight season in which the Cardinals have had two first-round selections and the second consecutive year in which both were used on pitchers. Last season, St. Louis selected Marco Gonzales and Rob Kaminsky with those first picks.
"It became clear that [pitching] is where his future is," scouting director Dan Kantrovitz said after the Cardinals wrapped up their Day 1 selections by picking four right-handed pitchers. "I think you could still see him as a quality position player down the road, but for us, it's nowhere close to the potential he has on the mound, which has the potential to be pretty special."
Thrilled that Flaherty was still available to take, the Cardinals now turn their attention to signing the 18-year-old, who has committed to play at the University of North Carolina. He is reportedly seeking Top 15 bonus money ($2.5 million) to be lured away from that college commitment. The slot value for the 34th selection is $1.6504 million.
Prepared to go over slot to add the 6-foot-4, 205-pound Flaherty to the organization's system, the Cardinals made a later selection (Andrew Morales, No. 71 overall) that was designed to save some of that pool money in order to allocate it to Flaherty.
"I have to be careful not to shoot myself in the foot here because we haven't really started negotiations with him," Kantrovitz said. "But at the same time, I don't think we would have gone into it if we hadn't done our due diligence and had an idea what his range might be."
Flaherty, speaking via conference call, hinted at his willingness to strongly consider the Cardinals' pitch. The signing deadline for 2014 Draft picks is July 18.
"Right now, it's just been a crazy few minutes," Flaherty said. "My family and I are still trying to take it all in right now. I committed to North Carolina, but I'm honored to be taken by the Cardinals, especially in that situation. It's an unbelievable opportunity, and I'm hoping we can work something out."
The Cardinals are particularly intrigued by Flaherty's advanced command of four pitches and athleticism. He comes with a clean delivery and could add velocity to an already 93-94 mph fastball as he fills out his frame.
"You don't often see high school kids with really good command," Kantrovitz said. "I'm not going to say it's pinpoint yet because he's just making the transition from third baseman/pitcher to now being a full-time pitcher, but it's going to be as good as you're going to see at the high school level. That gives us a lot of confidence that he's going to have a lot of success."
Dedicating his time solely to pitching should be a boost to Flaherty's development.
"I'm open to trying anything," Flaherty said. "I feel like once my focus gets put to one thing that I can do a lot to help them out in the future. I'm intrigued to see what lies in the future."
Pitching for a high school with a powerhouse baseball program, Flaherty didn't lose a start as a junior or senior. He went 10-0 with a 0.63 ERA in 2014 after a 13-win season the year before. In his only playoff start this season, Flaherty pitched a no-hitter.
"Sometimes you just go on a little streak, and that streak just happened to not be broken," Flaherty said of his pair of undefeated seasons. "That's how that goes."
He also shined in USA Baseball's 2012 National High School Invitational, where he threw a complete game in his tournament debut, and was recently named the 2014 California Gatorade Player of the Year.
He becomes the third Harvard-Westlake pitcher taken in the first round of the Draft in the last three seasons, as well, following Max Fried (Padres) and Lucas Giolito (Nationals). Flaherty said he remains in touch with both and has taken their advice as he prepares for the negotiation process.
The Draft will continue on Friday with Rounds 3-10. The MLB.com pregame show begins at 11:30 a.m. CT, with exclusive coverage of Rounds 3-10 beginning at noon. The final 30 rounds will then take place on Saturday.
Jenifer Langosch is a reporter for MLB.com. Read her blog, By Gosh, It's Langosch, and follow her on Twitter @LangoschMLB. This story was not subject to the approval of Major League Baseball or its clubs.