Lynn tends to cruise with Cruz behind dish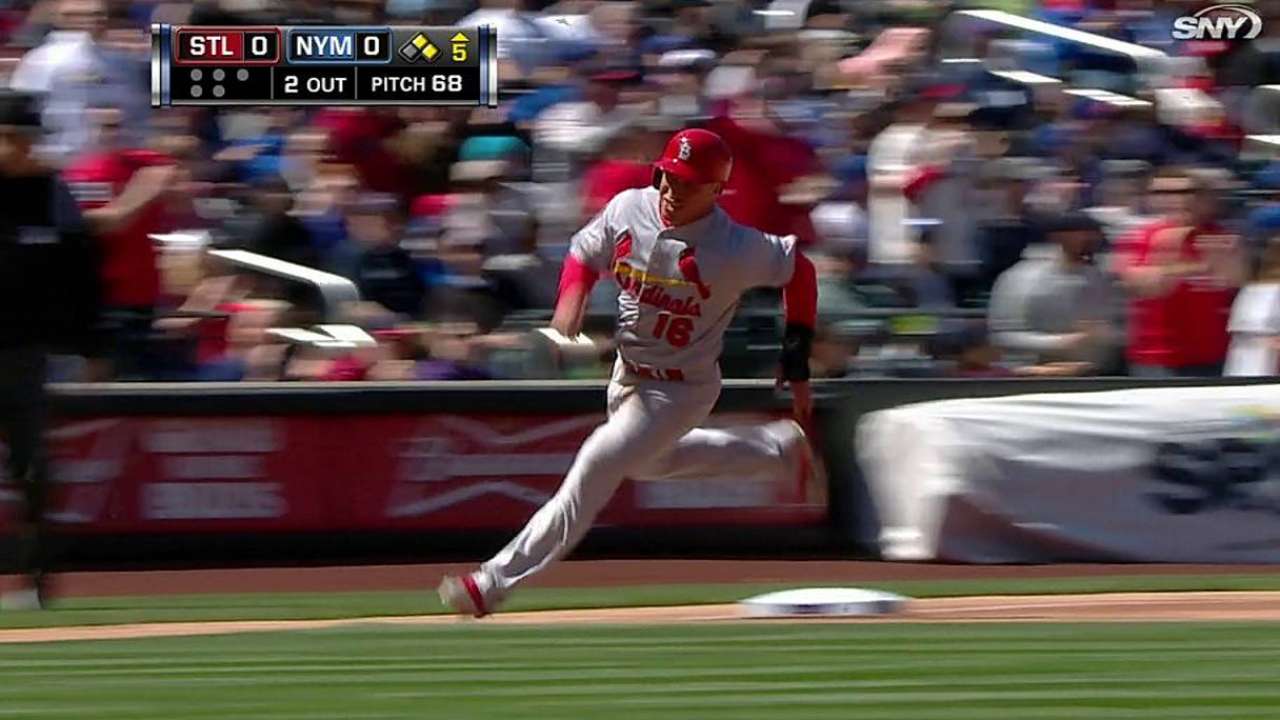 PITTSBURGH -- Batterymates for the first time in Double-A Springfield back in 2009, Tony Cruz and Lance Lynn have dusted off that longstanding rapport and found a fit working together again this season.
On Saturday, Cruz made his fifth start of the season, four of which have come as a tag-team with Lynn. Manager Mike Matheny cited the need to give Yadier Molina a day off as he fights the frustration of an 0-for-15 skid and an illness that has been circulating through the clubhouse, but there is also a clear camaraderie established between Lynn and Cruz that factors into the timing of the catching switch.
"I feel real comfortable with him, and I'd like to think he feels real comfortable with me back there," Cruz said. "The more you get to work with a guy, the more comfortable you become with him in certain situations. Yeah, definitely working with him here has helped a lot, too."
The results have been representative of that positive fit as well. In Lynn's three previous starts (consecutive) throwing to Cruz, he allowed 12 hits and three earned runs in 19 1/3 innings. The Cardinals won two of those games.
"We've known each other since we were 21 years old," Lynn said. "Tony is a good catcher. Tony has been learning from Yadi for a couple years now. He makes it easy, transition-wise, from Yadi to him. It's very easy because of how much he picks Yadi's brain and because he's known me since I was 21."
Matheny will not necessarily be intentional in scheduling Molina's off-days for when Lynn is on the mound, but he did not discount the fact that Lynn's success working with Cruz in April could roll over and provide some positive mental momentum. In Cruz's first start of the season (April 14), Lynn threw seven shutout innings.
"I think it's probably a comfort level," Matheny said. "Lance goes out and has a good game, and that's the ultimate compliment for a catcher, when someone has that kind of trust in you. Make no mistake about it, I think most every pitcher would love to have Yadi behind the plate to throw to. But to have a little success and to be able to give Yadi a day, I think, has been extremely important for us as a club. When Lance went out and had a good game with Tony the first time, you could see, for whatever reason, there was a comfort there. We've tried to ride then when we can."
The Cardinals are 3-1 in the games Cruz has started. As a bonus, he has also hit safely in three of those four starts.
Jenifer Langosch is a reporter for MLB.com. Read her blog, By Gosh, It's Langosch, and follow her on Twitter @LangoschMLB. This story was not subject to the approval of Major League Baseball or its clubs.