Grichuk gives Cards big bat, options in center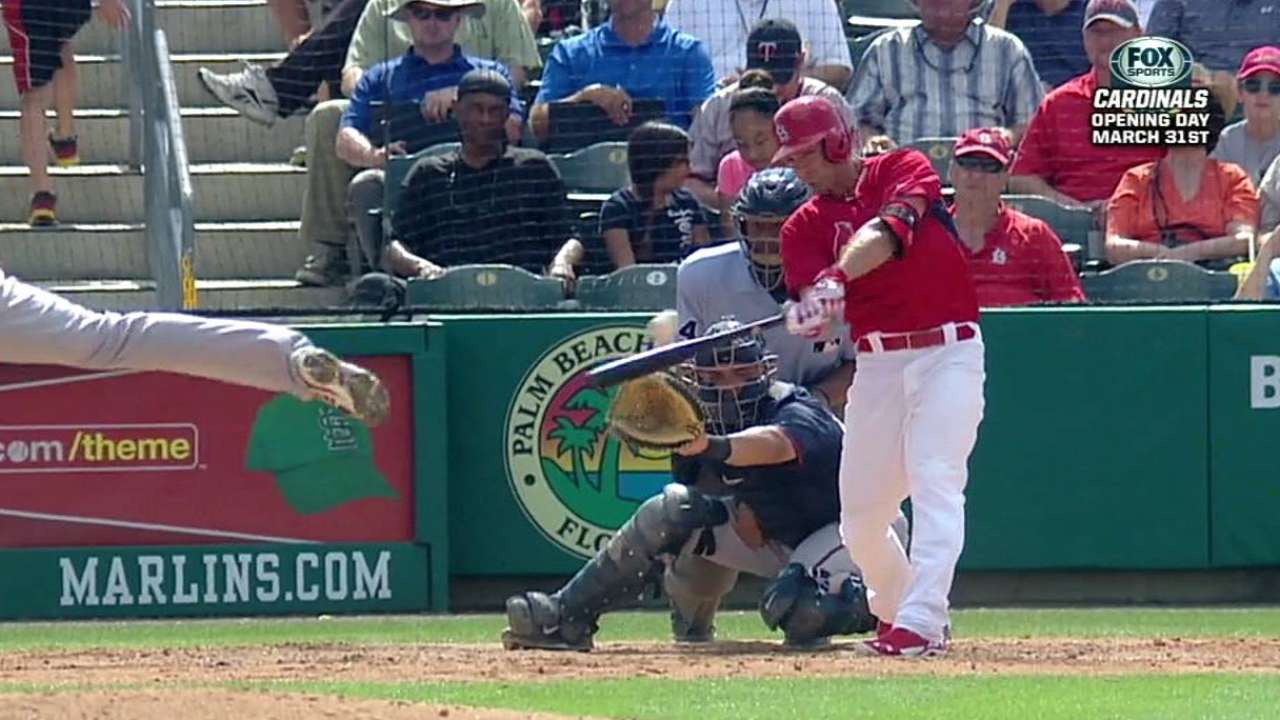 ST. LOUIS -- As they sought a spark for the offense, the Cardinals had their choice of three outfield prospects and another outfielder, Joey Butler, who is off to an even hotter start than any of those three.
It was Randal Grichuk's readiness to play center field that ultimately gave him the edge.
Grichuk, 22, joined the Cardinals on Monday, receiving a locker alongside Peter Bourjos, who was also in the November trade that brought Grichuk into the organization, and getting jersey No. 15, which once belonged to standout Cardinals center fielder Jim Edmonds. It just so happens to also be Grichuk's favorite number.
"Jim wore it well," Grichuk said, grinning. "It's a dream come true. I'm speechless right now. All the emotions are sinking in right now."
The Cardinals hope Grichuk can wear it well too, though the organization made this move more focused on the immediate than the long-term. The club wanted to improve its bench -- Grichuk was batting .310/.351/.529 through 21 Triple-A games with a .400 average against lefties -- while also giving manager Mike Matheny another center field option.
Monday's starting center fielder was Jon Jay, who is expected to continue to get regular starts. The right-handed-hitting Grichuk can be a complement to the left-handed-hitting Jay, though that could also come at the expense of playing time for Bourjos, who is stuck in an 0-for-15 rut.
"I don't think we're really hemmed in to do one thing or another, realizing that if the playing time doesn't come over the long haul, or even in the shorter term, we can make the adjustments as necessary," Matheny said. "But right now we're in a situation where we have to win games. We have to figure out who can step in and help us out right now. And Randal seemed like the right fit."
If, after some time, the Cardinals feel that Grichuk's growth is being stunted by limited playing opportunities with the big league club, the organization will send him back to the Minors to play every day. In other words, the organization sees continued fluidity with that roster spot.
"What he was doing down in Memphis was hitting the ball hard and often, and that's a good quality," general manager John Mozeliak said. "I would imagine he will get some time, but given the flexibility we have in someone like him, even if it is for just a few weeks, that gives us a chance to change sort of the elements of our club and just see how things work out. I think when you make these moves, you're looking at it more as a short-term view than necessarily the long-term. Ultimately, we'll just see how this works out."
Grichuk is coming off a Double-A season in which he hit 27 doubles and 22 homers for the Angels' affiliate. He also won a Minor League Gold Glove for his defensive efforts in 2013. Improved plate discipline has been among his primary focuses since joining the Cardinals' organization.
"At first, I didn't really know what to expect," Grichuk said of joining a new organization. "But realizing that if a team trades you, they have interest in you and want you. It was a new opportunity with new eyes on me."
Jenifer Langosch is a reporter for MLB.com. Read her blog, By Gosh, It's Langosch, and follow her on Twitter @LangoschMLB. This story was not subject to the approval of Major League Baseball or its clubs.