All-Star veterans highlight Cards on 2014 ballot
Holliday, Molina among St. Louis players with Midsummer Classic experience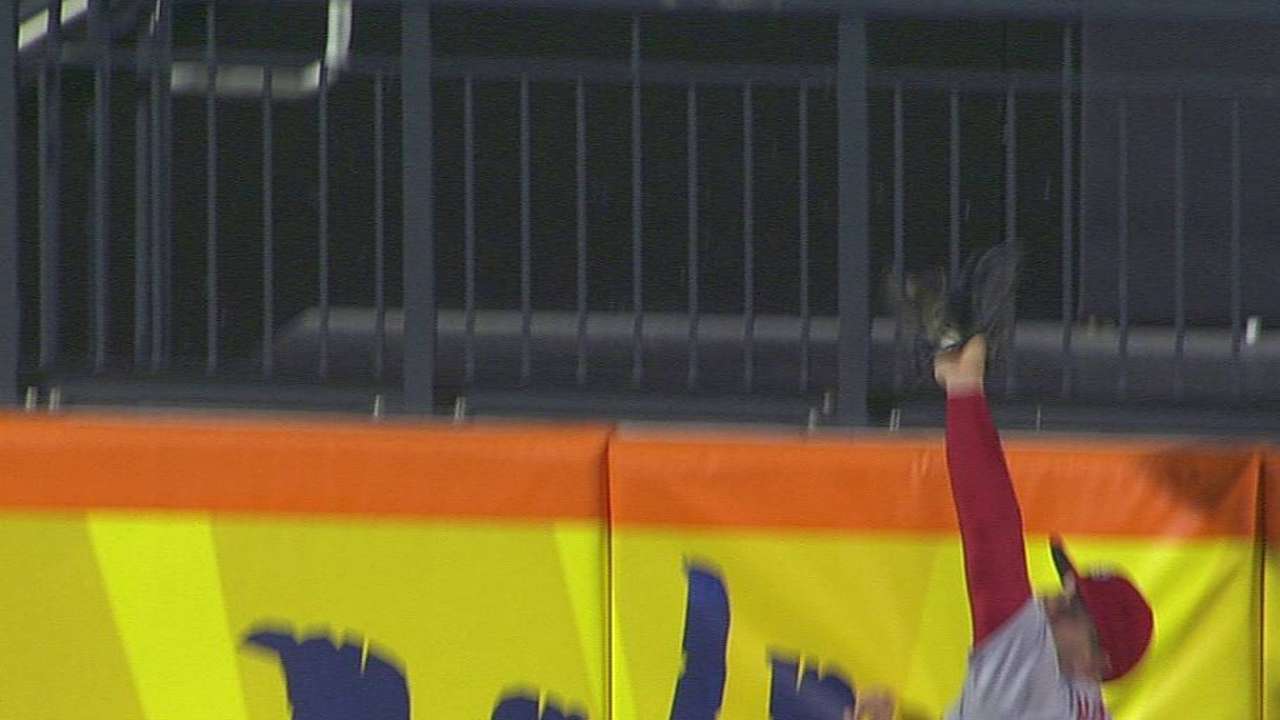 ST. LOUIS -- Six-time All-Star Matt Holliday and five-time All-Star Yadier Molina highlight the eight Cardinals listed on the 2014 All-Star ballot, which was released on Friday. The Midsummer Classic will be played at Target Field on Tuesday, July 15.
Five of the eight Cardinals on the ballot have been named to an All-Star team before. Matt Carpenter and Allen Craig were first-time participants last summer, though both have moved positions this year. Carpenter is now listed among third basemen, while Craig is included among the outfielders.
"It means a lot to be on the ballot," Craig said. "It's something that as a kid, I remember going to games and really looking forward to the All-Star ballot and seeing who's on there and putting in the guys I thought should be in the All-Star Game. To be a player and to see your name on it, to have the opportunity to go to the All-Star Game is really special. I got to go to my first All-Star Game last year and it was one of the greatest experiences I've had -- just being in the locker room with the guys."
Shortstop Jhonny Peralta, who is in the first year of a four-year contract with the Cardinals, is looking to add to his two previous All-Star nominations, both of which came for the American League team while with the Tigers. First baseman Matt Adams and second baseman Kolten Wong are on the ballot for the first time, and Peter Bourjos joins Craig and Holliday as the Cardinals' listed outfielders.
Bourjos, the team's Opening Day center fielder, is on the ballot over Jon Jay, who has been getting the bulk of starts in center recently. As of April 23, Bourjos had made 12 outfield starts to Jay's 11.
The Cardinals were represented by six players in last July's All-Star Game at Citi Field. They had two players -- Carlos Beltran and Molina -- in the starting lineup, and Molina led all National League players with his more than 6.8 million votes. He has been elected to each of the last five All-Star Games.
Any Cardinals named to the NL squad will have the added nuance of playing the game under their manager, Mike Matheny. For the first time in his career, Matheny gets the opportunity to manage in the All-Star Game because he led the Cardinals to the NL pennant in 2013. He never participated in an All-Star Game during his 13-year playing career.
"It's an honor, obviously. It's exciting to think about," Matheny said on Friday, of managing the All-Star Game. "The staff and I will be keeping a closer eye [on the league], realizing that's a great opportunity to influence hopefully the World Series home-field advantage. I know that's something we don't take lightly or for granted."
Fans can cast their votes for starters at MLB.com and all 30 club sites -- online or on a mobile device -- using the 2014 All-Star Game MLB.com Ballot Sponsored by Experian until Thursday, July