Butler wins 'pen spot; Aardsma, five others cut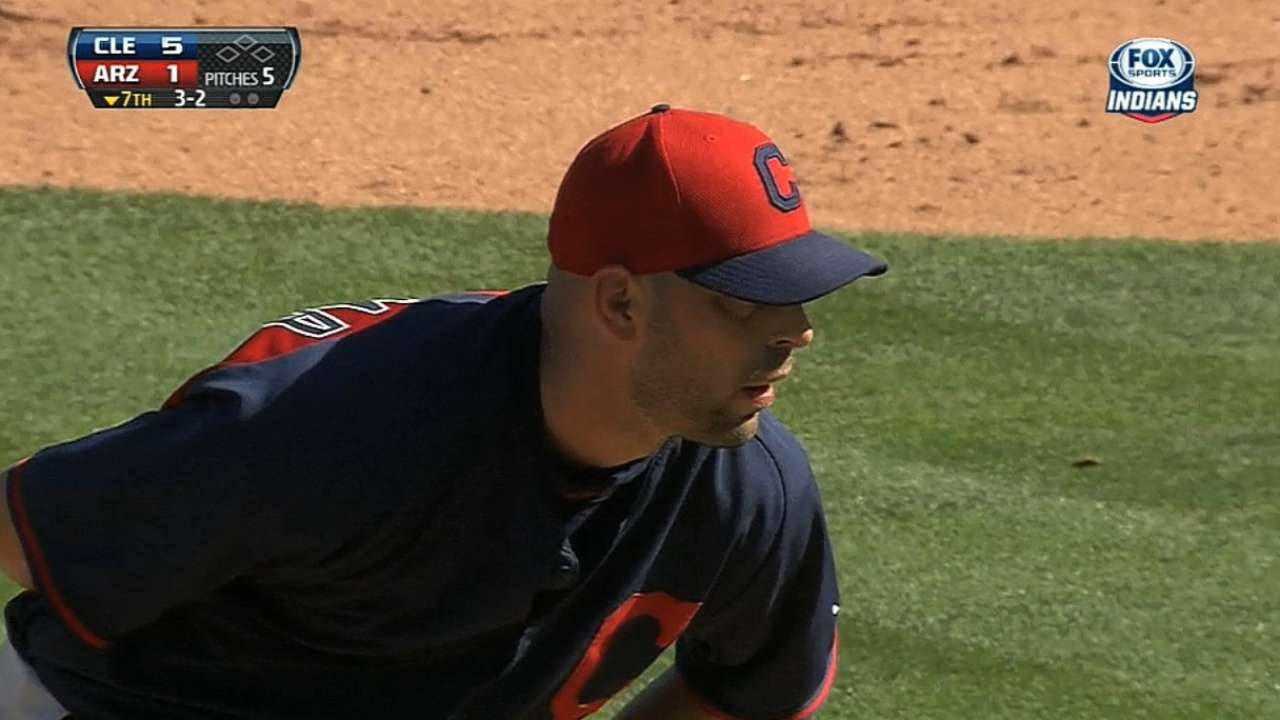 MEMPHIS, Tenn. -- In the last 10 days, the Cardinals fiddled with Keith Butler's fastball mechanics, but after Friday night's rainout of the scheduled Cardinals-Memphis Redbirds exhibition game, Butler was told he had earned the final spot in the St. Louis bullpen.
The Cardinals optioned Jorge Rondon, who had pitched 9 1/3 scoreless innings this spring, to Triple-A Memphis, and assigned to Memphis pitchers Scott McGregor and veteran David Aardsma, signed to a Minor League deal earlier this week. Butler pitched in 16 games with the Cardinals last year (0-0, 4.05 ERA), and manager Mike Matheny said "that definitely played into it."
Matheny said Butler is "an arm when we need it, available to go multiple innings, which helps, and can get lefties out with his slider and changeup."
Butler, a 24th-round Draft pick in 2009, had a couple of rough outings in the spring. Ten days ago, he was approached about lowering his arm slot. He gave up one run in his last three outings, and on Thursday came in to strike out Marlins slugger Giancarlo Stanton in the Cardinals' Grapefruit League finale.
"That was a tough at-bat to come in, but he's shown some pretty good stuff after [the change] and has better command of the strike zone, which is a plus for him,"
Butler said when the suggestion was made, "they told me we'd try it in a bullpen and then get me in a game. I thought that was going to be it for my chances for making this team, but I started keeping the ball low in the strike zone right away."
The other jolt came as he arrived early for work this week to find Aardsma, who was signed after being cut by the Cleveland Indians. "I thought 'Whoa,' and you think about that," Butler said. "But all I could do is not think about it and keep working."
Aardsma, who gave up just two earned runs in six outings with the Tribe, was hit for three runs by the Marlins Thursday, and knew that a detour to Memphis was a real possibility.
"I knew that going in, but I also know this is a good opportunity if I just keep pitching like I was pitching," said the 32-year-old, who posted a 4.31 ERA in 43 appearances with the Mets last season.
"I know David can pitch better than that, and this gives him the time to work with the Memphis team to show that," said Matheny, who caught Aardsma when both were with the Giants.
Also sent down to Memphis were outfielder Stephen Piscotty, who hit .342 in the the spring, infielder Scott Moore and catcher Ed Easley. The Cardinals left Memphis for Cincinnati with 26 players, including last year's starting shortstop Pete Kozma, believed to be the odd man out with the offseason acquisitions of Jhonny Peralta and Mark Ellis.
"Ellis' knee still doesn't feel quite right, so we're going to make that call after Sunday's workout [in Cincinnati]," Matheny said. "He's had all the looks [from doctors], and what he needs is treatment and trying to get where it feels right and doesn't get in his way from doing what he needs to do."
Pete Wickham is a contributor to MLB.com. This story was not subject to the approval of Major League Baseball or its clubs.