Ellis encouraged in return from knee injury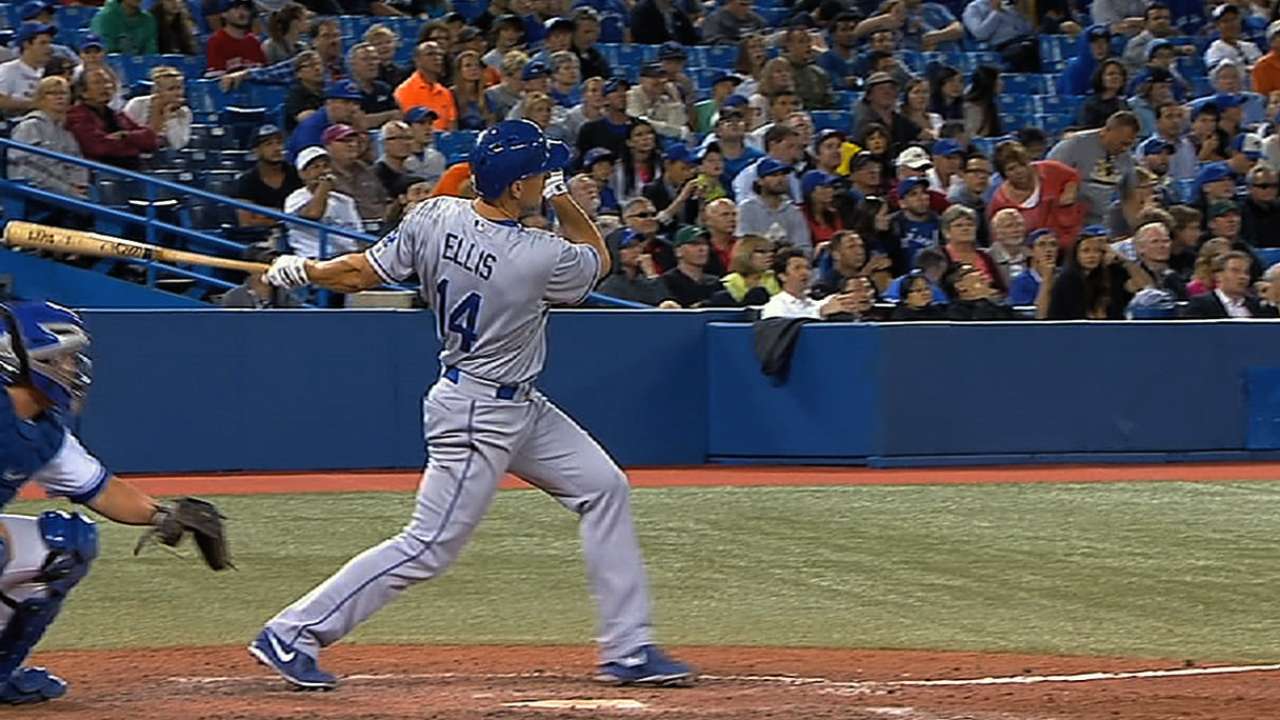 KISSIMMEE, Fla. -- Describing his return to the field as "encouraging" and his knee as back to normal, Mark Ellis played three innings in the field and went 1-for-3 at the plate during Saturday's 5-2 win against the Astros. Because of left knee inflammation, it was his first Grapefruit League action since March 13.
Ellis expects to be uninhibited the rest of the way through camp and is willing to get his at-bat total up by appearing in Minor League games, if necessary. It looks to be too little, too late, however, for Ellis to supplant Kolten Wong as the team's starting second baseman.
While Ellis was nursing his knee injury, Wong was emerging as a standout hitter in camp. Since an 0-for-10 start in Grapefruit League play, Wong is 15-for-30 with a team-best eight extra-base hits and eight RBIs. Wong came in with the upper hand at winning the starting job and has done nothing to lose that positioning.
"I think he's answered a lot of questions," manager Mike Matheny said. "We still have a long way to go and the real season to get into, but so far he's really done a nice job of taking advantage of the opportunity."
That leaves Ellis to start on the bench, where he would be the primary backup at second and a potential backup at other infield positions. Because of the knee injury, he was not able to get his expected work on the left side of the infield.
Having Ellis healthy, though, is the first priority, and he will use the remaining time in spring to get his swing right. He said he felt fortunate to have been able to keep hitting while he was waiting for the inflammation to die down and that his timing was intact.
He singled in his first-inning at-bat off Houston left-hander Brett Oberholtzer on Saturday.
"I've been able to stay sharp," Ellis said. "The timing is all right. Still, the more at-bats you get, the better you're going to feel."
Ellis has been able to log 23 at-bats this spring. That is considerably less than his typical spring workload; in each of his last eight springs, Ellis had at least 53 at-bats.
"I'm always disappointed when I can't play," Ellis said. "You always want to be out there with the team. You don't want to be the guy in the training room."
Matheny said that he would lean on the medical staff for its recommendation on how hard to push Ellis during the team's final five days in Florida. The Cardinals would like to get the 36-year-old second baseman sufficient playing time, but not at the expense of risking aggravation of the knee.
"I was encouraged by the way I felt as the game progressed," Ellis said. "That is what was encouraging to me. I felt like my knee got stronger and stronger as the game progressed."
Jenifer Langosch is a reporter for MLB.com. Read her blog, By Gosh, It's Langosch, and follow her on Twitter @LangoschMLB. This story was not subject to the approval of Major League Baseball or its clubs.