Matheny, Cards discuss pitcher safety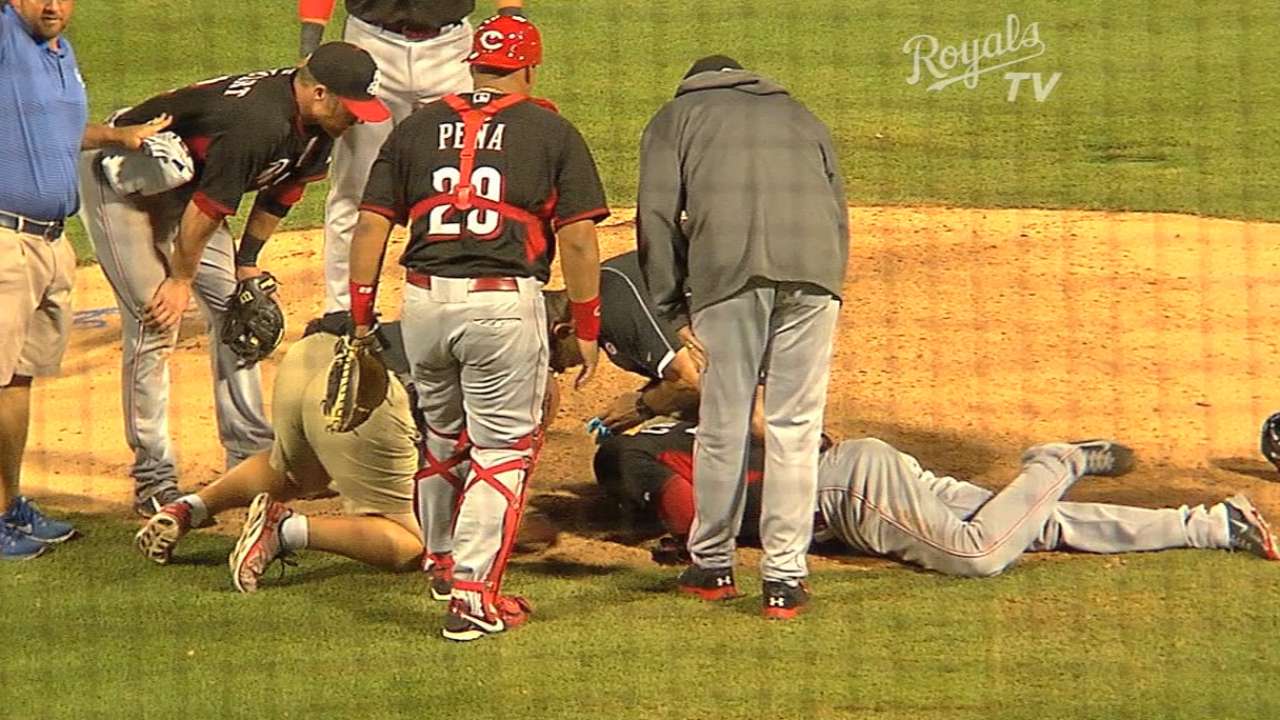 JUPITER, Fla. -- The Cardinals will not have to face Reds closer Aroldis Chapman in at least six of the 19 games the two teams will play in 2014, though that was not the focus in St. Louis' camp the day after Chapman was involved in a scary on-field incident.
Chapman was carted off an Arizona field on Wednesday night after being struck in the face by a line drive. On Thursday, the Reds announced that he will undergo surgery to repair facial fractures and that the recovery will be approximately 6-8 weeks.
The Cardinals face Cincinnati six times over the first two weeks of the season, and then again during a three-game series in late May. Under that recovery timetable, Chapman would miss at least those first two series.
Talk about how best to protect pitchers from continuing to be hit by liners resurfaced in light of this latest event. In January, Major League Baseball approved a padded cap that is now optional for players to wear. No Cardinals pitchers have expressed interest in donning the cap, at least as it is now.
Lance Lynn said he hasn't even seen the cap brought into the clubhouse for pitchers to try.
Because of all the extra padding, the cap is oversize and does not have the same snug fit players are used to. Manager Mike Matheny described the look as "goofy." Additional research is being done to see if the hat can be streamlined.
"It will be interesting to see how baseball evolves," Matheny said. "We start talking about issues like concussions and we start talking about trying to make steps forward, I think that may be something that the game might have to get comfortable with. ... When we start talking about what can happen to these guys, I think you can't take anything off the table."
Chapman's injury isn't all that different from the one that ended the career of Cardinals outfielder Juan Encarnacion. He, too, was hit near the left eye with a ball, but while standing in the on-deck circle. The impact crushed his eye socket, and Encarnacion never fully regained his vision.
Fortunately for Chapman, the prognosis is better. Reds medical director Dr. Timothy Kremchek said on Thursday that he "absolutely" expects Chapman to pitch in 2014.
"It's been happening for a long time, though. Pitchers have been getting hit," Matheny said. "You think maybe guys are getting bigger, stronger, faster, but they've always hit the ball pretty hard, and it's 60-feet, 6-inches away. There's not a lot of time for reaction. You try to teach the guys to prepare, but he didn't have time to get his hand up. It's just one of those scary moments."
"When you look at changes and look at the NFL with concussions, nothing got changed until guys started getting seriously injured," Lynn added. "I guess it's going to take someone getting really, really hurt to where they can't do anything again to go there. But you don't wish that upon anyone to ever get hit. Hopefully, we can keep making the progress that we need."
Jenifer Langosch is a reporter for MLB.com. Read her blog, By Gosh, It's Langosch, and follow her on Twitter @LangoschMLB. This story was not subject to the approval of Major League Baseball or its clubs.