Martinez keeps pace with Kelly in rotation battle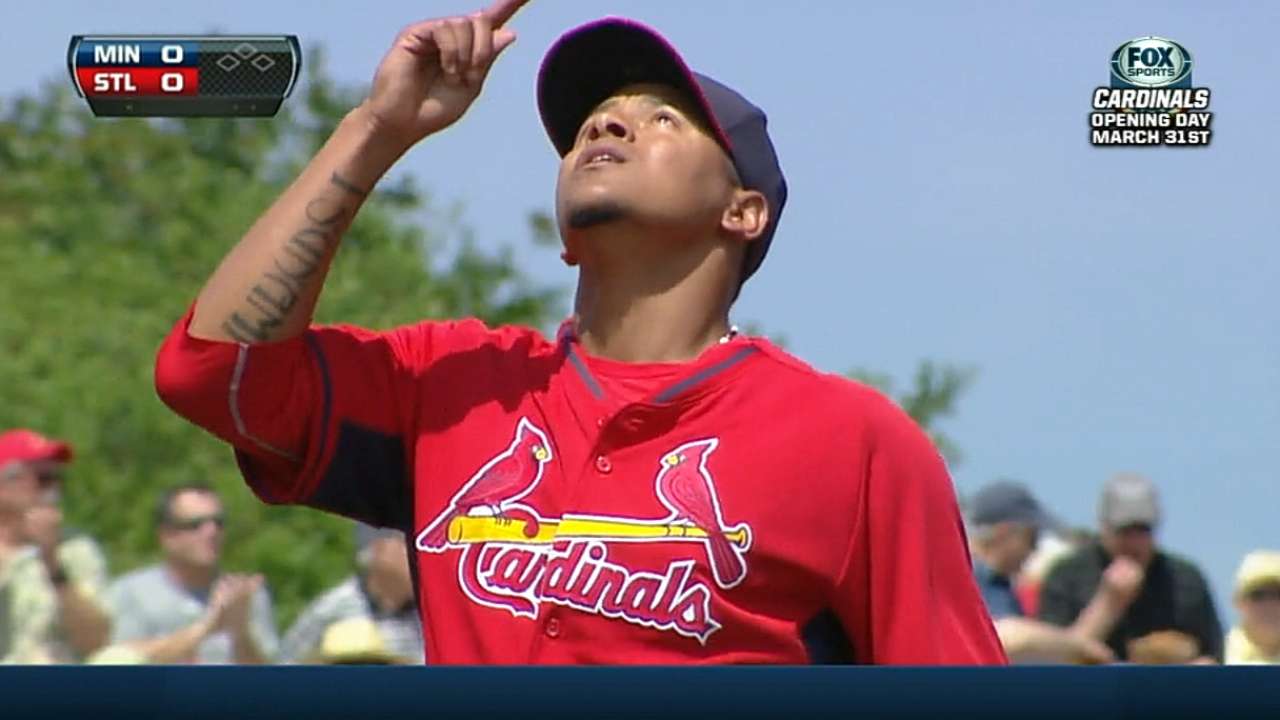 JUPITER, Fla. -- The Cardinals called for patience early in camp, noting that the rotation battle would become clearer the deeper the team played into March. That clarity, however, doesn't look to come from the pitchers themselves, though, who keep matching each other with strong starts.
After Joe Kelly pitched a team-best 5 1/3 innings in his start over the weekend, Carlos Martinez matched him with a start of that length on Wednesday. Within the next 10 days, one of the two will be put into the Cardinals' rotation; the other will open the season in the bullpen.
In the Cardinals' 3-1 win over the Twins on Wednesday, it was Martinez's opportunity to impress.
"I think he thrives on the competition and not so much on the things on the periphery," manager Mike Matheny said. "He's a competitor, and any time someone jumps in the box, he has an opportunity to personally match up. He's done well in those matchups."
Martinez had his spring scoreless-innings streak snapped at 14 but otherwise made few mistakes in his 81-pitch effort. The first pitcher to make a fourth start, he also became the first to surpass the 80-pitch threshold. With the opportunity to build up as a starter this spring, Martinez has been able to showcase his full repertoire of pitches to the Cardinals' coaching staff.
Pitching out of the bullpen for St. Louis last year, he could get by with a two-pitch mix. And he did, as fangraphs.com recorded that 94 percent of the pitches Martinez threw last year were fastballs and sliders. Now, he's also featuring an improved curveball and changeup. The curveball, Matheny suggested on Wednesday, might even end up being a bigger weapon than the slider.
Those are necessary additions for Martinez should he be asked to fill a starting role.
"It's kind of the well-rounded pitcher he is developing into," Matheny said. "He's making great strides forward. He's starting to learn his stuff, but he's also trusting a pretty good catcher behind the plate [in Yadier Molina] who understands which ones he needs to focus on and what pitches are most likely going to give him the chance to get out of a jam."
The Cardinals have not announced their rotation plans for next week, meaning that it has not yet been determined whether Martinez will make another start. He's given the Cardinals plenty to consider already, however, with his 1.76 ERA, nine strikeouts and three walks in 15 1/3 Grapefruit League innings.
"I go out there every day just trying to do my work," Martinez said, with front-office member Tony Ferreira translating. "I'm just trying to make the team and am going out there to do whatever I can. Every opportunity I have, I'm trying to make the best of it."
Jenifer Langosch is a reporter for MLB.com. Read her blog, By Gosh, It's Langosch, and follow her on Twitter @LangoschMLB. This story was not subject to the approval of Major League Baseball or its clubs.