One bad pitch the difference for Miller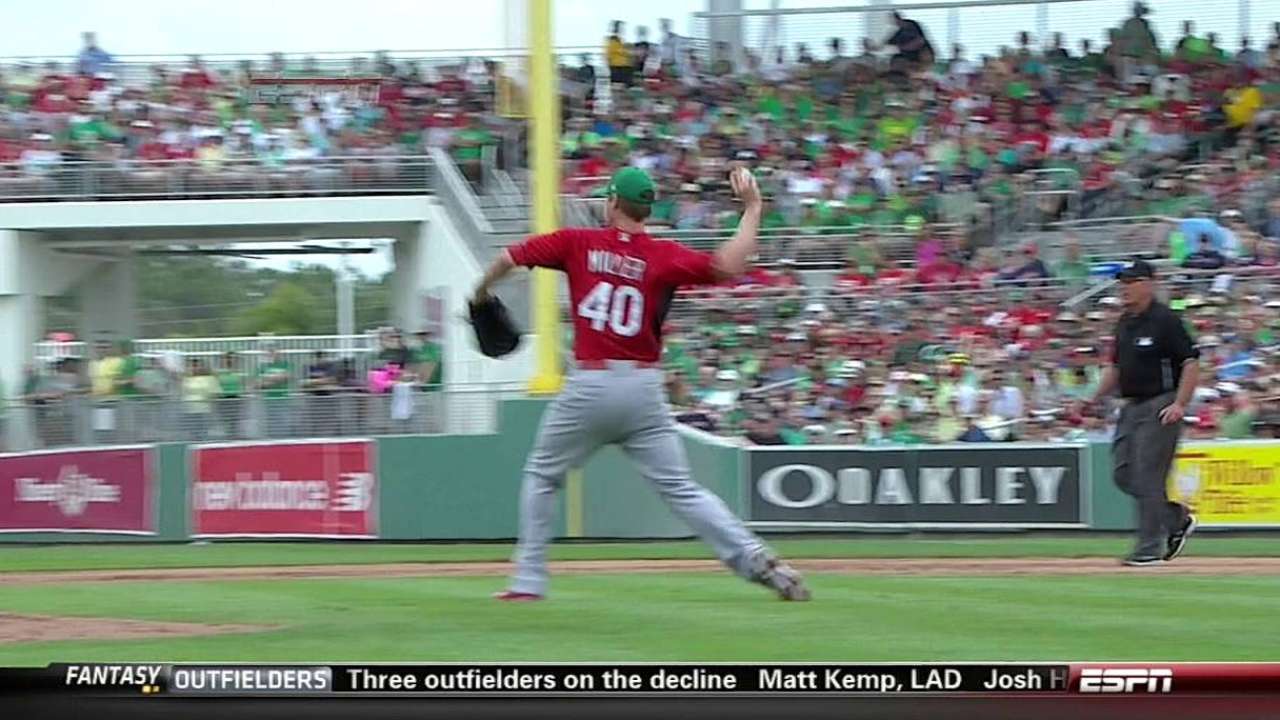 FORT MYERS, Fla. -- Cardinals right-hander Shelby Miller turned in his longest outing of the spring in Monday's 10-5 loss to the Red Sox, yet once again, there was one particular pitch still on his mind afterward.
For the second straight outing, Miller's main blemish came on a two-out, two-run homer in the third inning. One week after serving up a home run in the same exact situation to Tigers slugger Miguel Cabrera, Miller suffered the same fate against Red Sox second baseman Dustin Pedroia.
This time around, Pedroia's blast -- the first of three Sox homers on a day when the wind was steadily blowing out to left field at JetBlue Park -- accounted for the only two runs Miller allowed while still on the mound. A third run was charged to Miller after he departed the game when reliever Tyler Lyons balked in an inherited runner from third base.
Miller has now conceded a lone home run in each of his three spring outings, with those homers accounting for all five runs he's allowed while in the game.
"One bad pitch. Every single run I've given up this year has been on a home run," Miller said. "So I'm that close to being where I want to be. Just one bad pitch in each game is making the difference right now."
One inning after Pedroia's homer, Miller got two quick groundouts before running into some two-out trouble that ultimately ended his afternoon. He issued a walk to shortstop Xander Bogaerts, and catcher A.J. Pierzynski followed with a single that moved Bogaerts to third and knocked Miller out of the game.
"He was using a lot of his pitches today, so it was kind of a different philosophy," manager Mike Matheny said "It's a catch-22: you're working on your secondary pitches, but also you're competing. It makes it hard to be as sharp as you want to be or have the results be as good as you're used to. But I thought he did a good job."
Though the overall feeling of Monday's start was very similar to his first two, there was also one glaring difference. Unlike his first two spring starts in which he recorded a combined nine strikeouts, Miller didn't strike out a single Red Sox batter over 3 2/3 innings. He also issued three walks -- one of which ultimately came around to score -- after having not walked a batter over five innings in his first two Grapefruit League starts.
"The past couple games, I felt like I threw more strikes compared to today," Miller said. "I was kind of battling all day, but like I said, I'm really close to where I want to be. So it's just a matter of when can you put it all together. Hopefully, next time that'll happen."
Matheny is also confident that will happen for Miller sooner rather than later, saying the frustrations of having each start tarnished by one mistake will ultimately help Miller down the road.
"Overall this spring, the things he's working on will make him a better pitcher," Matheny said. "He's facing some good lineups, but he's a good pitcher and I'll put him out there against them, so it's something he'll have to get used to."
Paul Casella is a reporter for MLB.com. Follow him on Twitter @paul_casella. Jenifer Langosch contributed to this report. This story was not subject to the approval of Major League Baseball or its clubs.