Kelly's work at the plate pays dividends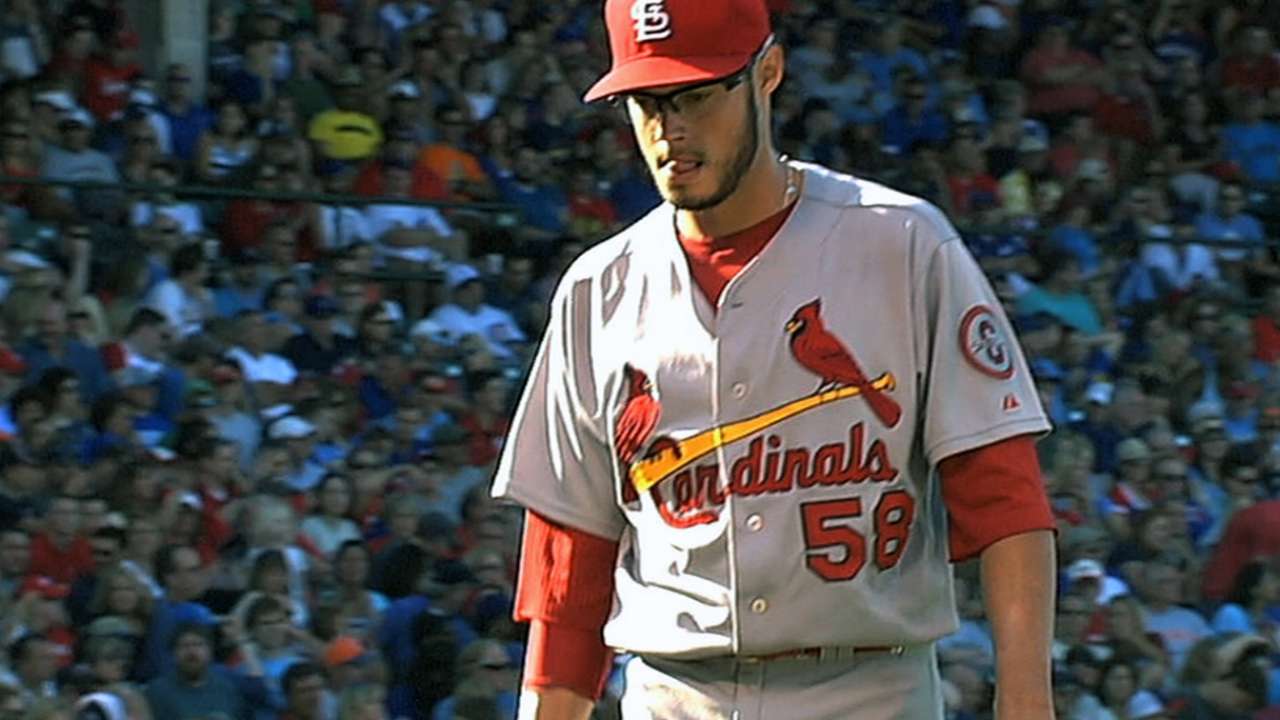 LAKE BUENA VISTA, Fla. -- Earlier this spring, bench coach Mike Aldrete gathered the Cardinals' starting pitchers and provided a presentation of stats.
They were reminded of their .126 batting average in 2013, the lowest by a St. Louis pitching staff since 1986, and the 139 strikeouts, one fewer than the league-high total. They were told where they ranked in various offensive categories, and invariably it was near the bottom.
The challenge was then issued for the pitchers to take better at-bats and make more productive outs, and extra hitting sessions were added into the early workout schedule to start that process. With the designated hitter spot gone, Saturday provided the first opportunity to show the fruits of that focus. Joe Kelly proceeded to set a lofty bar.
Kelly singled in his first at-bat, singled again in his next one and then topped his offensive showing with a two-run single in the sixth. In doing so, he became the first pitcher in almost four years to record three hits in a Spring Training game. As for Kelly's last three-hit game? High school, he said.
"We've been working on short swings and hitting balls hard over the second baseman's head," Kelly said after the team's 6-2 win. "It's just something that we're all trying to take pride in. It's just a new approach that all of us starters are trying to go with -- we're not trying to hit a home run, not trying to pull every single pitch. Just hit the ball where it's pitched and try to get on base for your teammate."
Oh, and Kelly pitched pretty well, too.
"He wanted it to be a one-man show right there," manager Mike Matheny said. "It was fun to watch how he went about it all day."
In addition to all the time he spent on the bases, Kelly lasted longer on the mound than any Cardinals pitcher all spring. That had everything to do with his efficiency. Relying on his sinker to induce early-in-the-count contact and ground balls, Kelly threw eight pitches in the first inning and nine in the second. Kelly ended up getting through 5 1/3 innings on 73 pitches, at least one of which registered 98 mph on the Champion Stadium scoreboard radar gun.
Kelly was still hitting 95-97 mph with his fastball into the sixth. At one point, Kelly said Trevor Rosenthal approached him in the dugout to let him know he was "throwing flames."
"Days like today make you see why he can be the guy that gets the ground ball," Matheny said. "I think it's more the mindset of what you're trying to do with each pitch. He's got the stuff to be efficient with quick outs. And he's got the stuff to put guys away, too. Today was a great display of that."
It was easily the sharpest of Kelly's three spring outings. His sinker did more sinking than side-to-side running, something Kelly said he made a conscious effort to fix. He kept a repeatable delivery and watched his curveball become more effective the longer he pitched.
Kelly has as many as two more starts to make before the Cardinals settle on a fifth starter, which seems to be shaping up as a two-man competition between he and Carlos Martinez. Could his handling of the bat tip things in his favor?
"I guess it could give me a little bit of an edge just to make contact and not strike out," Kelly said. "But it's ultimately about pitching and getting guys out."
Jenifer Langosch is a reporter for MLB.com. Read her blog, By Gosh, It's Langosch, and follow her on Twitter @LangoschMLB. This story was not subject to the approval of Major League Baseball or its clubs.