Healthy Ramsey wants stolen-base total to rise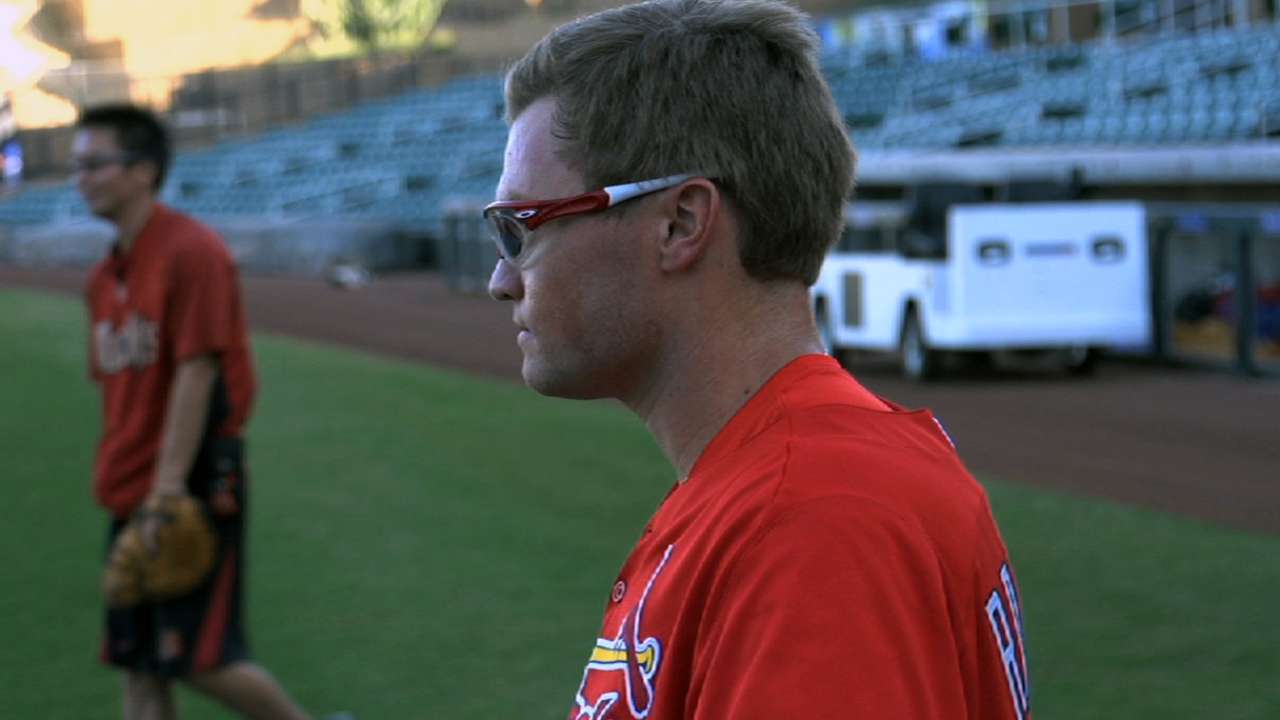 LAKE BUENA VISTA, Fla. -- The Cardinals have gotten plenty of praise already for making the first-round choice that they did in the 2012 First-Year Player Draft. Without Michael Wacha, the organization may well have been watching the World Series from home last October.
But Wacha wasn't the only player the Cardinals took in that round, which means James Ramsey now has the task of making sure he doesn't become the forgotten one.
Ramsey, taken four spots below Wacha in that Draft class, has been soaking up the experiences of his first big league Spring Training over the last month. Early on, he followed the lead of Jon Jay, a University of Miami product who Ramsey, while playing at Florida State University, heard his head coach talk a lot about.
There have been opportunities to learn from guest coaches as well, including Gold Glove Award-winning outfielder Jim Edmonds and 1985 Most Valuable Player Award winner Willie McGee. It was McGee who took Ramsey into the batting cage to help him work on the technique of bunting down the first-base line. They also talked stolen bases, something Ramsey wants to collect more of this season.
After signing in June 2012, Ramsey went 10-for-12 in stolen base attempts while playing in 56 games. He expected to see that total rise dramatically when he played his first full pro season, but a hamstring injury stalled that area of his game. Ramsey played in 112 games last season, but he attempted only 13 steals. He was successful in nine of them.
"I had a good start to my pro career just getting that confidence to go," Ramsey said. "Then last year, unfortunately, having that hamstring [injury] that I went out with early was something that affected my running all the rest of the season. I just didn't feel like I had as much explosiveness."
That drove Ramsey to dedicate about 30 minutes of prehab work -- proactive exercises to help avoid injury -- before he went into the weight room each day during the offseason. He wants to be aggressive on the basepaths, but he knows that requires an uninhibited body.
"I know that I can run with the best of them," Ramsey said. "Also, I think picking up on the nuances in a game is something that in the Fall League, I got down pretty good. Really, it's a science. And once you don't have to rely on base coaches to give you [the] time [it takes for the pitcher to deliver his pitch] and you can start diagnosing what the catchers are doing, that's important. It's going to be a big part of my game. I'm not going to necessarily steal 100 bases in a Minor League season, but I think I've proven, especially in the Fall League when there were a few times where we needed to win games and get me on second base, I was able to do that.
"A lot of it is confidence-wise, too, and I feel good about where I'm at right now."
Ramsey finds himself trying to distinguish himself among a strong group of advanced Minor League outfielders. With Stephen Piscotty, Oscar Taveras and Randal Grichuk expected to start the season in Triple-A, Ramsey may find himself back in Double-A, only because that's where playing time would be. After starting the year in advanced Class A, Ramsey played the majority of 2013 with Springfield. He finished the season with one game in Triple-A. Combined, Ramsey hit .265/.373/.440. He was then one of the players the Cardinals selected to participate in the Arizona Fall League.
Jenifer Langosch is a reporter for MLB.com. Read her blog, By Gosh, It's Langosch, and follow her on Twitter @LangoschMLB. This story was not subject to the approval of Major League Baseball or its clubs.