Matheny challenges Taveras to keep pushing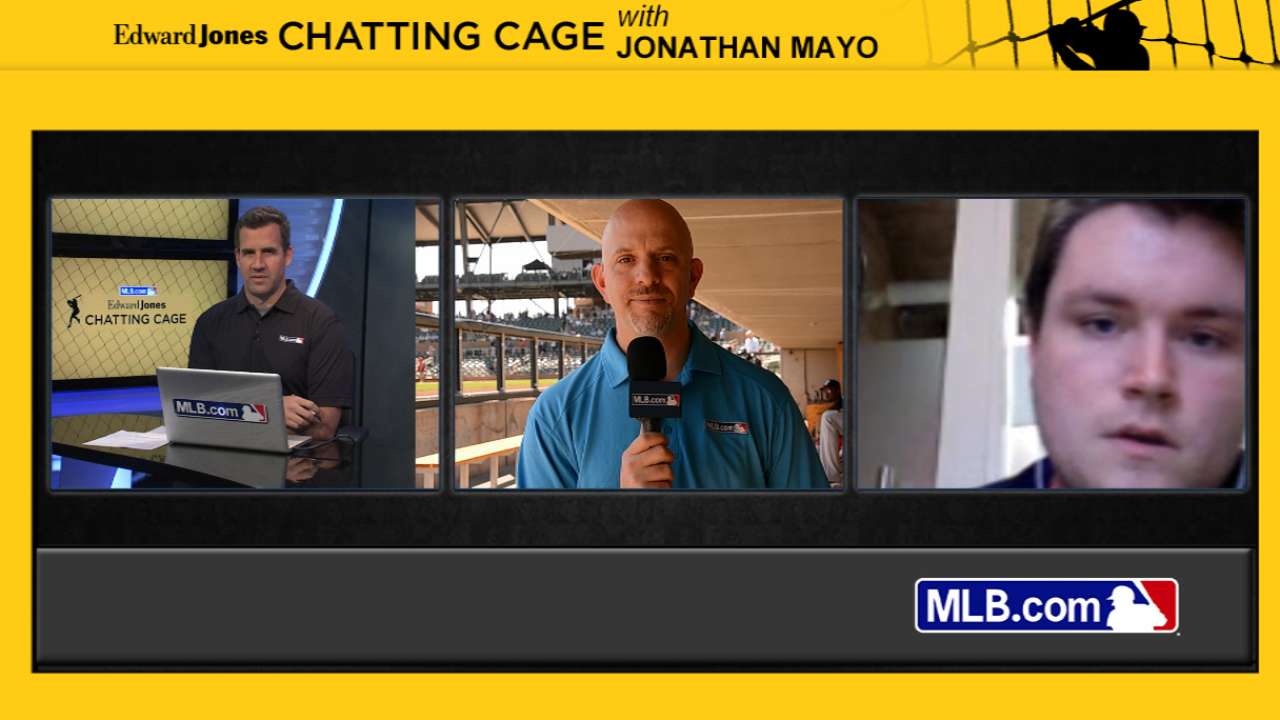 KISSIMMEE, Fla. -- Upon notifying Oscar Taveras on Thursday that the Cardinals were sending him out to Minor League camp, manager Mike Matheny, speaking in his best Spanish, encouraged Taveras to turn the disappointment of an injury-riddled spring into "an urgency to get better like you're watching all these other guys do."
Matheny's conversation, as he relayed it, was a call for Taveras to avoid complacency and do the work necessary to get healthy and continue his development. How Taveras reacts to this latest kick of adversity, Matheny said, will determine how quickly the organization's top prospect can position himself for the Major League callup he hoped would come this spring.
"He can't help but hear what's always being said, too, and everything was always put out there like he's already arrived," Matheny said. "It's not fair to a young player. And so my message was that, 'What has happened this spring is you couldn't get to the point, physically, where you wanted to be. But once that's taken care of itself, which it eventually will, make sure you don't miss the opportunity to really push. You could either ride on what you've done, but don't buy into the stuff that you're hearing, because there are other guys who are working hard to get better every day. Make sure you're doing the same thing.'"
The Cardinals have not publically questioned Taveras' work ethic this spring, though there was frustration from all parties about his inability to participate in spring games. The organization expected the 21-year-old outfielder to be fully recovered from August ankle surgery when he reported to camp, but it instead spent weeks trying to push Taveras to trust his surgically-repaired right ankle.
Once Taveras finally did, he took six at-bats before a hamstring issue sidelined him. Taveras hasn't played since. What was supposed to be his opportunity to make a case for an Opening Day roster spot was instead weeks spent compromised by injury.
"I think it could be looked at, in his eyes at least, as a step back because he came in here with a shot of making this club if things did go right," Matheny said. "Like we've already said, a step back isn't necessarily a bad thing if it's handled the right way. The initial step back happened when he got hurt last year. We were all hoping -- and he was hoping -- that he would be able to have that behind him by the time he got to Spring Training and just wasn't able -- not from lack of effort from everybody's part -- it just didn't happen.
"Now we just need to make sure that he doesn't get sidetracked or discouraged to the point of not being focused when he gets back there. He's got some gaps. We made it clear what he needs to work on. Most of it is just that consistency and that consistent approach to the mental side of the game and preparation, because physically, I think we all know he's a talented player."
Taveras will open the season as a corner outfielder in Triple-A.
Jenifer Langosch is a reporter for MLB.com. Read her blog, By Gosh, It's Langosch, and follow her on Twitter @LangoschMLB. This story was not subject to the approval of Major League Baseball or its clubs.