Piscotty impressing Cards deeper into spring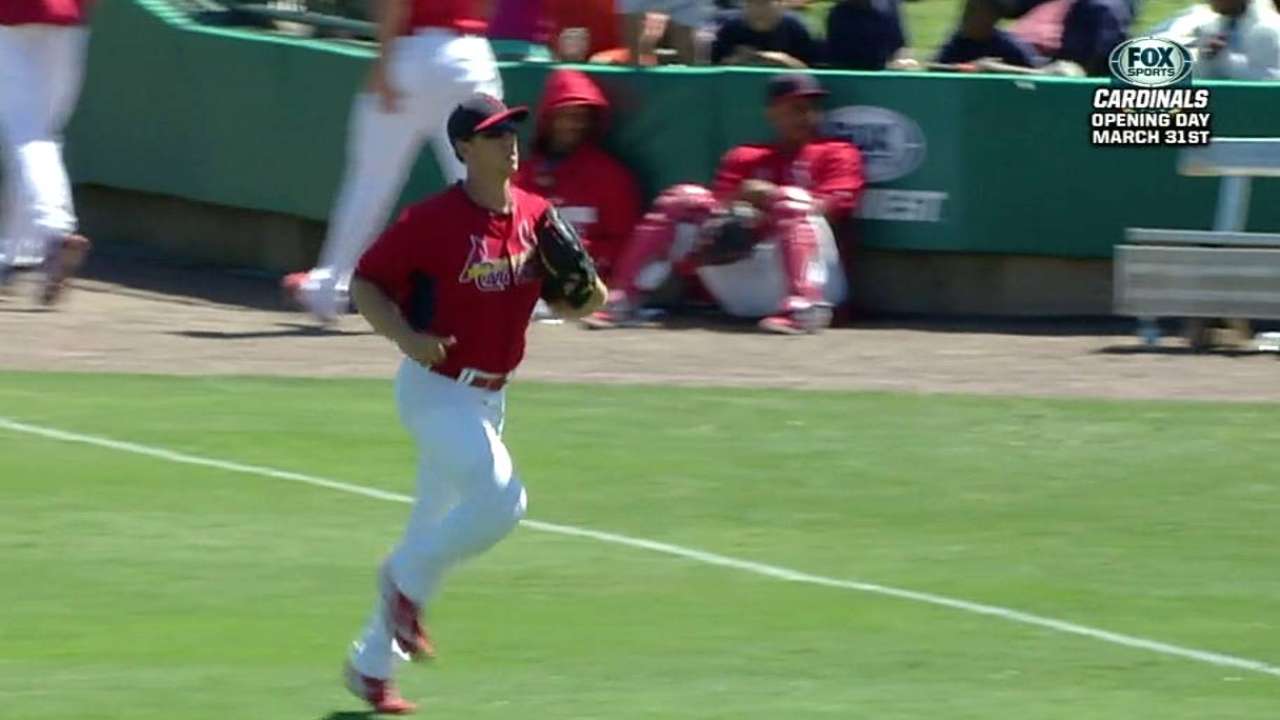 JUPITER, Fla. -- The Cardinals entered Spring Training hoping a young right fielder would captivate in camp and prove himself ready for a 2014 summons to St. Louis.
That was supposed to be Oscar Taveras. Instead, it has been Stephen Piscotty, who, with Taveras spending most of the spring watching Grapefruit League play from the bench, has used the additional exposure to shine in a group that is overrun with outfielders.
Piscotty leads the Cardinals this spring with 14 hits, the last four of which have gone for extra bases. He came close to connecting for a second home run, too, in Thursday's 11-0 win over the Braves before it died at the warning track in left field.
"He's done a very good job the way he goes about it. He's squaring the ball up and doing a nice job in the outfield, too," manager Mike Matheny said. "We're excited to watch him as we heard what he did through the [Arizona] Fall League and had a nice season last year. But we were anxious to see him at this level and with this group. He's making the most of it."
What it took for Piscotty to let his natural talent begin to shine were a series of early-morning sessions in the batting cage with new assistant hitting coach David Bell. In his effort to make an impression as a first-time participant in big league camp, Piscotty negatively channeled that excitement into his swing.
Bell noticed the jumpiness and urged Piscotty to relax.
"I was naturally a little overly aggressive, trying to do too much," Piscotty said. "He calmed me down and got me back to where I want to be. I feel like he has helped me a tremendous amount and has helped me really dial into my swing. I've been having some better at-bats, I think, thanks to him."
Piscotty, ranked No. 3 in the Cards' system by MLB.com, opened his 2013 breakout season at a new position (right field) and showed little difficulty with the transition. He earned a midseason promotion to Double-A Springfield, where Piscotty hit .299/.364/.446 over 49 games.
He then went to the AFL, where he had his best showing yet. Piscotty, the 36th overall player taken in the 2012 First-Year Player Draft, hit .371/.430/.506 with seven extra-base hits, 18 RBIs and seven stolen bases in 23 games.
"I'm real pleased with my performance over the past year," Piscotty said. "I think it's put me in a good position. But you can't be satisfied. You have to keep working. You can't be content. That's the goal. I did learn a new position and I'm by no means great at it yet. I need a lot of work."
It's because Piscotty still needs work that the Cardinals do not plan on placing him on the Opening Day roster as a bench player, regardless how well he plays over the final two weeks of camp. The Cardinals believe there is still value in having Piscotty play every day, which he is expected to do as a corner outfielder in Triple-A.
The 23-year-old, however, has turned enough heads that should the Cardinals need a bat off the bench or an outfielder to fill in later this season, Piscotty could be considered for the assignment. For now, Piscotty intends to continue to take advantage of the exposure.
"There are so many good guys to listen to and extract knowledge from," he said. "They're great competitors, and it's fun to be in that clubhouse. I've watched them on TV in the playoffs and everything and it's cool to actually be here with them."
Jenifer Langosch is a reporter for MLB.com. Read her blog, By Gosh, It's Langosch, and follow her on Twitter @LangoschMLB. This story was not subject to the approval of Major League Baseball or its clubs.