Taveras' window of opportunity closing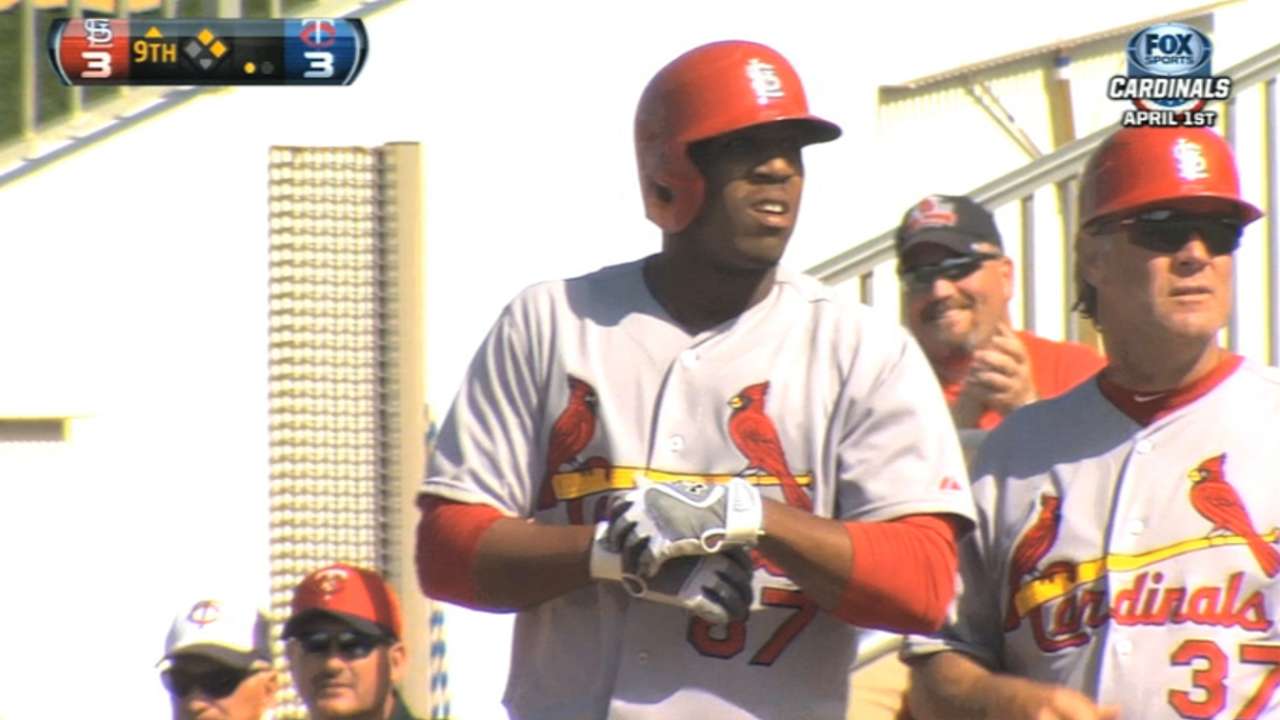 JUPITER, Fla. -- The window of opportunity for Oscar Taveras to play his way onto the Opening Day roster appears to have closed after his latest setback with a hamstring injury.
Taveras arrived in Florida a longshot to leave as a member of the 25-man roster. Those chances slimmed further when he had to sit out the first week of Grapefruit League play while trying to convince the Cardinals that he trusted the stability of his surgically repaired right ankle.
Now a tight right hamstring has kept him off the field since he took three at-bats on Saturday.
"It's not possible without him being healthy," manager Mike Matheny said when asked about Taveras still being considered for a Major League roster spot. "He needed to come in and have everything go right in order for that to be a possibility. It's definitely something that's holding him up.
"We kept saying that we needed to see him healthy before we could make any determination. We say the same thing right now. We just thought we had crossed that hurdle and hopefully were where we could just watch him play on a consistent basis. Now we're held up again."
Matheny did not project when the Cardinals expect Taveras to receive the clearance necessary to play again. It does not appear that will come soon, however, as Taveras ran at -- in Matheny's estimate -- only 50 percent intensity during workouts on Monday. The Cardinals had challenged him to try to push to about 75 percent.
"I think he's a little tentative now," Matheny said. "Guys who have had injuries that haven't healed up right, they typically are a little more hesitant to push it."
Medical tests have shown Taveras' strength to be OK, but the Cardinals do not want to push him further than he is comfortable. When Taveras sprained his ankle last May, there was some speculation that he could have returned earlier than he did had he not been so hesitant. The Cardinals eventually pushed him before later determining that the injury was severe enough to require surgery.
The Cardinals, Matheny said, have been pleased with Taveras' work ethic and effort this spring.
"There has been a lot of work to make sure he's getting all the strength and doing all the running," Matheny said. "It's not like he came out on the field without being prepared. We had a very rigorous set of things we needed to get accomplished and how to go about it, and something just didn't click right in the game the other day."
Jenifer Langosch is a reporter for MLB.com. Read her blog, By Gosh, It's Langosch, and follow her on Twitter @LangoschMLB. This story was not subject to the approval of Major League Baseball or its clubs.