Matheny works through first replay challenge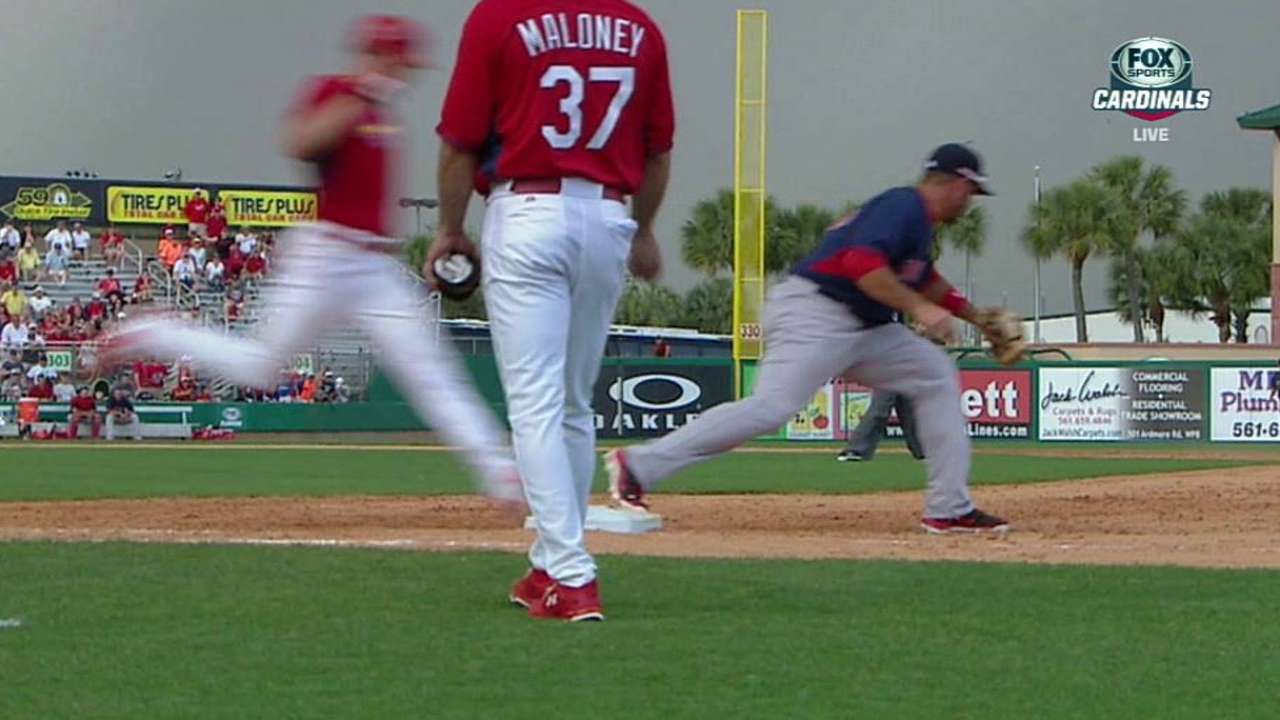 JUPITER, Fla. -- After weeks of working through the mechanics of challenging a call through Major League Baseball's expanded instant replay, manager Mike Matheny had his first true trial run on Wednesday. What he learned is that there are still a few adjustments to be made with how he handles the procedure.
Upfront that he was going to be aggressive in finding a chance to challenge a call -- if only just for practice -- Matheny found an opportunity to go through the exercise in the eighth inning of an 8-6 victory over the Red Sox after outfielder Stephen Piscotty bounced a ball back to pitcher Noe Ramirez, who started an inning-ending double play.
Ramirez's throw to second base, however, forced Heiker Meneses to lunge for the catch as he tried to record the out. Matheny, thinking that Meneses' foot may have come off the bag in the process, headed toward second base to start buying time for the Cardinals' video replay staff to determine whether the call should be challenged.
Matheny slowed from a jog to a walk -- something he said he'll be more cognizant of in the future to give his video staff time -- and then positioned himself near second-base umpire Jon Byrne in a way where he could still see into the dugout. If all runs smoothly, bench coach Mike Aldrete will then give Matheny a signal as to whether or not he should challenge.
The difficulty on Wednesday, though, was that the teams were not dealing with the same technology that will be in place during the season. The television broadcast was on a slight delay, which did not allow the Cardinals' video coordinator time to immediately review the tape.
As a result, Matheny had to choose to challenge -- which he did -- before getting input from his staff.
"I could tell there was some deliberation and there was a delay [in the video room], and at the point where we were in the game, there was no reason not to," Matheny said. "And knowing that everybody was trying to get their hands around this anyhow, everything pointed in the direction of we needed to.
"Typically, if we have that window, we're going to have enough time. By the time he got it through the delay and got a look at it, it wasn't 10 or 15 seconds later that the people back here knew what we needed to do. I probably had more time to buy and then get what they had. But by the time I looked it all over, it was the right thing to do to use the challenge up."
Once the challenge was requested, crew chief Jerry Meals put on a headset to communicate with an additional umpire watching the replay from a truck. The out call was confirmed. The entire process, beginning with Matheny emerging from the dugout, took less than two minutes.
"It didn't seem to slow things down all that much," Red Sox manager John Farrell said. "I think what they discovered in the [Arizona] Fall League [practice runs] was about a minute and 15 [seconds]. But there's some in between innings that are up to four minutes, which is what's been trying to be cut down. But that wasn't an abnormal delay."
The Cardinals expect to have instant replay available four more times in Grapefruit League play. Before then, Matheny will remind his players and pitcher to remain in a holding pattern next time an inning-ending play is challenged. In this instance, the Red Sox defenders left the field, and the Cardinals' next reliever came onto it. Neither is supposed to happen.
"The whole thing was kind of a mess," Matheny said of that confusion. "There's going to be some lumps."
In Spring Training, managers are allowed an unlimited number of challenges in selected games to practice the procedure. During the regular season, managers will have at least one challenge to use. If any portion of a challenged play is overturned, then the manager who challenged the play will retain the ability to challenge one more play during the game. No manager may challenge more than two plays in a game. Once the manager has exhausted his ability to challenge plays during the game and after the beginning of the seventh inning, the crew chief may choose to invoke instant replay on any reviewable call.
Jenifer Langosch is a reporter for MLB.com. Read her blog, By Gosh, It's Langosch, and follow her on Twitter @LangoschMLB. This story was not subject to the approval of Major League Baseball or its clubs.