Kelly focuses on offspeed improvement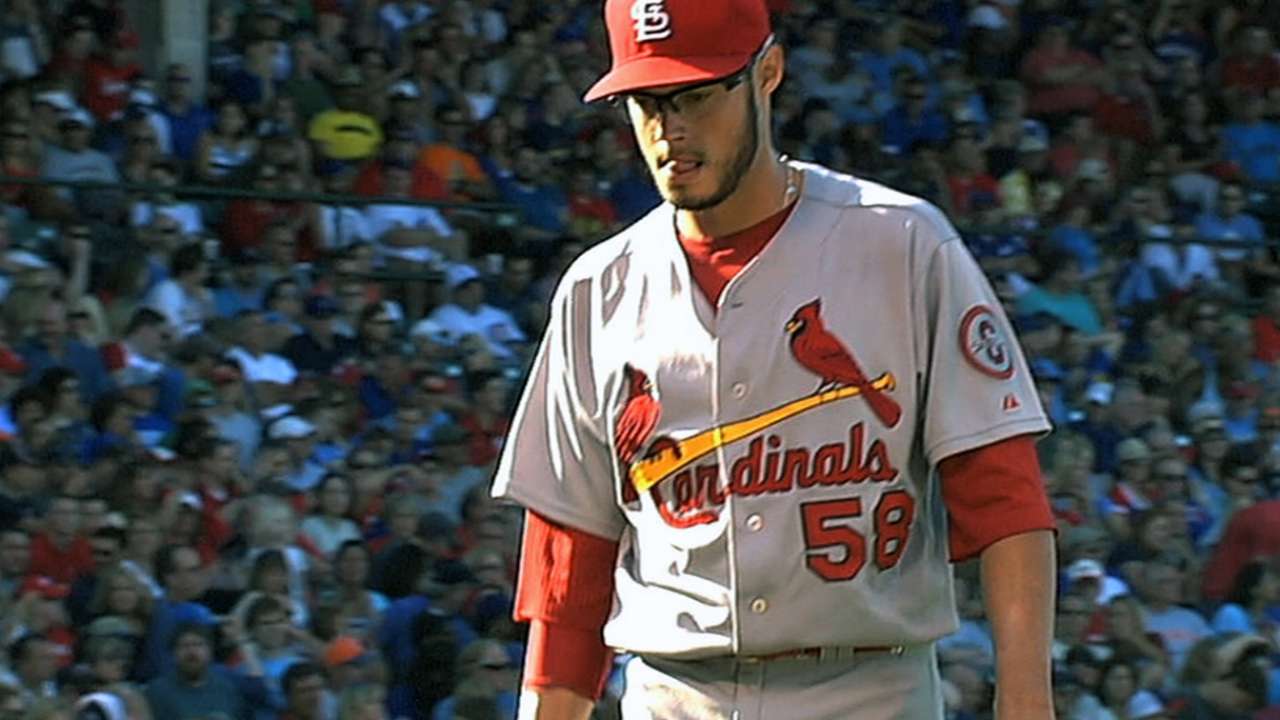 LAKELAND, Fla. -- Spring Training can be a time for a pitcher to work on his process, whether it's a new pitch or a new approach. It also can be a time when results do matter, especially if a job is at stake.
Cardinals right-hander Joe Kelly is trying to concentrate on the former, even as he finds himself -- for the second straight season -- competing for the fifth spot in the team's starting rotation. Kelly made his spring debut on Monday, throwing 1 2/3 innings against the Tigers, and he took the opportunity to refine his secondary pitches. He surrendered two runs on two hits and two walks, but that wasn't the focus.
"Obviously, I'm going to get the hitter out the best I can," Kelly said. "But I really want to know where I'm at with my offspeed stuff and my breaking stuff, especially early on in Spring Training when there's time to work on it."
Manager Mike Matheny lauded that approach by the 25-year-old, who threw a breaking ball only 18 percent of the time last season, according to brooksbaseball.net. Kelly's breaking pitches have more bite and depth now, Matheny said, and he's been able to throw the curve slower in order to provide more contrast to all of his hard pitches.
"I think he realizes he's gonna need those secondary pitches in order to compete to the best of his ability," Matheny said. "He's gonna have to get those under control and make them consistently.
"But Joe wants the results too. He wants his cake and to eat it, too."
Kelly, who wasn't crazy about the strike zone throughout his outing, walked leadoff man Ian Kinsler on four pitches, one of two free passes he issued in the first inning. He gave up RBI singles to Victor Martinez and Austin Jackson, but he set down the last three batters he faced before exiting with two outs in the second.
Despite the short outing, he got the chance to implement his pregame plan with catcher Audry Perez, which involved using the breaking ball in specific counts and situations.
"If you look at it, I think every time we went [to an 0-1 count] we threw the slider or mixed in a breaking pitch early, just to get that ready and know I could do it during the season," Kelly said.
Andrew Simon is a reporter for MLB.com. Follow him on Twitter @AndrewSimonMLB. This story was not subject to the approval of Major League Baseball or its clubs.