Matheny speaks with Wong, relaxes pressure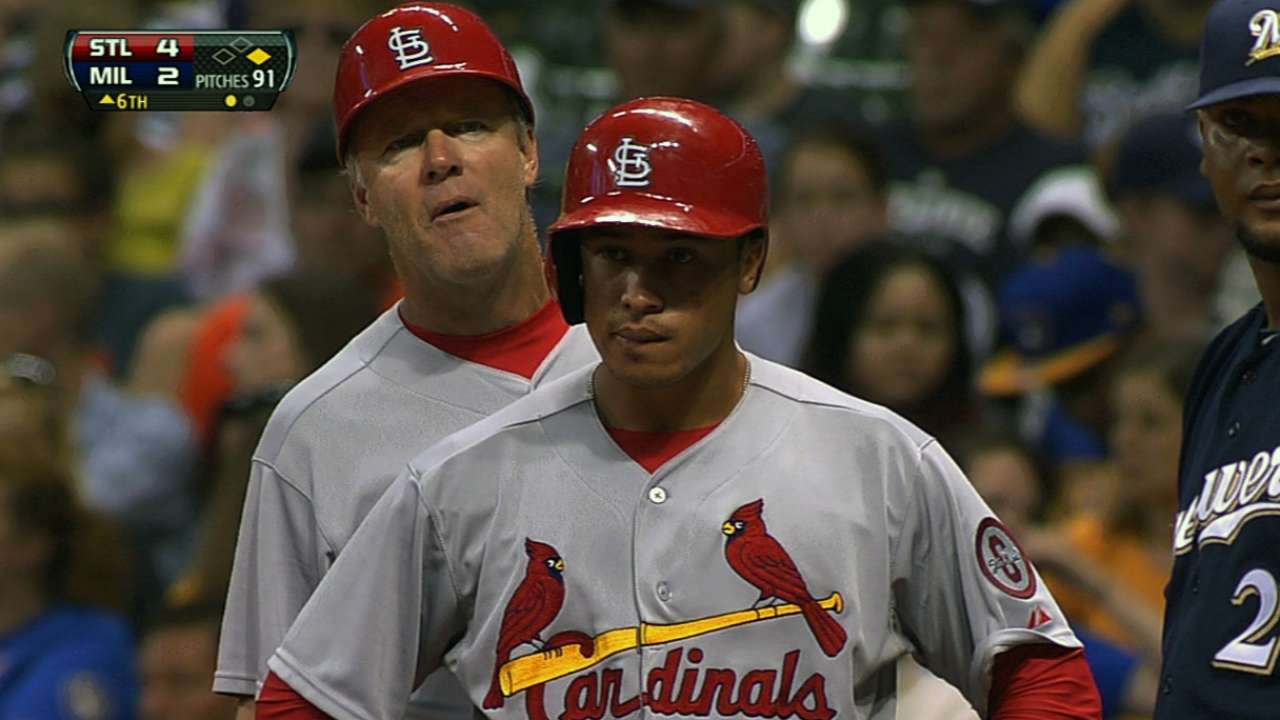 LAKELAND, Fla. -- "Don't try to do too much." It's a baseball cliché that often means little.
But in the case of the Cardinals' Kolten Wong, a tired phrase seems to contain a layer of truth. The 23-year-old is the favorite to start at second base, but coming off a season in which he endured a rough introduction to the Major Leagues, manager Mike Matheny sees a player burdening himself with too much pressure.
"I think all players in general are tough on themselves," Matheny said. "Some are harder on themselves than others, and Kolten is very hard on himself. I think he wants to get in there and prove it every single at-bat. I think he holds himself to very high expectations, as all our guys do. He seems to be a little further beyond most."
Wong is 0-for-9 with four strikeouts in Grapefruit League play, although he made hard contact on a deep flyout to center field and a lineout to shortstop on Monday against the Tigers. The results are not the most important thing to Matheny, who wants Wong to be realistic with his expectations early this spring and not dwell on the failures of 2013.
The two shared a conversation on Sunday in which Matheny encouraged Wong to simply go play and trust his talent.
"Mike was really helpful to me, because he could see I was ... not getting down, but getting a little frustrated," Wong said, "because I worked so hard this offseason trying to shorten up my swing and figure things out. And to come in and kind of not see success, it's tough. I have the right mindset. He told me to just have fun and enjoy the game. It's a process. I know it's gonna come."
Wong, MLB.com's No. 58 overall prospect and a former first-round Draft pick, hit .303/.369/.466 at Triple-A Memphis last year. But in 32 games with St. Louis, he went 9-for-59 (.153) with one extra-base hit and 12 strikeouts.
Despite that, Matheny sees a hitter who can work the count, fight off tough pitches and put the ball in play, provided he -- of course -- doesn't try to do too much. As Matheny spoke with reporters during batting practice Monday, he watched Wong take his cuts and pointed out his "incredible hands" and quick stroke.
"I want to see him be himself ... a guy that can grind out at-bats," Matheny said. "And if there's a way to define what our expectations are as a club, that's really what it is."
Even if Wong is expected to be the regular second baseman, the position is open to competition after the Cardinals signed veteran Mark Ellis to provide a right-handed counterbalance. As he makes his case, Wong has been working plenty hard, but that's not necessarily all there is to it.
"There's no fault in enjoying this a little bit, too," Matheny said.
Andrew Simon is a reporter for MLB.com. Follow him on Twitter @AndrewSimonMLB. This story was not subject to the approval of Major League Baseball or its clubs.