Adams putting in work to improve vs. lefties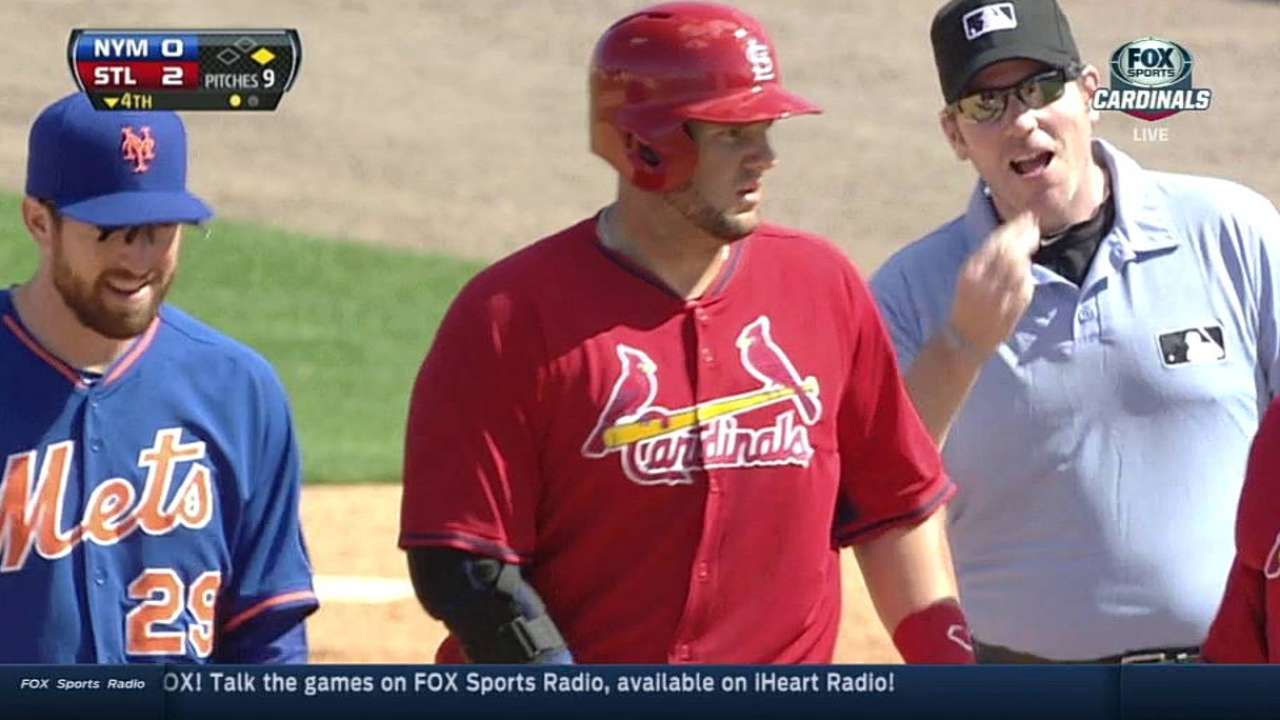 JUPITER, Fla. -- As Matt Adams went about his winter work, he zeroed in on the one deficiency that he believed could hold him back from thriving in his upcoming opportunity as an everyday first baseman in St. Louis. He had to find a way to keep from being exposed by lefties.
Adams began that process by setting up a lefty pitching machine to throw offspeed pitches that he could track. Then he invited some southpaws living near him in central Pennsylvania to throw to him during batting-practice sessions. Again, the intent was to get as many looks as he could at pitches coming in from that side.
The Cardinals helped him continue that work by having him face at least one lefty each workout day during coach-pitch batting practice. He stood in for live BP sessions by Randy Choate, Tim Cooney and Kevin Siegrist. And in his first at-bat against a lefty in Grapefruit League play, Adams singled off New York's Steven Matz on Sunday.
"I remember last year when I first got in the box against a lefty during live BP, I felt like I was kind of on my heels more than in my base and ready to go," Adams said. "This year, I felt like I was more balanced and that I was picking the ball up better. I'm not picking it up later as it's leaving their hands. That's a good sign.
"Obviously, you're not going to make those [righty-lefty] splits completely even, but bringing that lefty split up a little bit would make me feel pretty good."
Adams did not have a huge sample size of at-bats (52) against lefties in 2013 because of the role he filled. Manager Mike Matheny chose spot starts for Adams based largely on matchups. Until Adams had to step in at first base regularly in September, the only lefties he often saw were those brought in to face him after he was announced as a pinch-hitter.
Combining his 2013 results with those from his time in the Majors the year before, Adams has a .208 average. 219 on-base percentage and 25 strikeouts in 72 at-bats against left-handers. Only three of his 19 home runs have come off them.
"In the Minor Leagues I felt good against lefties whenever I was playing every day," Adams said. "I had my rhythm down. My swing felt good. My swing felt good last year as a pinch-hitter, but it's tough going out there, seeing that guy on the mound as a right-hander and you have your approach set for him, then all of a sudden your name is announced and you have a lefty coming in. You have to hurry up and flip-flop that approach as best you can. I would say that those numbers are kind of misleading last year."
Adams is not done looking for ways to improve in this area either. He said he plans to sit down with lefty specialist Choate later in camp to talk about philosophy.
"If I can recognize what he is going to do," Adams said, "I'll have a good idea during the season what a lefty specialist is going to do to me."
Jenifer Langosch is a reporter for MLB.com. Read her blog, By Gosh, It's Langosch, and follow her on Twitter @LangoschMLB. This story was not subject to the approval of Major League Baseball or its clubs.