Craig sharing wisdom with Wisdom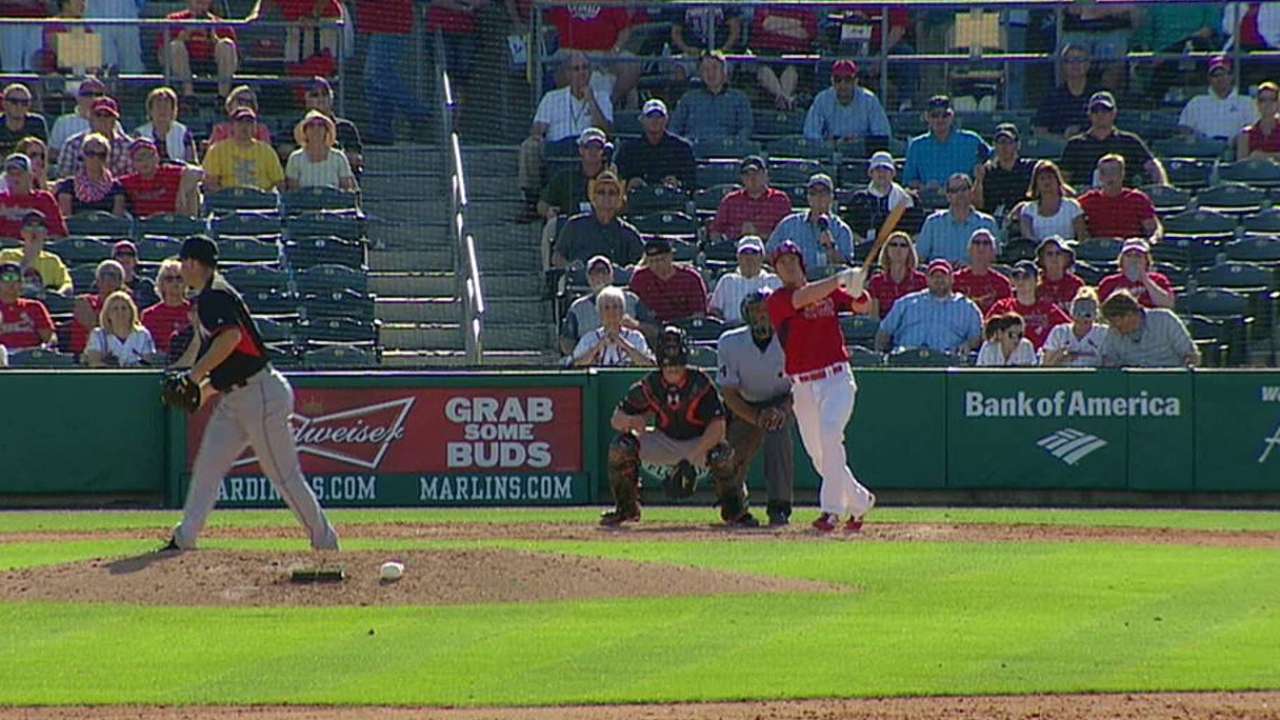 JUPITER, Fla. -- Allen Craig and Patrick Wisdom grew up in neighboring towns in Southern California, though the seven-year age difference between the two never offered them much opportunity to cross paths in baseball circles. Their introductions actually came some 2,600 miles away from home in the Cardinals' clubhouse last spring.
Time together followed over the winter.
That was initiated by Craig, who reached out to Wisdom after the 2013 season to see if he would like to join him a few times each week to work out. Wisdom, having just finished his first full professional season, embraced the invitation.
"We kind of grew up in the same town, same area, so we're familiar with the same scenery," Wisdom said. "We have this connection of where we've been so far, and so we can kind of relate. I don't want to step on his toes or anything. He has his own process, his own regimen. I just like to be there and watch him and learn from him and pick his brain."
"I think it's pretty clear that he's got a lot of talent, a lot of physical tools," added Craig. "He's a good guy. He works hard. Obviously, it was fun to be around him, just talking the game. It was casual, hanging out, talking about baseball."
The two found connections beyond proximity, too. Wisdom had played baseball with one of Craig's cousins. They were both drafted out of college, with Craig having gone to the University of California, Berkeley and Wisdom to St. Mary's College. Those campuses sit about 12 miles apart.
Wisdom was the higher Draft pick (No. 52 overall in 2012) out of college, though Craig has the credentials Wisdom envies. Wisdom split 2013 between two Class A clubs, with which he established himself as one of the best infield prospects in the organization. Craig solidified his spot on the national radar last season with one of the best "clutch" seasons by any Major League player in the past four decades.
It wasn't so much that success but the journey to it that Craig wanted to share with the 22-year-old third baseman.
"We live in a somewhat large town, but it's a small town in terms of the baseball community," Craig said. "He's fairly young in his professional career, and he has a lot of talent. There are some struggles that I had coming up, and obviously, he's a pro and he knows exactly what he's doing, but if there is any little type of message from just talking the game and communication back and forth that can help, then I'm all for it. There are things that I learned from him, that he learned from me. That's the best type of baseball relationship you can have -- just talking the game and getting better."
It is also, manager Mike Matheny said, another component of the oft-recited Cardinal Way.
"That's what makes this place special," Matheny said. "These guys are constantly doing things like that. You have to have talent, too, and obviously, he has some."
Jenifer Langosch is a reporter for MLB.com. Read her blog, By Gosh, It's Langosch, and follow her on Twitter @LangoschMLB. This story was not subject to the approval of Major League Baseball or its clubs.