Swagerty sidelined with elbow inflammation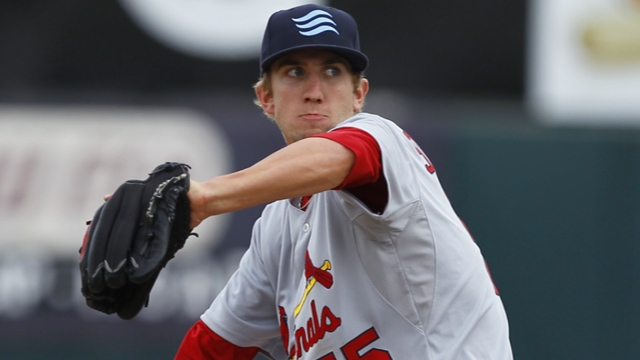 JUPITER, Fla. -- Right-hander Jordan Swagerty, who has spent much of the past two years recovering from elbow injuries, has had to halt his throwing program due to inflammation in his right elbow.
The issue surfaced after Swagerty's fourth bullpen session of the spring and, as a result, he hasn't taken the mound since Thursday. Tests have ruled out any concern of another structural issue -- Swagerty has already had Tommy John surgery and bone spurs removed -- but instead believe it to be a byproduct of the 24-year-old getting back into the routine of throwing.
Since having to stop his Spring Training throwing program in 2012, Swagerty has pitched only 10 2/3 innings. The rest of the time was spent rehabbing and dealing with a nerve issue in his forearm. This year, he looked forward to putting all that behind him and reclaiming his place as a prospect in the organization.
"It's been a long journey," Swagerty said. "I'm not discouraged yet, because it's nothing serious this time, which is positive. I'd like to come here and be healthy and be able to compete, obviously. But at the end of the day, I know it's not anything serious. There is still some relief for me knowing that I was able to work on things and throw the ball hard and feel good. To come in the next day and feel sore, that's not the worst thing that could happen."
"It would be pure speculation, but obviously a guy coming back from Tommy John, it's not uncommon to have that happen from time to time," said general manager John Mozeliak. "I think I would attribute it more to sort of the length of time he hasn't been able to throw and then ratchet it up."
Manager Mike Matheny said that the Cardinals' medical staff detected "some weakness" in the elbow when they examined Swagerty. At this time, the Cardinals do not have plans for Swagerty to seek an additional opinion outside the organization. Though he remains unable to throw, Swagerty is still participating in other portions of the pitchers' spring workouts.
"Right now, what we're going to do is take it day by day and see where he is," Mozeliak said. "He's not cleared to throw and until he is, it's another hurdle that he has to clear."
Jenifer Langosch is a reporter for MLB.com. Read her blog, By Gosh, It's Langosch, and follow her on Twitter @LangoschMLB. This story was not subject to the approval of Major League Baseball or its clubs.