Wacha focused on earning spot in rotation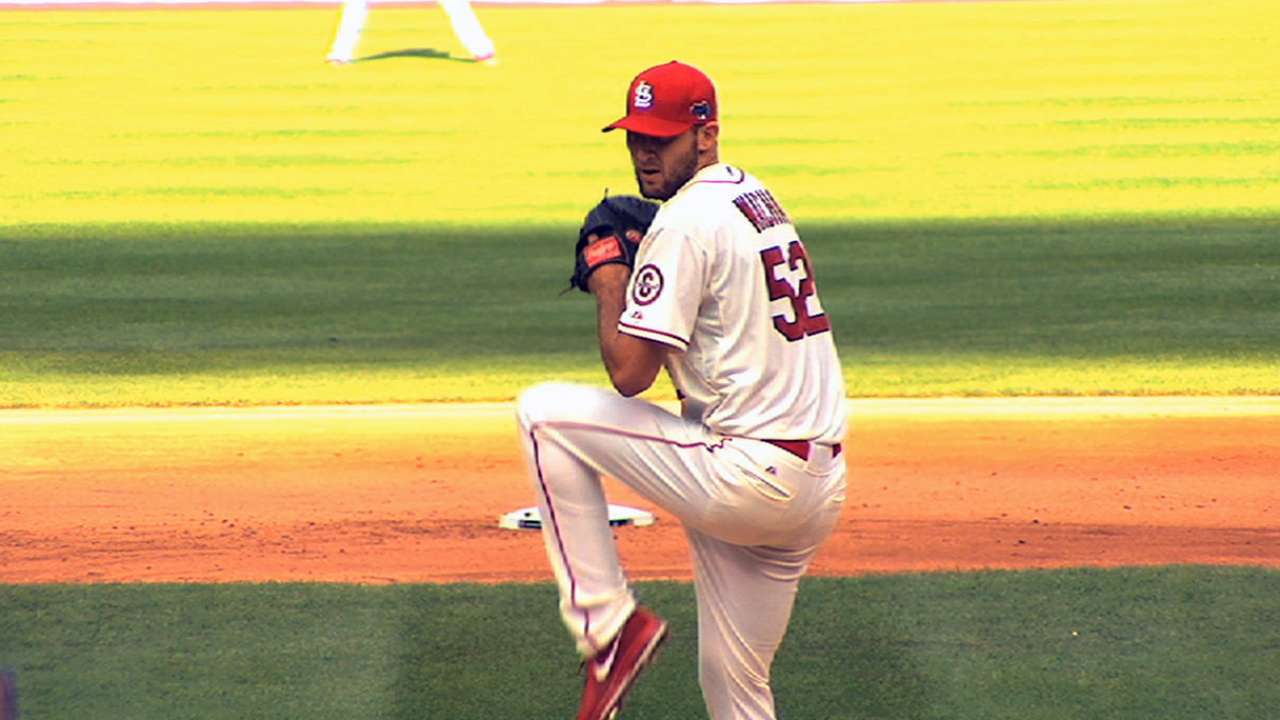 ST. LOUIS -- Unwilling to cruise on the coattails of his October success, Michael Wacha said he intends to come to Spring Training expecting to have to win a spot in the rotation. Such is the reality for a postseason darling when on a pitching staff that includes five other starters with more experience and their own impressive accolades.
Undoubtedly, Wacha will get strong consideration for a place in the Opening Day rotation. And if he cracks it, expectations will be high. Such is the consequence of having a breakout month on the national stage.
"I'm sure there are going to be some high expectations from people putting [them] on me," Wacha said. "But I can't really pay much attention to those guys. I have my own expectations for myself that I try to live up to. I think if I'm able to do that, things will be pretty good. Even down the stretch there in the postseason, the main goal was just to try not to do too much and to stay within myself. It ended up working out pretty well, so I'm going to take that same mentality into this year as well."
The postseason went more than "pretty well" for Wacha, who followed a near no-hitter the final week of the regular season with four straight wins in October. That included an elimination-game victory over the Pirates, the series clincher against the Dodgers and the team's only win at Fenway Park. Along the way, Wacha earned National League Championship Series MVP honors.
"I really wasn't expecting it," Wacha said of the overwhelming postseason success. "The goal was just to try to go out there and win a game for this team. And it ended up being a pretty special year."
With the added month to the season, Wacha ended up pitching 180 1/3 innings, slightly more than the range the Cardinals planned for him. Wacha said he did not feel the added stress on his arm at the end of the run, but he did shut down from throwing until just before Christmas to give his arm adequate rest.
The Cardinals' foresight to skip Wacha in the Triple-A rotation a few times over the summer also helped conserve innings for later in the year.
With the workload he carried last season, Wacha would seemingly be positioned to push toward 200 innings this year. However, manager Mike Matheny said the organization will still be cautious with its expectations because of Wacha's relative inexperience. He is less than two years removed from pitching in college.
"Michael's going to be in a different boat because he's had less experience as a professional pitcher," Matheny explained. "So we're going to have to be creative how to keep him on target."
That does not make Wacha any less likely to break the Opening Day rotation, though it could result in his spot being skipped (like Shelby Miller in 2013) to better manage the work. First, though, he has to get through the spring.
"It's unbelievable our team right now, unbelievable arms," Wacha said. "It's going to be a competition throughout Spring Training. It's going to be a fun one."
Jenifer Langosch is a reporter for MLB.com. Read her blog, By Gosh, It's Langosch, and follow her on Twitter @LangoschMLB. This story was not subject to the approval of Major League Baseball or its clubs.