Holliday, Rosenthal work out using 'NFL program'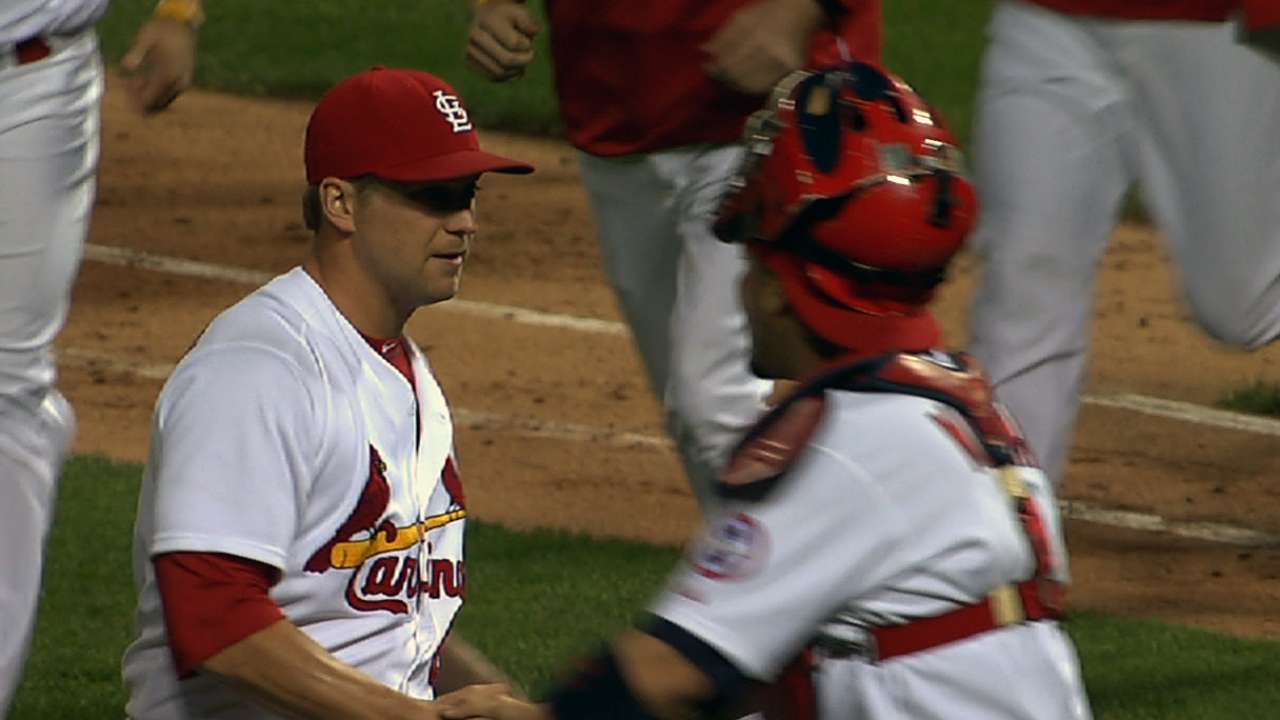 ST. LOUIS -- Two years ago, Matt Holliday introduced games of squash into his offseason workout program. The activity fostered fun competition with then-teammate David Freese, while also testing instinct, footwork and adjustments.
This winter, the focus has been all on strength.
Holliday, alongside Cardinals closer Trevor Rosenthal, has been participating in what Rosenthal described as "an NFL program." What exactly does such a workout regimen entail?
"Sled pushing, tire flipping and some fireman carries," Holliday explained. Those carries have been reciprocated, with each player taking his turn carrying the other for about 20 meters.
"We have a whole new relationship," Holliday said, "throwing our sweaty bodies on top of each other."
Rosenthal, who worked out regularly with Chris Carpenter last winter, has bulked up in preparation for pitching out of the bullpen. While still hopeful of one day getting the opportunity to start, Rosenthal has been told he'll open 2014 as the Cardinals' closer.
"I still want to build up arm strength, but I'm not having to worry about the endurance of throwing 150 pitches," Rosenthal said. "Luckily, last year throughout the season, having the opportunity to be in the bullpen the whole year, I definitely have a lot to reflect back on."
"Trevor and I are pretty close," Holliday added. "We have been pretty close since last offseason. He likes to work out. He's a hard worker, takes this thing real serious. A lot like me, he wants to be the very best that he can be. It's been fun to see his discipline and his effort and sort of how he wants to be the best and I admire that."
Holliday, 34, has had intensive offseason workout programs for years. Immersing himself in tough winter work is one way in which he hopes to later gain an on-field edge.
"I think, at the end of the day, that I got everything I possibly could get out of the offseason -- training, diet, doing everything I can to be as disciplined as I possibly can," Holliday said. "A lot of time when your workouts are hard, that's how I get through them. As you get older you have to outwork them. That's kind of the approach that I take."
Jenifer Langosch is a reporter for MLB.com. Read her blog, By Gosh, It's Langosch, and follow her on Twitter @LangoschMLB. This story was not subject to the approval of Major League Baseball or its clubs.