Adams gearing for first by facing left-handers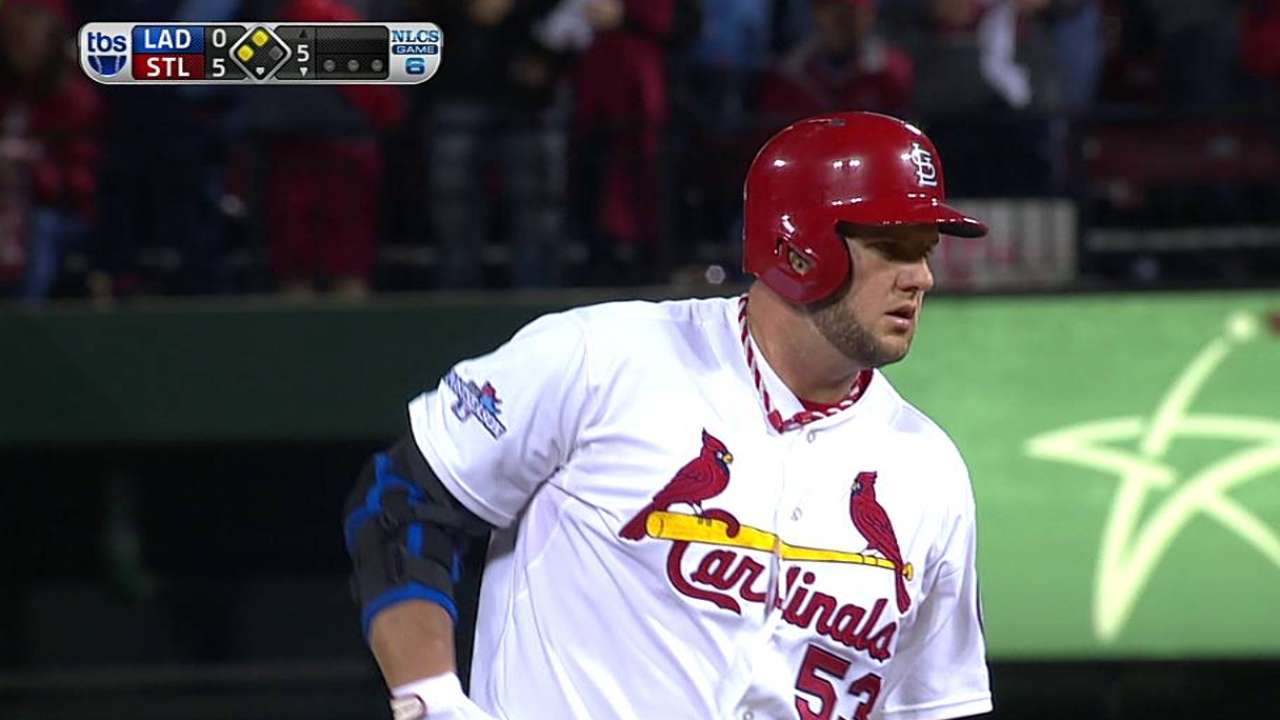 ST. LOUIS -- Presented with the opportunity to win a job as the team's starting first baseman, Matt Adams has tailored his offseason work to dropping pounds and preparing for lefties.
A noticeably slimmed down Adams appeared at the Cardinals' Winter Warm-Up on Sunday. Adams said he has dropped about six-to-seven pounds on the scale, though the numbers shortchange the fact that he has dropped a significant amount of body fat while adding muscle. Much of the body composition change is a result of diet, as Adams worked with team chef Simon Lusky.
"It benefited me last year," Adams said, "and I want to gain ground on it this year and keep it going."
Adams is also preparing for the possibility of playing every day by trying to sharpen up against left-handers, who held him to a .231/.231/.423 slash line in 52 at-bats last season. A winter ago, Adams spent hours in the batting cage with a pitching machine programmed to throw southpaw sliders.
Adams has done so again this offseason and is adding live pitching to the mix, too. He said he's inviting some "younger, elite college guys [to] come in and throw lefty batting practice."
"We want to get in," Adams continued, "and see the ball coming out of the guy's hands to actually try to get the timing down and see the rotation of the ball."
The hope, of course, is that the work will help boost Adams' numbers as he faces left-handers with more regularity. How well he fares in those spots will be a determining factor, too, in whether he sticks as the starting first baseman or eventually slides back into a bench role due to a crowding outfield.
As for the right elbow pain that plagued him late last season, Adams said he is confident that rest has helped quell that issue. He was able to play through the discomfort with the help of an elbow brace and said he may continue to wear the brace as a precautionary measure. Though big and bulky, the brace does not inhibit Adams' swing.
With the elbow issue alleviated and the offseason preparation specific to past weaknesses, Adams hopes to arrive in Spring Training ready not just to take a starting job, but to prove that he has earned it.
"I think it's a huge opportunity, but you never know what can happen," Adams said. "You just have to go with it, run with it and hopefully things work out. I just have to go down there ready to perform, ready to fight for a job."
Jenifer Langosch is a reporter for MLB.com. Read her blog, By Gosh, It's Langosch, and follow her on Twitter @LangoschMLB. This story was not subject to the approval of Major League Baseball or its clubs.