Taveras looks to report '100 percent' at camp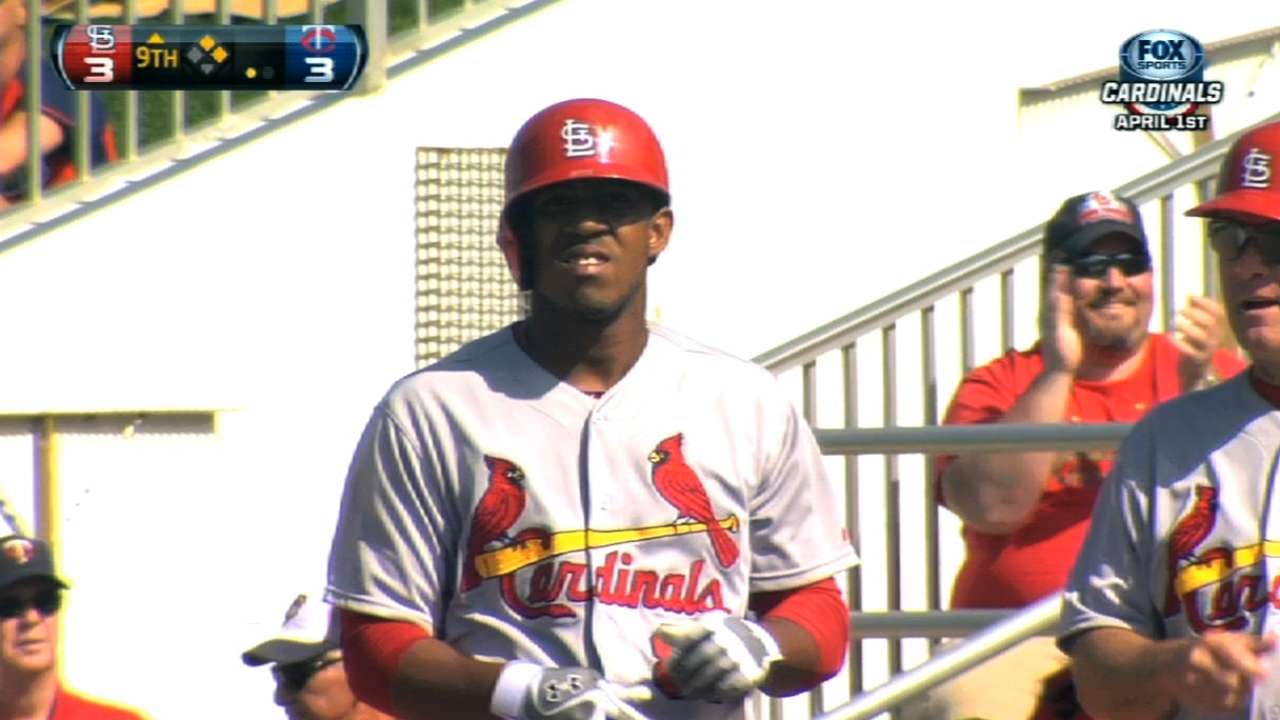 ST. LOUIS -- Oscar Taveras, a day after having his surgically repaired right ankle examined by a Cardinals team physician, said he expects to be "100 percent ready" when he reports to Spring Training next month.
Taveras has been rehabbing his ankle since undergoing a procedure to repair torn ligaments and clear out loose cartilage. He has not resumed running at full speed, though general manager John Mozeliak said Taveras should be cleared to do so within the next few weeks.
"With the work that I've done this week and what I've done at home with the trainer, I feel 100 percent," Taveras said Saturday through interpreter Marissa Diaz, a member of the Cardinals' community-relations department. "In Spring Training, I hope to get stronger and be back with the team."
Taveras, who enters 2014 as the organization's top prospect, was limited to 174 at-bats last season due to the ankle injury and subsequent surgery. The Cardinals are open to considering him for an Opening Day roster spot but first want to see how/if the lost time has affected him.
Taveras will get spring work at all three outfield positions during Spring Training, though with the offseason addition of Peter Bourjos, he'll more likely find a big league fit in right field.
"He absolutely looks great," Mozeliak said. "By the time we get to Spring Training, he should be cleared to run. But just from a physical standpoint, I think he's in the best shape of his life.
"I think for all of us, including myself, I'm just excited to see where he's at and where he may fit in. I think the one thing you always have to remind yourself is to be patient. The fact that we have a Matt Adams and an Allen Craig interchangeable does give us flexibility."
The Cardinals have brought Taveras to St. Louis about once a month this offseason to monitor his progress. During his stays, Taveras has participated in workouts alongside Trevor Rosenthal and Matt Holliday. He has been taking batting practice for some time now.
"I've been working really hard with my ankle," Taveras said. "Physically, I feel prepared. I feel good. Last year was off because of the ankle. I felt bad because I wasn't on the team. But I was watching the team, watching my friends play hard. That got my spirits up to work hard this year. If God has it, I will be on the team this year in 2014."
Taveras said he plans to report to Spring Training on Feb. 10, a week earlier than the first official workout for position players.
Jenifer Langosch is a reporter for MLB.com. Read her blog, By Gosh, It's Langosch, and follow her on Twitter @LangoschMLB. This story was not subject to the approval of Major League Baseball or its clubs.