In light of mega-contract, Waino happy where he's at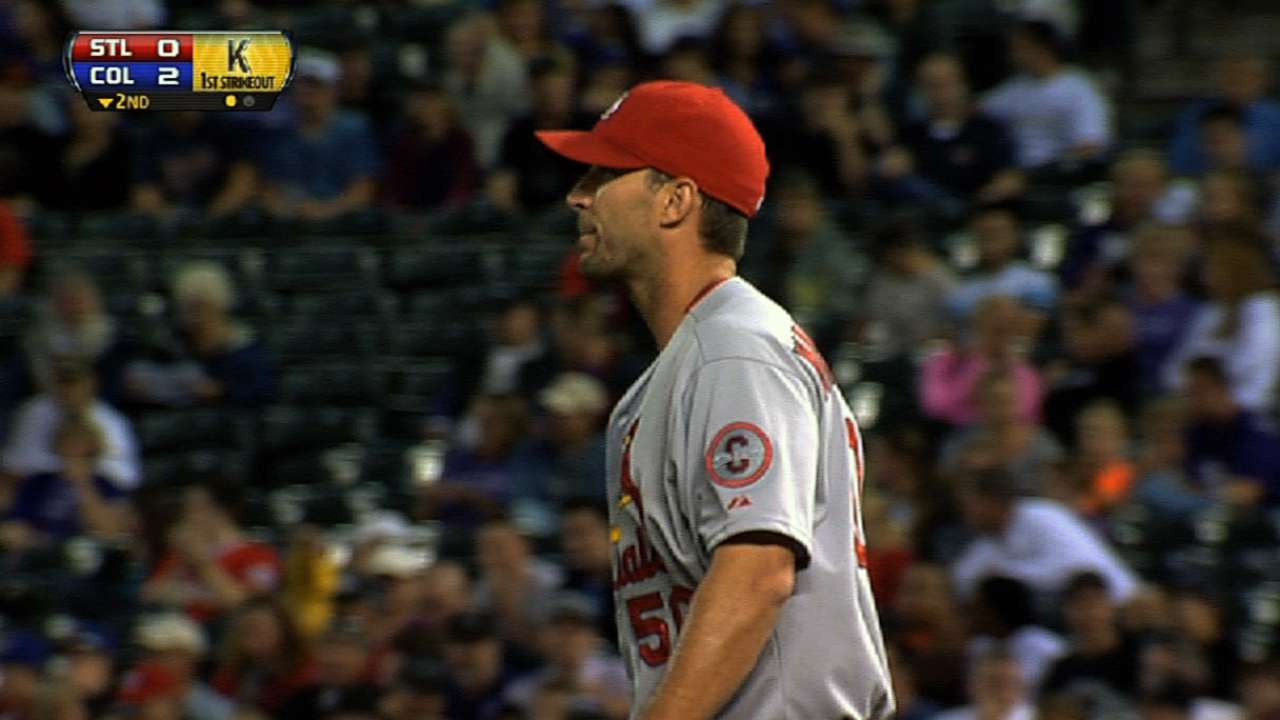 ST. LOUIS -- Noting that "you can't buy happiness," Adam Wainwright was insistent that, even in light of Clayton Kershaw's new mega-deal, he has no regrets about signing a five-year, $97.5 million extension last spring. That contract, which begins this season, precluded Wainwright from testing the free-agent waters this offseason.
"I was so happy to go into this offseason and not have to worry about being a free agent. I'm right where I want to be," Wainwright said. "Do I think I could have made more money on the free-agent market? Absolutely. But you can't buy happiness. I'm not going to be happier anywhere else but where I am right now."
The agreement that Wainwright and the Cardinals settled on last March will pay him $19.5 million annually through 2018. Last week, Kershaw agreed to a seven-year, $215-million deal that includes an option for him to opt out after five seasons. The average annual value of this deal is $30 million, a Major League Baseball record.
The discrepancy in value seems wide given that these two pitchers finished first and second in the most recent Cy Young voting. However, age is a factor that cannot be overlooked. Wainwright will be 37 when his contract ends, while Kershaw, now 25, will still be in his prime when his expires.
"What I want to do at the end of this contract -- just like I did in the other one -- is say I lived up to the contract I signed," Wainwright said. "I have great confidence that I'm going to do that. The contract that he signed is amazing. There's no doubt about it. But he's also 25 years old. Compared to him, I'm an old man. I take my role here on this team very seriously. I love where I'm at, I love what I've learned here, and I can't wait to pass it on.
"There's no other color I want to wear."
Wainwright, who has recruited Kershaw to join his Waino's World charity initiative in 2014, said he texted the Dodgers left-hander to congratulate him on the new contract. As for the Cardinals, they certainly benefited from the timing of the Kershaw deal, as it would have helped Wainwright in his negotiations had the deal been in place a year earlier.
"Clearly, if that [Kershaw contract] was on the board today and we were trying to sign somebody like Adam Wainwright, it would really pull someone up," general manager John Mozeliak said. "The St. Louis Cardinals organization view of things, our hope is that we offer an attractive product in a place where players are happy to play. Adam certainly knew that if he wanted to go to market, he would have done better. He knew that. And I think all of you did."
Jenifer Langosch is a reporter for MLB.com. Read her blog, By Gosh, It's Langosch, and follow her on Twitter @LangoschMLB. This story was not subject to the approval of Major League Baseball or its clubs.