Around the Horn: New middle infield for Cardinals
Offseason acquisition Peralta taking over at short; Wong to have opportunity at second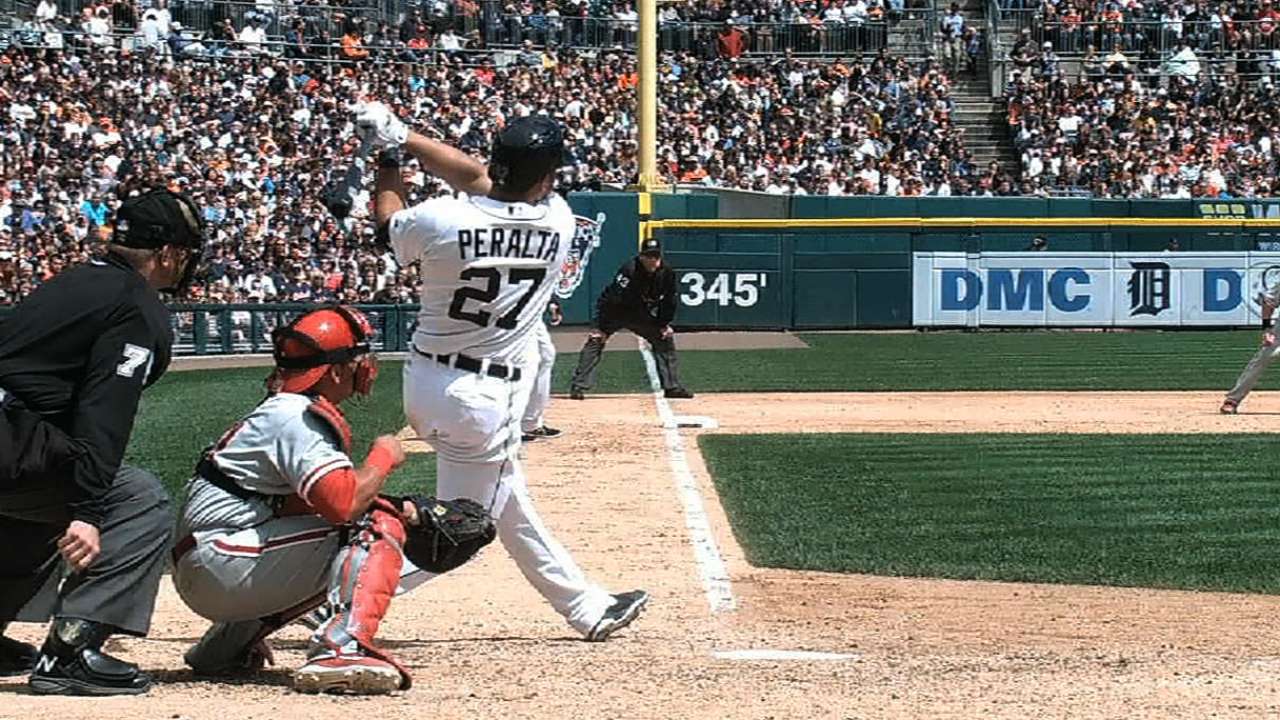 ST. LOUIS -- This is the third of a seven-part Around the Horn series that will take a position-by-position look at the Cardinals' projected starters and backup options heading into next season. The catchers and corner infielders have already been discussed. Up next: middle infielders.
The middle infield was a glaring contrast of production in 2013, as the Cardinals boasted the league's best offensive second baseman while being handcuffed by a shortstop setup that never proved ideal. A year later, the Cardinals prepare to open the season with new players at both positions.
The splash of the Cardinals' offseason came days before Thanksgiving, when the organization reached a four-year agreement with shortstop Jhonny Peralta. Once it became obvious that Pete Kozma was not poised to be the long-term shortstop answer for the organization, finding an upgrade became the top offseason priority.
"I felt like the need to improve our offense at short was critical more just because how we played [last] year," general manager John Mozeliak said. "I thought that if there was somehow for us to improve our outlook at short, that'd be a great thing to do. Fortunately, we were able to accomplish that."
Peralta, despite a 2013 suspension for his connection to Biogenesis, the Florida anti-aging clinic, quickly became the Cardinals' target. He hit from the right side, offered a middle-of-the-order bat and played sufficient defense. He was also a cost-friendly alternative to other shortstops available on the trade market that would have required the Cardinals to part with prospects.
While Mozeliak, manager Mike Matheny and others within the organization have urged everyone to move past the performance-enhancing substance questions, Peralta will nevertheless still have to answer some. Furthermore, his production will be scrutinized through that PED prism.
Regardless, the Cardinals insist that Peralta's career numbers justify their $53 million investment. He has a career batting average of .268 and has averaged 35 doubles a season since 2005. During that span, he reached the 20-homer mark four times. For a team that combined for four homers, 54 RBIs and a .222 average from the shortstop position last season, Peralta can make a substantial offensive difference.
Though Peralta will be a downgrade defensively from Kozma, the added bat was a trade-off the Cardinals felt comfortable making.
Peralta's projected double-play partner has hardly the same Major League experience, but expectations are still high for Kolten Wong. And he, too, will arrive amid outside questions. Though he struggled in his introduction to the Majors last season, Wong still has the confidence of the organization, a credit to what he was able to do in the Minors.
The Cardinals' willingness to trade David Freese was in large part due to the organization's belief that Wong would be ready to step in as an everyday player. Matt Carpenter, the Cardinals' standout second baseman in 2013, simply shifts to third.
"He's given an opportunity, and he's shown us that he's got the ability and it's just going to be a matter of coming out and competing and making the most of the opportunity," Matheny said of Wong. "We'll see how that translates."
Wong, 23, is a former first-round Draft pick who tasted success everywhere he stopped in the Minors. He hit .301 across three levels and helped lead his club to championships in 2011 (Class A Advanced) and '12 (Double-A). He opened '13 in Triple-A before ascending to the Majors in August as the Cardinals sought an offensive spark.
Given the chance to start immediately, Wong tallied five hits and stole three bases in his first four starts. It was a promising beginning. However, Wong would not match that hit total in his next 41 at-bats, most of which came off the bench.
It was all a spiral of sorts for Wong, who found starting opportunities limited when he began to struggle and then could find no offensive rhythm when given sporadic at-bats.
"I think from an offensive standpoint, he put pressure on himself because he desperately wanted to contribute," Mozeliak said. "You think about when we did bring him up, we were looking for that balance, offensively. That's always tough to do on a young player."
Despite the disappointing first impression, the Cardinals have publicly stated their intention to give Wong the chance to entrench himself at second. It can be argued that no one has more to prove this spring than Wong. Should he struggle again, the organization has Mark Ellis poised to step in. The Cardinals specifically sought a right-handed-hitting veteran second baseman this offseason in order to have insurance, and they found a fit with the 36-year-old, defensively above-average Ellis.
In addition to Ellis, the Cardinals will likely keep one other middle infielder on their roster. Daniel Descalso, who is still going through the arbitration process with the organization, is the favorite to win that job. Descalso offers the Cardinals the versatility to play any position in the infield.
This means that Kozma will report to Spring Training amid plenty of uncertainty. While he would offer the Cardinals a strong defensive backup at shortstop, Kozma is not an attractive pinch-hitting option. That will hurt his case. Also, he has one Minor League option remaining, which would allow the Cardinals to send Kozma to Triple-A without the risk of losing him on waivers.
Jenifer Langosch is a reporter for MLB.com. Read her blog, By Gosh, It's Langosch, and follow her on Twitter @LangoschMLB. This story was not subject to the approval of Major League Baseball or its clubs.