Matheny helping lead charge vs. collisions at plate
Matheny helping lead charge vs. collisions at plate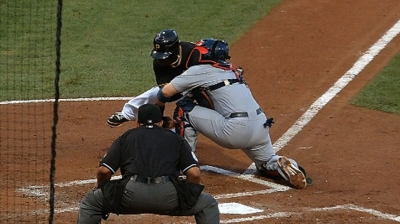 LAKE BUENA VISTA, Fla. -- Cardinals manager Mike Matheny, along with Giants skipper Bruce Bochy, will lead a discussion on Wednesday urging Major League Baseball's general managers and managers to eliminate home-plate collisions.
The two have already helped the discussion of a rule change gain momentum by speaking publicly about the concussion and injury risks that come from allowing such runner-to-catcher impact. While there remains some resistance to eliminate that play, the Cardinals remain fully behind pushing for a change.
Some of that is due to how personal this is for Matheny, whose playing career ended prematurely due to concussions he sustained as a catcher. But it also has much to do with Yadier Molina, one of the organization's most important assets. If there is a way to reduce the risk of injury to their All-Star catcher, the Cardinals will offer their full support.
"Obviously, we have Yadier Molina -- who is probably the most elite player at that position -- and we want to do everything we can to keep him on the field," general manager John Mozeliak said. "It does seem a little odd that everywhere else in the game of baseball, you can't do it. But at the professional level you can. From our perspective, we would like to see that rule change."
Mozeliak said he believes opposition to Matheny's stance is waning in the wake of larger contracts. As teams increase their financial investment in players, there becomes more of an urgency to keep risk low. Molina, for instance, is about to begin the second year of his five-year, $75 million contract in 2014.
Buster Posey's season-ending injury and Matheny's repeated public pleas have brought additional attention to this issue. So too has recent research into the effects of concussions.
"I'm proud of the league for taking a step forward," Matheny said. "I don't know how it's all going to play out. But people who know me know my stance on this. I just believe it's something that we can't turn a blind eye to what's going on in these other sports. Let's learn from what's going on there and see if we can make our sport better."
Jenifer Langosch is a reporter for MLB.com. Read her blog, By Gosh, It's Langosch, and follow her on Twitter @LangoschMLB. This story was not subject to the approval of Major League Baseball or its clubs.