Yadi, Wainwright among Gold Glove finalists
Yadi, Wainwright among Gold Glove finalists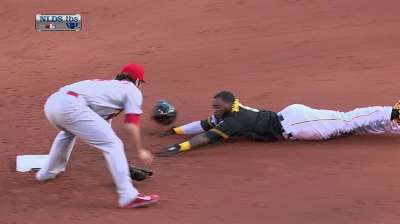 ST. LOUIS -- Batterymates Yadier Molina and Adam Wainwright have been named finalists for the Rawlings Gold Glove Awards, which will be presented on Tuesday during a 7 p.m. CT show on ESPN2.
The inclusion of Molina as one of three National League catcher finalists comes as no surprise, and he is a favorite to capture what would be his sixth consecutive Gold Glove. Molina should also challenge again for the Platinum Glove, given to the best defensive player at any position in each league. That award, which Molina has won each of the past two years, will be handed out on Nov. 8.
"I try to win this award," Molina said on Friday. "Every year is different and you try to do better than you did the year before."
His challengers this year are Pittsburgh's Russell Martin and Los Angeles' A.J. Ellis. Of those two NL catchers, Molina said: "They're good. It's going to be tough. Hopefully it goes my way."
Wainwright, a Gold Glove winner in 2009, joins Arizona's Patrick Corbin and Los Angeles' Zack Greinke as the finalists for pitchers. He was informed of his nomination on Friday morning by teammate Shane Robinson.
"It's a tremendous honor," Wainwright said. "Any type of award like that that you can win is just a resume chip. You can always look back and say you did it. The guys who are listed on that list with me, it's a very talented list. I'm glad to be a part of it."
Wainwright also took a moment to kid, seeing some irony in the fact that both he and Molina were named finalists for a defensive award two days after they let a popup drop between them in Game 1 of the World Series. Asked how a pitcher can help his own cause with his glove, Wainwright quipped: "You can catch little popups. That makes the game a lot easier."
The voting process for Gold Glove Awards was slightly altered this year. Since its inception in 1957, the Rawlings Gold Glove has relied solely on Major League managers and coaches votes to determine the best defensive players. Managers and coaches got an assist this year from the Society for American Baseball Research (SABR). For the first time, Rawlings collaborated with SABR to formally incorporate sabermetrics as a component of the Gold Glove Award.
A committee of experts in baseball analytics and defensive measurement devised the SABR Defensive Index (SDI), which draws on and aggregates two types of existing defensive metrics: those derived from batted ball, location-based data and those collected by from play-by-play accounts.
The three metrics representing batted ball data include defensive runs saved (from Baseball Info Solutions), ultimate zone rating (developed by sabermetician Mitchel Lichtman) and runs effectively defended (created by SABR's Chris Dial).
The two metrics included in the SDI from play-by-play data are defensive regression analysis, created by committee member Michael Humphreys, and total zone rating.
The plan, according to Rawlings and SABR, is to have the SDI complement the judgement by the managers and coaches. The SABR Defensive Index will account for 30 total votes -- or approximately 25 percent -- of the Rawlings Gold Glove Award selection process, and will be added to the votes from the managers and coaches.
Ballots were distributed to managers and coaches in September, and they received a revamped statistical resource guide as well.
Jenifer Langosch is a reporter for MLB.com. Read her blog, By Gosh, It's Langosch, and follow her on Twitter @LangoschMLB. Adam McCalvy is a reporter for MLB.com. Read his blog, Brew Beat, and follow him on Twitter at @AdamMcCalvy. Chad Thornburg is an associate reporter for MLB.com. This story was not subject to the approval of Major League Baseball or its clubs.