Cards to stay with same roster for NLCS
Cards to stay with same roster for NLCS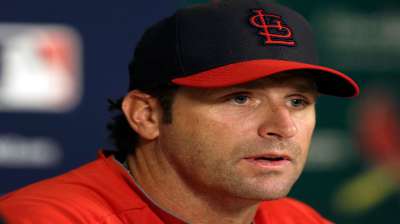 ST. LOUIS -- The Cardinals will maintain the same active roster for the National League Championship Series, leaving injured first baseman Allen Craig off once again as he continues to rehab his sprained left foot.
Though manager Mike Matheny said Craig is expected to be unavailable for the NLCS, he did not rule out the All-Star first baseman returning should the club advance to the World Series.
"We look forward to watching him progress, you just never know," Matheny said. "Obviously, we'd love to have him be an active part, but we put a lot of responsibility on our guys even though they're not on the active roster. You've seen Chris Carpenter always involved. You're seeing Rafael Furcal the same way, guys that are still trying to contribute. And Allen Craig is doing the same thing.
"It's just difficult for a guy that's not used to being in that situation. But once again, he's continuing to get better, so we don't know what he'll look like going forward. But it looks like our roster is going to be the same."
The Cardinals carried 12 pitchers and 13 position players on the 25-man roster in the NLDS, a group that included 10 rookies.
Chad Thornburg is an associate reporter for MLB.com. This story was not subject to the approval of Major League Baseball or its clubs.