Carpenter falls short in bid for 200 hits
Carpenter falls short in bid for 200 hits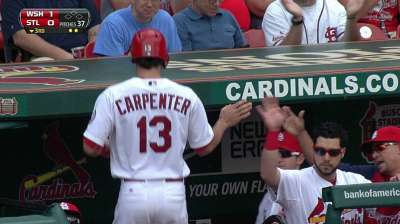 ST. LOUIS -- Matt Carpenter led the Majors with 199 hits this season. But No. 200 eluded him, as the Cardinals wrapped the regular season with a 4-0 win over the Cubs.
Carpenter went 0-for-8 with three walks since he recorded hit No. 199 on Friday, finishing one shy of becoming the first Cardinals hitter to top 200 knocks since Albert Pujols had 212 in 2003. Before Pujols, the last player with 200 hits for the Cards was Willie McGee in 1985. Had Carpenter reached the mark, he would have been just the third St. Louis hitter to reach that milestone since 1979.
"The way I look at it is, after today, the St. Louis Cardinals have the best record in the National League -- and for me, that is the most important thing," Carpenter said. "Obviously, from an individual standpoint, 200 hits is a cool thing -- and, obviously, I would have liked to get that. But more importantly, we won a big game today. We have the best record in the National League, and now the fun begins."
Carpenter admitted to some relief that he's entering the postseason with a clean slate, alleviating the pressure of chasing the elusive hit.
"You always hear it when guys are chasing certain things, that it can kind of get to them a little bit," Carpenter said, "and I don't know if it did or not. Certainly, that last one was tough to find. It is what it is."
Though he fell short in his pursuit of 200, Carpenter wasn't lacking for impressive statistical feats in just his second full season in the big leagues -- and first as a starting second baseman. The first-time All-Star was honored before Sunday's season finale for passing Stan Musial and setting the Cardinals' single-season record for doubles by a left-handed hitter, with 55.
"You know, it's crazy," Carpenter said. "Something that you can't put into words what that means. To be mentioned in the same sentence with [Musial] is quite an honor and something I'm extremely proud of."
Carpenter also led the Majors in runs (126) and multi-hit games (63), and finished the season ranked sixth in the NL in batting average (.318) and fourth in average with runners in scoring position (.388). He also set the Busch Stadium III record for hits with 112.
"I don't know where we'd be without him -- having that leadoff hitter and having the kind of season that he's having and what he's done defensively," said manager Mike Matheny. "It's just off the charts, as far as how good he has been and how much he's proven just what a solid baseball player he is -- no matter where we put him."
Jenifer Langosch is a reporter for MLB.com. Read her blog, By Gosh, It's Langosch, and follow her on Twitter @LangoschMLB. Chad Thornburg is an associate reporter for MLB.com. This story was not subject to the approval of Major League Baseball or its clubs.