Brewers cautious with, but optimistic about Segura
Brewers cautious with, but optimistic about Segura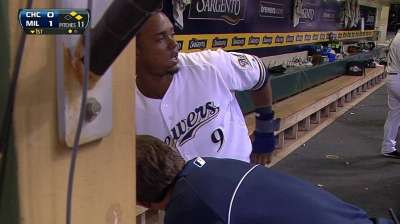 MILWAUKEE -- Brewers manager Ron Roenicke maintained Friday that he would not play All-Star Jean Segura for the remainder of the season if his right hamstring -- strained in Wednesday's 7-0 win against the Cubs -- does not progress properly.
But Roenicke said he does not expect that to be the case.
"If the hamstring doesn't come around, [missing the rest of the season] is obviously a possibility," Roenicke said. "But I'm expecting it to come around a little faster than that. If it does, we'll get him back out there. But [we're] not putting him at risk to do it again."
Jeff Bianchi took over at shortstop after Segura left Wednesday's game, and he was in the starting lineup in place of Segura on Thursday and Friday. Bianchi will likely see most of the starts at shortstop while Segura is out, but Yuniesky Betancourt is also an option there for the Brewers.
"My job is to prepare to play every day," Bianchi said. "This year, I've played second [base], short, third. I've been ready to play every day. I'll take it the same while I get some starts here at short. I'm excited to get some more starts, but I just kind of wish it were under different circumstances."
The position is nothing new to Bianchi, who started 13 games there in 2012 and has nine starts there this season, including Friday against the Cardinals.
"I've played short my whole life, and I've kept up with the ground balls and getting work in there and practice and stuff. I'm confident there right now, and I'll go out and play how I know how to play and just let everything take care of itself."
Roenicke said Khris Davis' left wrist is progressing, but the left fielder was out of the lineup Friday for the second consecutive day after starting Wednesday.
"It's getting a little bit better," Roenicke said. "It's still fatigued, and he still feels it when he plays -- when he starts. Pinch-hitting, just because there's less swings, probably doesn't bother him as much."
Will Davis, who led the Majors in slugging percentage (.670) since July 23 entering Friday, will be available for pinch-hitting duty this weekend against the Cardinals?
"No, I'll get him out there again," Roenicke said. "We're kind of looking at matchups. The other day, [Reds closer Aroldis] Chapman was out there. I didn't really want to hit him off Chapman. If you're going to hurt your wrist, that's who you're going to hurt it against. So, I'll watch."
Kevin Massoth is an associate reporter for MLB.com. This story was not subject to the approval of Major League Baseball or its clubs.